Falun Dafa practitioners were once again invited to participate in the 149th Italian Heritage Parade in San Francisco on October 8. More than 100,000 people gathered at Fisherman's Wharf and Columbus Avenue on the parade route, many of whom cheered for the Tian Guo Marching Band, float, and Falun Dafa exercise demonstration.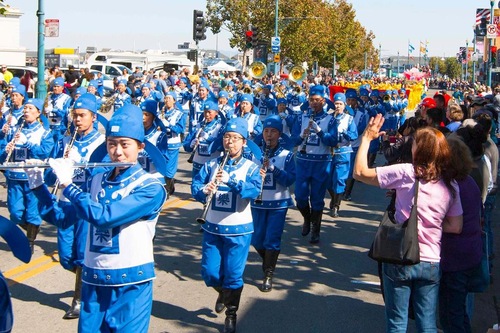 "I Hope They'll Come Every Year"
When practitioners marched past the stage, the announcer cited the peace and happiness they brought to the event.
"Falun Dafa is a meditation system that improves mind and body. Its principles are Truthfulness-Compassion-Forbearance." He was very glad practitioners were able to participate in the event and said, "Thank you, Falun Dafa!"
Joe Leveroni, one of the event organisers, said he was happy to see practitioners again. "Every year, they bring the best performance and a beautiful float." He praised the band for its formation and music: "The music is excellent and precise. There must be lots of hard work behind the performance."
Another organiser, Amy Wilton, agreed, "Falun Dafa practitioners are a highlight of the parade. I hope they will come every year."
Steve Leveroni, also an organiser, said the practitioners had participated the event for at least 10 years. "Their bright colors are very impressive, and the float is great, too."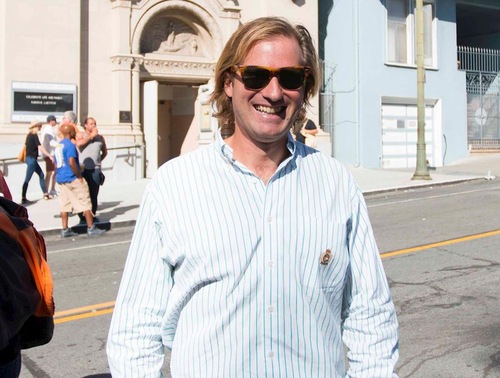 "I Was Moved to Tears"
Rochelle Johnson, a tourist from Georgia, said she was glad to see the practitioners. "I like both the band and principles of Truthfulness-Compassion-Forbearance." She was saddened to hear of its suppression in China: "It's wrong for the Communist Party to detain and torture people because of their belief. It's a violation of human rights, and we have to stop it."
Music teacher Patricia said she liked the music played by Tian Guo Marching Band. "I teach vocals and piano. I can tell the music is perfect and the different instruments go together well." She said she hopes that the day will come soon when people in China can freely practice their faiths.
Julie Paul said she was very touched. "I like the band for the music and the message. In fact, I was moved to tears—the principles, Truthfulness, Compassion, and Forbearance are truly beautiful."