Falun Gong practitioners received warm applause for their performance in the recent Dance Parade in New York City (Manhattan). At end of the parade, practitioners hosted a booth in Tompkins Square Park, which was also praised by many spectators.
The theme of this year's annual parade, which occurs every May 20, was "Dance for Peace." At their booth, practitioners demonstrated the Falun Gong exercises, displayed posters, and collected signatures to help end the persecution in China.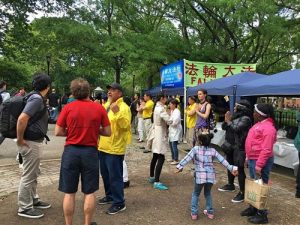 One Native American man came by the booth several times during the event. "I like the exercise demonstration because I could feel the energy," he said, adding that Falun Gong covered many topics about life that he wanted to know about.
Upon hearing about the persecution in China, he encouraged practitioners to continue their efforts to defend the freedom of belief in China.
Another young man who stopped at the booth said he had seen practitioners' group exercises earlier. "I also have a book (The Great Way of Spiritual Perfection) that shows me how to do the exercises and practice on my own," he said. Because his native language is Korean, he could only follow the pictures and was unable to read the text.
One practitioner helped correct his exercise movements and referred him to Tianti Bookstore in Manhattan, which has Falun Dafa books in multiple languages, including Korean.