Falun Gong practitioners in Michigan participated in two Memorial Day parades this week in St. Clair Shores and Dearborn.
The more than 160 groups in the St. Clair Shores parade attracted 80,000 spectators on Sunday. The event is considered the largest Memorial Day parade in the Midwest.
Falun Gong practitioners entered a float, a Tang Dynasty-style drum team, and a traditional Chinese dance team.
Before the parade kicked off, State Senator Kevin Hertel and County Commissioner Veronica Klinefelt talked to practitioners and learned about Falun Gong and the persecution it continues to face in China.
Some spcectators said they sensed a strong energy radiating from the Falun Gong procession. Many people expressed interest in learning the Falun Gong exercises at a group practice site.
The next day, practitioners went to the 93rd Memorial Day parade in Dearborn, which is also the oldest one in Michigan.
Local residents were happy to see a Chinese team appearing in the parade for the first time. Some praised the colorful float, which was decorated with a giant lotus flower, a symbol of purity in Chinese culture.
Tom Simpson said he had a special feeling about Falun Gong's performances: "There were some other drum teams in the parade. Some were good, and some were not very good. But Falun Gong was always excellent from the beginning to the end. Their team combined a lot of things, like the big melting pot of America."
"When Falun Gong showed up in this parade, it was the icing on the cake," Tom added.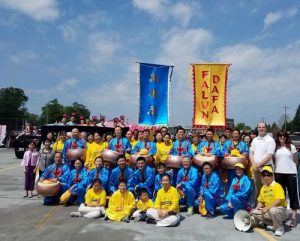 Diverse Cultures Welcomed
To Phou's family, watching the Memorial Day parade is a 43-year old tradition.
With a Vietnamese background, the daughter Heidi Phou said the dancers' costumes made them appear to be "floating in the air."
"It is the very Asian style in my mind," Heidi said. "I like it."
Her mother Diane Kaye praised the practitioners' coordination in the parade. "Well done. It was elegant. They look so happy," she said.
Heidi's husband, Paris Phou, had previously learned of the persecution of Falun Gong in China. He recalled his first time hearing about Falun Gong when he was a student at the University of Michigan.
"The persecution is sad. It's important for people to know about it," Paris said. "It's great that they came to the parade today. Their performances were impressive. It's It is to show diverse cultures on such a holiday. Every culture deserves understanding."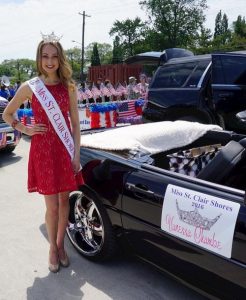 Peaceful, Compassionate Message
Paris said she was impressed by the practitioners' banner, which features Falun Gong's guiding principles of "Truthfulness-Compassion-Forbearance."
"In today's world and America, there are lots of conflicts. It's great to see that peaceful and compassionate messages still exist. The world needs peace. So, the Falun Gong's appearance in today's parade is meaningful. It builds bridges between different cultures."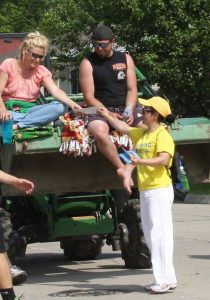 Bringing Beauty and Peace
Falun Gong practitioner Evan Mantyk said he participated in the parade to show people the goodness of Falun Gong and how it improves people's minds and health.
The organiser of the Falun Gong entry, Professor Xu from the University of Michigan, said, "We want to show our respect to the veterans, because they sacrificed themselves to protect justice and freedom. The message we try to convey, Truthfulness-Compassion-Forbearance, is the same. It brings beauty and peace to the world. I hope more people living in this free country will learn about Falun Gong."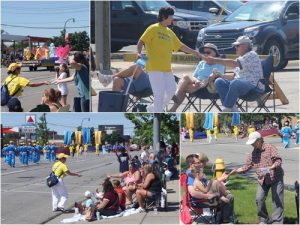 Related report in Chinese: 法轮功团体参加美中最大纪念日游行