Fun Guandu Festival, one of the biggest events in Taipei, Taiwan, took place in Guandu Nature Park on October 29, 2016. Falun Dafa practitioners participated with a waist drum team, heavenly girls, and other performances which drew applause from spectators.
But across the Taiwan Strait, practitioners in Fujian Province and the rest of China have been facing severe suppression for practicing the same meditation.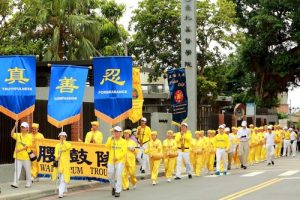 Local Official in Taiwan: Falun Dafa is Highlight of the Parade
Over 3,000 people participated in the parade. Among them the Falun Dafa practitioners received much applause from the onlookers. One of them said, "This is spectacular!" Another remarked, "Falun Dafa is great!"
Kuo Cingtran, head of Fudeli Village of Guandu, was excited to see the Falun Dafa practitioners, "They [practitioners] are always here helping us get healthier and happier. Their performance today is especially wonderful." He said that Falun Dafa was a highlight of the event.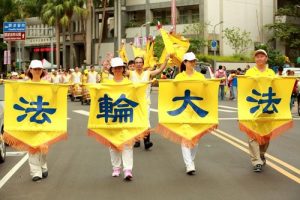 Fujian Officials: Force-feed Practitioners with Trash
Ruan Aiyin, 54, a woman who lives in the countryside of Ningde City, Fujian City, began practicing Falun Dafa in 1998, and her illnesses disappeared soon after. She has been arrested and detained four times for her belief.
At the Fujian Women's Labor Camp, officials forcibly performed surgery on her despite her good health. At the Ningde Detention Center, guards ordered inmates to drag her through a pile of trash and force-fed her with rotten garbage and plastic.
After filing a criminal complaint against former Chinese leader Jiang Zemin for persecuting Falun Dafa, Ms. Ruan was arrested by officials on September 1 and sent to a mental hospital on September 30 for further persecution.
Ms. Ruan's experience is only one example of Falun Dafa practitioners being persecuted for their belief in Truthfulness-Compassion-Forbearance. According to reports received by the Minghui website, at least 839 incidents have occurred in which practitioners were targeted for their faith in September 2016 alone.
(Clearwisdom)