Politicians, doctors, lawyers, and democracy movement activists made their voices strongly heard, condemning the 17-year long persecution of Falun Gong in China, at a rally in front of San Francisco's city hall on October 25, 2016.
Themed "Together End the Persecution of Falun Gong," the rally focused on the newly-revealed facts regarding the state-sanctioned organ harvesting from Falun Gong practitioners in China, and called for bringing former communist head Jiang Zemin to justice for his role in the persecution.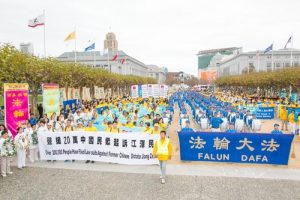 Politicians: "Continue to uphold the central values of truthfulness, tolerance, and compassion"
Two congresswomen, Nancy Pelosi and Jackie Speier, sent letters of support to the rally.
Nancy Pelosi said in her letter, "I stand with all those gathered as you continue to uphold the central values of truthfulness, tolerance and compassion. Through continuous dialogue and engagement, we can achieve greater respect for human rights in the world."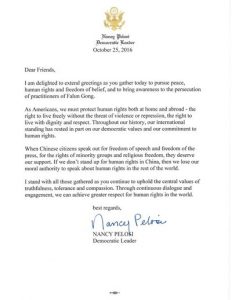 Hong Kong Legislative members Wu Chi-wai and Leung Kwok-hung also sent letters supporting Falun Gong's peaceful resistance.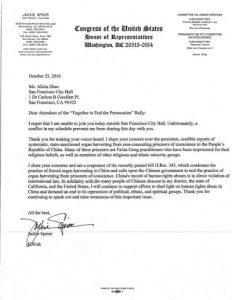 Falun Gong practitioners: Stop the persecution and bring the murderers to justice
Zhang Erping, spokesman for the Falun Dafa Association, briefly reviewed the facts of the persecution in his speech. He told the attendees that since the state-sanctioned organ harvesting in China was exposed, the international community has taken some actions against it, including the resolutions passed by the European Parliament and the U.S. Congressional House.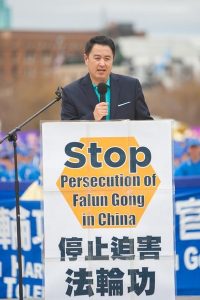 Practitioner Wang Dake, along with his parents and aunt, told the attendees their own experiences of being tortured in China. Another aunt of Mr. Wang was tortured to death a few months after she was arrested in 2001.
Wang Dake and his family hope that the head murderer of the persecution, former communist leader Jiang Zemin, will soon be brought to justice.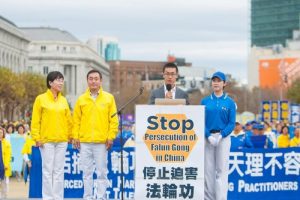 Non-government organizations: A considerable amount of evidence validates the existence of forced organ harvesting.
Wang Zhiyuan, chair of the World Organization to Investigate the Persecution of Falun Gong, reviewed the overwhelming evidence that validates the existence of state-sanctioned organ harvesting.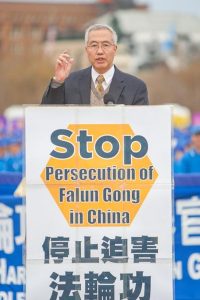 Theresa Chu, spokeswoman for the Falun Gong Human Rights Lawyers Group, pointed out that the Communist Party and Jiang Zemin have committed the crimes of anti-humanity, genocide, and torture, and that Jiang and his followers should be brought to justice.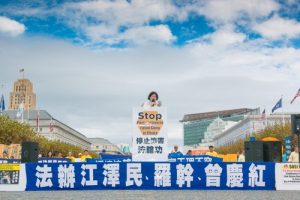 Falun Gong supporters: The whole world should stand up against the Communist Party's violence.
Dr. G. Weldon Gilcrease, an assistant professor in the oncology division of the University of Utah School of Medicine, and a Huntsman Cancer Institute (HCI) investigator, called upon the medical community to face the facts of the forced organ harvesting, and take action to help stop it.
Fang Zheng, a leader of the Chinese democracy movement, expressed his respect to Falun Gong practitioners for revealing the brutality of the persecution.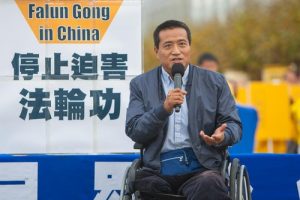 Tang Boqiao, president of the University of Democracy, believes that the world should not remain silent in the face of the anti-human crimes that the Communist Party has committed.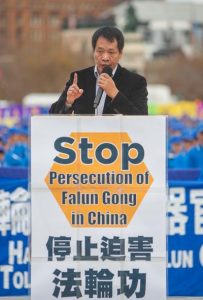 (Clearwisdom)