The Falun Dafa group's Tian Guo Marching Band were once again invited to perform at the 2016 Wonju Dynamic Dancing Carnival. The band took part in the grand finale of the 6-day event, a closing ceremony and a large-scale parade on September 10.
About 475,000 visitors attended the event between September 6 and 11. The parade is also one of the biggest and longest street parades in South Korea.
When the Tian Guo Marching Band made its entrance, the emcee commented on its active participation in community events since being established 11 years ago.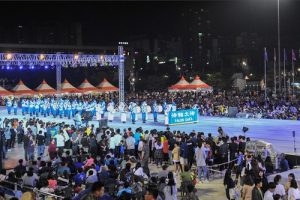 Following the parade, the band performed at the Tattoo Theater, which seats about 15,000 people. Their spirited performance of "Falun Dafa Is Good" and other pieces brought long-lasting applause.
"The music really touched me," said an audience member, Ms. Zhang. "It gives us hope and energy."