Many Australians felt something special after learning about Falun Dafa at the Ormeau Fair on the Gold Coast in Queensland.
The Ormeau Lions Club invited Falun Dafa practitioners for the fourth year in a row to the fair held on September 3-4, 2016. The major community event attracts thousands of people each year.
An Asian couple became very interested in learning the Dafa exercises and asked where the regular practice locations were on the Gold Coast. The woman was pleased to take a folded paper lotus flower because her name in English means "Lotus." The practitioners remarked that this was a good sign–perhaps indicating that she was predestined to learn the practice.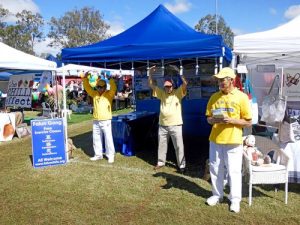 A young mother said she was spiritually-minded and looking for something her family could do together. She felt that Falun Dafa seemed to be a good fit. The practitioners encouraged her to come to the local exercise site.
Two women from the Ormeau Rural Fire Brigade stopped at the booth and expressed great interest in joining the local exercise group.
Former Senator Glenn Lazarus saw the practitioners demonstrating the exercises and asked about Falun Dafa's principles of Truthfulness-Compassion-Forbearance. Practitioners encouraged him to visit the Falun Dafa website. The following day, Glenn thanked the practitioners and discussed what he had read online.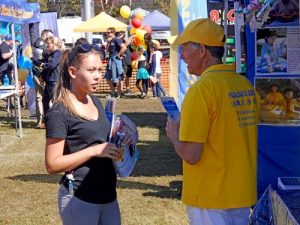 Robert, who moved to the Gold Coast from Sydney, said he had seen Dafa practitioners peacefully protesting outside of the old Chinese Consulate.
"I used to work nearby, and the Chinese Consulate would invite my colleagues and me to their evening events, and ask if we saw anyone from Falun Dafa do anything [illegal]. We said Falun Dafa did nothing wrong, so the consular staff started taking photos of the protestors outside," he said.
Robert recalled that the Australian community was rather disgusted by the anti-Falun Dafa propaganda boards behind the consular fence, so much so that they destroyed the boards and wrote messages on the footpath condemning the Chinese Communist Party's killing of innocent people. He was also very encouraged to hear about Mr. Chen Yonglin's defection from the Chinese Consulate in Sydney in 2005, and that the Australian Government had granted him asylum.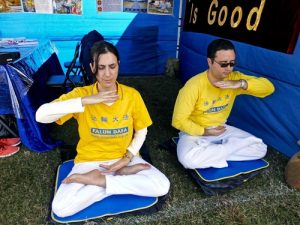 Fair visitor Pam had seen the Falun Dafa booth at the Ormeau Fair for the past few years and always stopped to talk to the practitioners. She said that the persecution of the practice in China was "disgusting."
One of the event organizers was so enchanted by Falun Dafa that she walked all the way to the booth three times and took lotus flowers, bookmarks, and every flyer available.
The practitioners thanked the fair organizers for their continued support of Falun Dafa at this major community event.
(Clearwisdom)