As the Mid-Autumn Festival approached (this year it is on September 15), Falun Gong practitioners from Toronto, Canada, gathered at Queen's Park last Saturday to send holiday greetings to Master Li Hongzhi, the founder of Falun Gong. They demonstrated the exercises together and provided information to the public about this traditional Chinese practice based on the principles of Truthfulness, Compassion, and Forbearance.
The group exercises started at 8:40 in the morning. Afterwards, practitioners took group pictures while wishing Master Li a happy Mid-Autumn Festival.
At this traditional Chinese festival, one of the most special celebrations in the course of the year, practitioners expressed their deep appreciation to Master Li Hongzhi for improving their health, uplifting their minds, and renewing their lives.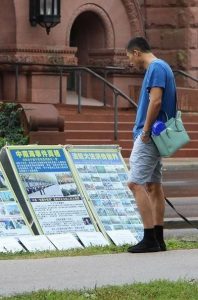 A Life-renewing Experience
Ms. Tang, 75, immigrated from Hong Kong to Canada some 30 years ago. She used to suffer from severe health problems, including rheumatism and arthritis, even before she retired. After long-term Western and traditional Chinese therapies failed to help her, she decided to give Falun Gong a try last year.
"I often was cold and felt fatigued. I always looked pale, with black circles around my eyes. When it was cloudy, I couldn't walk, and couldn't even crawl. The pain in my back, shoulders, and head was severe," recalled Ms. Tang.
"A Chinese medicine doctor introduced Falun Gong to me. I took part in the free workshop last August and learned the exercises. During the very last day of the class, I had terrible stomach pain. After the workshop, I went to the bathroom, and afterwards felt like a new person. I knew that my body had been purified.
"Now, my health has been greatly improved. Before, I couldn't finish preparing a meal if it took more than an hour, and I had to lie down for a while before I resumed. But now, I can walk fast, and I can do chores that many people my age often can't do.
"I'm not pale anymore; in fact, my face glows. The dark circles around my eyes are also gone. I not only take care of myself, but now I also take care of my 97-year-old mother, which my brother used to have to do."
"This is the first time for me to take part in this group greeting to Master Li," Ms. Tang said. "I sincerely thank Master Li for renewing my life."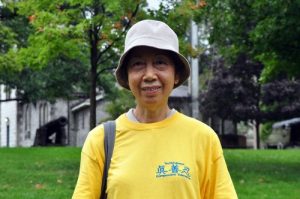 Cancer Cured
Mr. Liang, a former college professor, has witnessed the great changes that happened to his wife and daughter after they started practicing Falun Gong in 1996.
"My wife became healthier and her temper also improved. Our family life became much more harmonious," Mr. Liang recalled.
But he himself didn't start doing the exercises until he was diagnosed with kidney cancer in June 2010. The surgeons removed his right kidney, and left him with an ailing left kidney.
His wife and daughter convinced him to practice Falun Gong, and his health was quickly restored.
"The doctors told me that I would have to take medicine for the rest of my life, and many of the drugs I had to take have side effects such as bone damage. The doctors believed that my therapy would need years before I could fully function. But I completely recovered two months after I started practicing Falun Gong. The chief physician considered this a medical miracle," Mr. Liang said.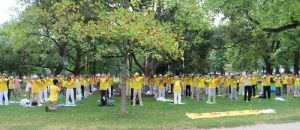 Reaching Out to the Public
Practitioners also took this opportunity to tell the public about the persecution of Falun Gong in China, and to ask people help to stop it by writing letters and signing a petition.
Mr. Wang, a Chinese government official traveling with his wife in Canada, stopped by the group exercises. They took many pictures of the peaceful scene – something that hasn't seen in China since 1999 when the persecution began.
"Canada is a free land," Mr. Wang said with admiration. "You can see Falun Gong in public. Actually many Chinese know that Falun Gong is beneficial to society. They fellow the principle of Truthfulness-Compassion-Forbearance."
"Why does the communist party persecute a group of peaceful people?" Mr. Wang asked. "The party has made up a lot of propaganda to slander Falun Gong. I know clearly that all Falun Gong is asking for is a peaceful environment for practicing.
"The persecution is so brutal, and the government even forcibly harvests organs from living Falun Gong practitioners. It is so horrible. The party says that the organ harvesting is just a rumor. But I don't believe the party," Mr. Wang said to a practitioner. He picked up some materials about the organ harvesting, and said that he would investigate it further.
Thirteen-year-old Hanna and her 10-year old sister Sherry, who moved to Canada from China eight months ago, did the exercises with their mother.
"I really cherish the opportunity to do the exercises here, because we had to be sneaky when doing them in China," Hanna said. "This is why I didn't stop doing them today, although it rained a little at the beginning."
"I am so glad to have a chance to join this group event and send holiday greetings to my Master," Hanna smiled.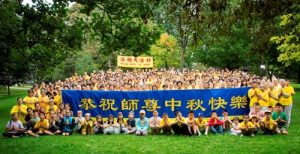 36 total views