The annual Mid-Autumn Street Fair was held in Chinatown in San Francisco, California on September 10 and 11, 2016. Falun Gong practitioners set up a stand as in previous years, to raise awareness of the Chinese Communist Party's (CCP) persecution and the CCP's state-sanctioned organ harvesting from living Falun Gong practitioners. Near 600 people signed the petition against the CCP's live organ harvesting within the two-day period.
Falun Gong is a peaceful practice rooted in Chinese traditional culture. It spread quickly and became very popular when it was made public in 1992 in China, due to its health benefits and ability to help people raise their moral character. Jiang Zemin, the then head of the CCP, initiated the brutal persecution in an attempt to eliminate Falun Gong by any means. The state-sanctioned campaign is still ongoing.
Jiang's faction in the CCP regime musters all of the state machinery to persecute Falun Gong, including spreading lies to defame and slander the practice and to cover up the persecution. Chinese embassies and consulates spread lies to mislead people and incite hatred towards the practice outside of China.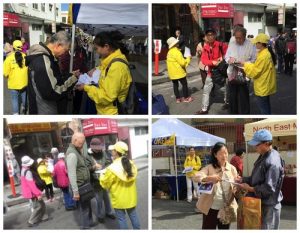 Many Chinese people have been misled by the CCP's propaganda and information censorship. To counter that, Falun Gong practitioners keep raising awareness of the persecution. More and more people have come to know that Falun Gong is good and that the CCP's persecution is completely wrong.
Mr. Lai, a resident of San Francisco, passed by the Falun Gong stand and signed the petition against the CCP's live organ harvesting. He said, "I know about the persecution, as I watch NTDTV and read The Epoch Times in both English and Chinese. I know about the CCP's live organ harvesting for huge profits, and the US Congress passed a resolution condemning the live organ harvesting. The CCP has committed many crimes. It is a true demon, and we must stop it."
Many Chinese people from all walks of life signed the petition against the live organ harvesting. An older man said, "I am nearly 90 years old. I have never heard of such an absurd thing. It is against humanity!" He signed the petition and thanked the practitioners.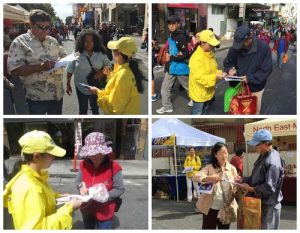 Some people heard about the live organ harvesting for the first time. A family of three listened to an explanation of the issue. The husband said, "It is horrible! No one should do this. The CCP is finished!" He signed the petition right away and asked his wife and daughter to sign it, too.
Tina, a medical professional, was appalled after listening to the explanation about the CCP's live organ harvesting. She indicated that no human being should participate in live organ harvesting. She said after signing the petition, "I hope my signature can help stop it."
Carlos from Cuba and his friend went to Chinatown and saw the signature collection effort. He explained what was going on to his friend in Spanish. He signed the petition and asked his friend to sign, too. He said, "I am from Cuba. I know that the communist party commits countless crimes. Live organ harvesting for profit is an atrocity. It must be stopped!"