Runners in the annual Sydney "City2Surf" road race, besides enjoying a day of fun and camaraderie, had the opportunity to learn about Falun Gong and the brutal persecution of this peaceful cultivation practice in China.
As the largest charity fundraising race in the world, the City2Surf fun run attracted 80,000 runners last Sunday. Local Falun Gong practitioners held a series of activities at the terminus of the 14 km race, Lyne Park, where they demonstrate the exercises, handed out informational materials, and collected signatures on a petition calling for an end to the 17-year persecution of Falun Gong in China.
Many people took pictures of the Falun Gong exercise demonstration and encouraged practitioners to keep up their good work of peacefully resisting the ongoing persecution in China. When people heard that the Chinese government forcibly harvests organs from living Falun Gong practitioners they were shocked, and most didn't hesitate to sign the petition to condemn this crime against humanity.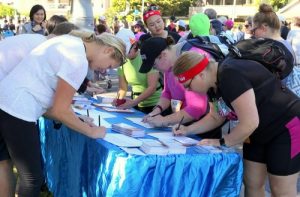 Evervest Kathande, an electrical engineer, had heard about the forced organ harvesting in the news. "I could not believe it when I first heard of it. Your activity today is great, because many people still don't know," he said.
Evervest encouraged the practitioners to take every opportunity to spread this information. "If everybody around the world can do something locally, it might not necessarily be much, but the collective efforts will have a great impact," he said.
"I will make sure my friends know what I learned today. Keep up what you've been doing. Don't stop; don't get tired," Evervest said.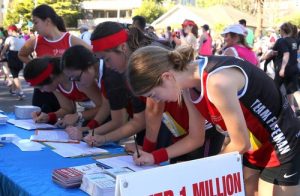 Rosalie Kyon from Toongabbie expressed her best wishes to practitioners. "I've read Falun Gong materials before. I stand with you completely," she said. "This is a very peaceful movement. The world would be a better place if there were more Falun Gong practitioners."
Elizabeth, a local lawyer, was horrified by the organ harvesting crimes. "I should do my best to help stop it. Every life has value," she said. "I hope the situation will change soon. Persecuting such a peaceful group is unacceptable."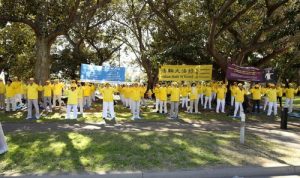 Ms. Ciaradaly, also a lawyer, was well acquainted with the organ harvesting crimes in China as she'd attended a forum on this issue at the New South Wales Parliament Building last year.
"I was shocked when I first learned about it. I want to sign the petition because I support you," she said. "We are lucky that it is not happening here. But such a crime should not happen anywhere."
Ciaradaly believes that the Australian government could take legal action and do something concrete to help stop the organ harvesting atrocities in China.
(Clearwisdom)