Over 1,000 Falun Gong practitioners participated in a candlelight vigil at Taipei City Hall Square on the evening of July 17, 2016. The event was one of a series of activities held in many nations calling for an end to the violent suppression of Falun Gong in China since July 1999.
Helping the Innocent
Chang Chin-hwa, president of the Taiwan Falun Dafa Association, said, "After former Chinese leader Jiang Zemin started to persecute Falun Gong 17 years ago, practitioners have been arrested, detained, tortured, imprisoned, made to do forced labor, and subjected to other types of mistreatment."
Chang pointed out not only the scale but also the severity of the persecution, such as the killing of practitioners for their organs. With persistent efforts from practitioners, the atrocity has attracted attention in many countries. The United State House of Representatives passed H.Res.343 last month to condemn the harvesting of organs from living Falun Gong practitioners and other prisoners of conscience in China.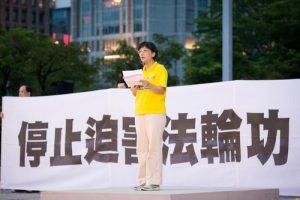 In China, more than 200,000 criminal complaints have been filed against Jiang Zemin since last May. Over one million signatures have been collected in support of prosecuting Jiang, among which more than 660,000 come from Taiwan.
"We all know justice will prevail," said Chang at the gathering, "so please come join us to support the innocent and hold Jiang responsible for the tragedy."
Stopping the Crimes Against Humanity
Several city councilors spoke at the event. Chang Mao-nan from Taipei referred to forced organ harvesting as a "crime against humanity." He thanked practitioners for their hard work, and encouraged more people to join the event and sign petitions to support the effort to prosecute Jiang.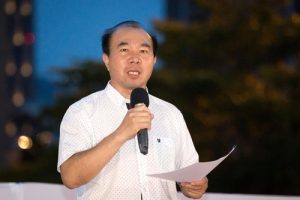 Hsinchu City Councilor Zeng Zicheng said that freedom and human rights are universal values, adding, "Any government against them will be wiped out in history." He hopes that the day will come soon when the suppression will stop, while the principles of Truthfulness-Compassion-Tolerance are widely celebrated in the world.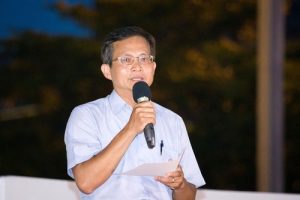 Further Efforts Needed
Many government officials, professors, and lawyers were happy to hear that H.Res.343 was passed by the U.S. House of Representatives. "It's just the beginning," said human rights lawyer Chiu Huang-Chuan. "Further efforts from more countries are needed to ensure that the freedom of belief is protected for Falun Gong practitioners."
Hsu Chun-hsin, a law professor at National Cheng Kung University and former Legislative Member, called the persecution of Falun Gong a genocide. "Because it is a violation of international laws, it relates to all of us," he asserted.
Teng Biao, a renowned human rights lawyer, said it is difficult for outsiders to understand the severity of the suppression, noting that Western society has not paid much enough attention to this issue because these countries do not want to confront the Chinese communist regime for economic reasons.
Democracy advocate Tseng Chien-Yuan said that Falun Gong represents conscience and high morality. "We are happy to see Falun Gong practitioners coming through all of these difficulties. It's a miracle, and it's important for our society."
"The World Needs Truthfulness-Compassion-Forbearance"
Ms. Luo, 65, started to practice Falun Gong in 2000. "Because of problems with my feet, I couldn't walk at the time. Five days after I began doing the exercises, I could walk around slowly. Two days later, I saw a strong light from head to toe as I was doing the meditation. I no longer needed surgery for my foot, and I was fully recovered," she recalled.
In addition, she became more open-minded and now holds a positive attitude toward life. "Thinking about the the practitioners in mainland China, I want to cry, because they have suffered so much for their belief. I hope more people in this world will learn how good Falun Gong is," she said.
Seth Hirsch from Ohio in the U.S. came to know Falun Gong four years ago when he was 19. "Someone gave me a bookmark that had the website with Falun Gong teachings. That was a turning point of my life," he explained.
Seth said the practice brought him physical health as well as spiritual enlightenment. His relationships with his family improved, and he became more considerate of others. While participating in the parade and candlelight vigil in Taipei, he often waved to tourists from mainland China. "I hope they can learn what Falun Gong really is, instead of being influenced by the hate propaganda from the Communist Party. After all, the world needs Truthfulness-Compassion-Forbearance."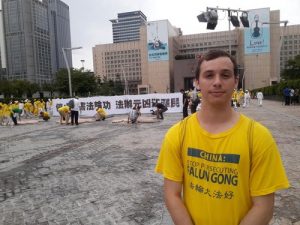 Mr. Liu, who often sees Falun Gong practitioners at tourist attractions, such as Taipei 101, said he was impressed by the peaceful nature of Falun Gong practitioners. "I have also met some people from the pro-Communist group that came to attack Falun Gong. It is easy to tell who is right and who is wrong."
Regarding the 17-year-long persecution in mainland, Mr. Liu said it is a matter of time for this to clear out: "The truth is always the truth. Falun Gong will succeed—that's for sure."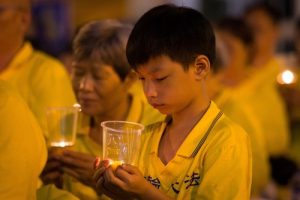 (Clearwisdom)
12 total views