The documentary Hard To Believe, which was screened at the Vero Beach Wine & Film Festival in Vero Beach, Florida on June 10, 2016, had a profound impact on the packed house at Vero Beach Museum of Art. The event was standing room only. Immediately after the screening, two local Falun Gong practitioners answered questions from the audience about the issues raised in the film.
Winner of eleven film awards, Hard To Believe examines the issue of forced live organ harvesting from Chinese prisoners of conscience, primarily Falun Gong practitioners. It also examines the lack of response from the medical community, international political circles, and Western media, and questions why so few people have been paying attention to such a serious crime. This fresh perspective on the issue challenges notions that mainstream Western society has had about Falun Gong and forced organ harvesting, and has a powerful impact on helping audiences break free of these notions and pay attention to the issue.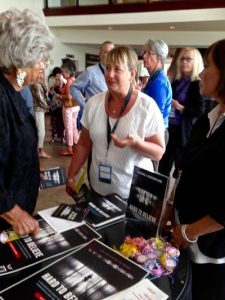 After watching the film, many audience members expressed the realisation that they had not been paying attention to the Falun Gong practitioners who have made many public efforts to raise awareness of the organ harvesting crimes since 2006.
Bob McPartlan, mayor of Sebastian, Florida, attended the screening and Q&A session. Although the mayor has actively supported Falun Gong, issuing a proclamation for World Falun Dafa Day, he and his wife were shocked and saddened after seeing the film.
A nurse who attended the screening said that while she was volunteering at a hospital in China, she met an American patient who had just had a heart transplant. She felt at the time it was unusual that an American would travel to China for such an operation. After viewing the film, she said her heart sank as she realized what most likely took place.
When the Q&A session was over, people slowly filed out of the theater, taking all the materials on the table by the film production team, which included a postcard to the U.S. Department of State asking for more exposure of the crimes. Visitors also signed a petition to the U.N., opposing forced organ harvesting in China.
Hard To Believe was produced by Swoop Films and two-time Emmy Award-winning director/producer, Ken Stone, and Irene Silber, and has been broadcast on American television stations more than 40 times.
(Clearwisdom)