Australians are paying close attention to the human rights violations taking place in China, the largest of its Asian neighbours.
After the SBS World News aired the documentary Human Harvest: China's Organ Trafficking on its Dateline program in April 2015, the website www.news.com.au published an in-depth report on forced organ harvesting.
Titled "'A bloody harvest': Thousands of people slaughtered for their organs, new report reveals," the article was published on June 28, 2016. Citing an update from three renowned investigators, David Kilgour, David Matas, and Ethan Gutmann, new evidence shows a far larger slaughter than previously estimated is now occurring in China.
The report stated: "The ultimate conclusion is that the Chinese Communist Party has engaged the state in the mass killings of innocents, primarily practitioners of Falun Gong, but also Uyghurs, Tibetans, and select House Christians, in order to obtain organs for transplants."
Practitioners in Sydney have been holding activities on recent weekends to raise awareness of the organ harvesting and have received warm support from passersby.
Economic Growth Cannot Overshadow Human Rights Issues
Steve, a poet, read the posters on display and talked with a practitioner about them. He was shocked by the brutality and signed a petition to help practitioners.
"Although China's economy seems to be strong so far, it cannot cover up human rights issues," Steve said. He hopes practitioners will keep up their efforts: "You will succeed, because this [forced organ harvesting] is a crime against humanity."
Griffin Patrick, a chemist, said he had read the report on www.news.com.au and was surprised by the dreadful reality. "Killing a person and selling his organs to another for money—this is horrible and immoral." He hopes more news media in Australian will report on this important issue.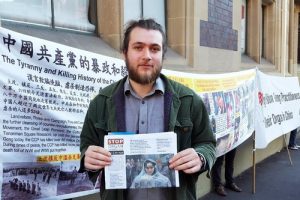 "I Will Tell All My Friends about This"
When Kristy Blunderr and her friends walked by, she asked her friends to sign the petition to support practitioners. Having seen similar Falun Gong activities in Sydney and Melbourne, she had learned how vicious the forced organ harvesting is in China. "I will use social media to tell all my friends about this so that they can do something to help," she explained.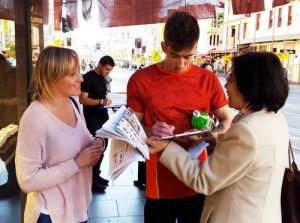 Roban Vurden and his friends all signed the petition calling for an end to the brutality. "This [forced organ harvesting] is vicious, and we will do everything we can to stop it," he said. "Although our efforts may seem limited as individuals, by joining together, we will be able to make a difference."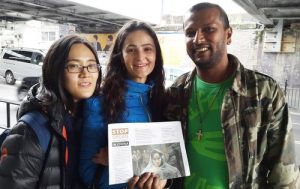 The Principles of Falun Gong Apply to Everyone
Mr. Hu, a Chinese immigrant who lives in Burwood near Sydney, talked with several practitioners. After hearing on the news report that more than 1.5 million Chinese people have become victims of forced organ harvesting in China, he said the communist party's brutality will accelerate its collapse.
Having observed Falun Gong and the suppression in China for many years, Mr. Hu said the principles of Falun Gong, Truthfulness-Compassion-Forbearance, apply to everyone: "They provide guidance not only for Chinese but for people throughout the world."
He said the best path forward is for people to support what is right and stand with Falun Gong practitioners. As he left, he pressed his palms together in a traditional Chinese salute to practitioners, saying, "Thank you very much for your efforts! It is your hard work that shows us the right thing to do."
(Clearwisdom)
23 total views