The Falun Dafa Divine Land Marching Band and Waist Drum Team were invited to participate in two large-scale parades in Burlington and Oshawa on June 18 and 19, 2016.
The blue and white costumes of the Marching Band members and the golden traditional Chinese outfits of the Waist Drummers were especially eye-catching on a bright sunny day. Their outstanding performances were greeted with applause from enthusiastic spectators. The hosts of both parades, as in previous years, were very pleased and wanted the group to come back again next year.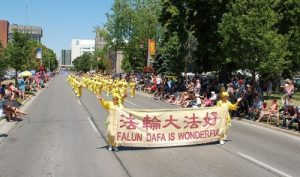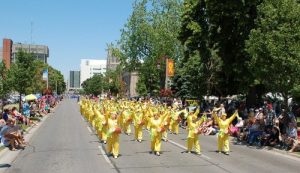 Falun Dafa's Procession Brings Multicultural Elements to Oshawa
Oshawa held their grand Fiesta Parade on the 19th to celebrate Father's Day. It is one of the top one hundred important festivals and events in Ontario.
Ms. Elsie Swerdfeger, the parade organizer, was glad that the Falun Dafa group joined the parade again this year. "We have invited them to the parade for many years. They have added multicultural elements to Oshawa. Their performances are exciting and the colors of their uniforms are gorgeous," said Ms. Swerdfeger.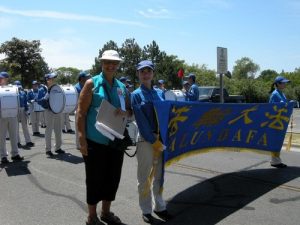 Spectators Enjoy the Falun Dafa Procession
Podiatrist Mr. Carlos Sousa watched the parade with his wife, children and mother. "The Falun Dafa group is absolutely beautiful. We enjoyed it," said Sousa, "The music from the Marching Band was great and the procession moved in a uniform fashion. The yellow outfits of the Waist Drummers were nice, especially on a sunny day like today, they really stand out."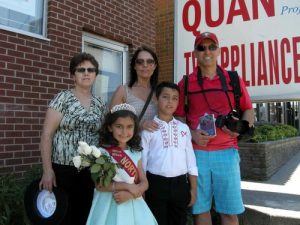 Ms. Mary Gammon and her family watched the parade from their front porch. Ms. Gammon especially enjoyed the music played by the Marching Band.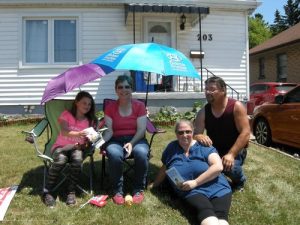 Lori was a paralegal from Burlington. She was appalled upon learning about the persecution that Falun Dafa practitioners have suffered in China, particularly the state-sanctioned forced organ harvesting from living practitioners for profit. "People definitely should be free to practice Falun Dafa anywhere in the world," she said.
Julien, a chemist from France, watched the parade with his family. His children were dancing with the music as the Marching Band passed by. As Julien learned about the persecution in China, he said that the Chinese regime "should not persecute (the practitioners) for any reason."
Definitely Want the Falun Dafa Group to Come Back Next Year
The Sound of Music Festival is the largest free music festival in Canada. It attracts more than 220,000 people each year. "We have invited the Divine Land Marching Band and Waist Drum Team to participate in the Sound of Music Festival Parade for at least five years. They are very professional and we really like them," said Mr. Scott Johnson, organizer and chair of the festival.
He said that the festival will definitely invite the Falun Dafa group next year, "It's wonderful to have them in the parade."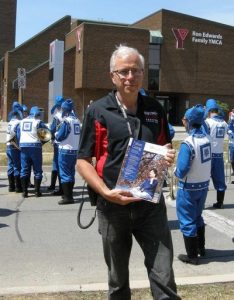 (Clearwisdom)