June 02, 2016 |  Vancouver Falun Dafa practitioners took part in the 45th annual Hyack International Parade on May 28 in New Westminster, Canada. Founded as the capital of the Colony of British Columbia in the 1850s, the historical city of New Westminster draws a large number of spectators to the parade, making it one of the biggest events in British Columbia.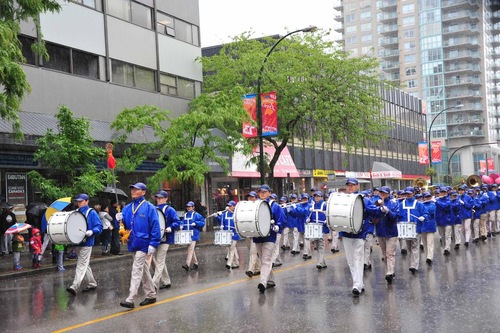 Ken Williams, organizer of the event, thanked the practitioners for their contribution to the parade. "We have been holding this parade every year and it is a great time for the community to get together," he said, adding that the Dafa practitioners' group is the among the largest participating groups in the parade and is always well received by the spectators.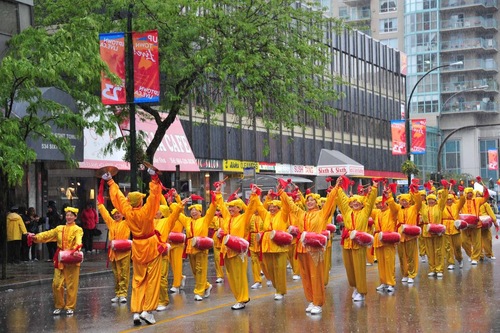 Host Glen Richmond introduced Falun Dafa as they passed the reviewing stage. "Rooted in traditional Chinese culture, Falun Dafa consists of five sets of exercises and the principles of Truthfulness-Compassion-Forbearance. It has benefited people in more than 100 countries, through physical and spiritual improvement."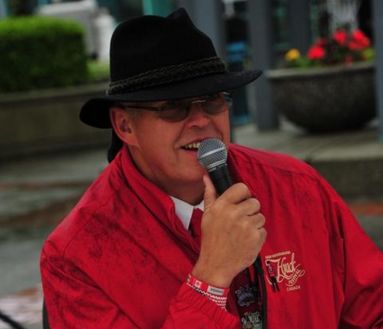 As the Divine Land Marching Band, the practitioners demonstrating the Falun Gong exercises, then the waist drummers passed the stage, Mr. Richmond announced that he thoroughly enjoyed the spirited performance, noting that their bright colors lighted up the rainy streets.
Heather and Sorina, mother and daughter, waved enthusiastically to the practitioners, smiles lighting up their faces. Heather said that she comes to the parade every year and always enjoys the Falun Dafa performance. "I was especially touched today because, despite the rain, these artist are still so enthusiastic and dedicated to their music."
Shawn and her daughter also gave the thumbs up to practitioners. "Not only the music and float are great, the members of the band play music with their hearts. They bring people happiness!"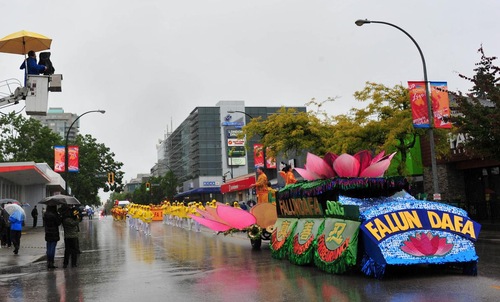 (Clearwisdom)