June 01, 2016 |  A total of 370 residents in Chengjiang Town of Meizhou City signed a petition letter calling for the release of a fellow citizen detained for his faith.
Mr. Zhu was arrested last December after filing a criminal complaint against former Chinese dictator Jiang Zemin. He accused Jiang of launching the persecution of Falun Gong that resulted in his repeated arrests in the past.
Mr. Zhu appeared in court on April 16 of this year, and his lawyer entered a not guilty plea for him. The lawyer pointed out that Mr. Zhu broke no law by seeking justice against Jiang for infringing upon his right to freedom of belief.
The judge adjourned the hearing without issuing a verdict. In the days that followed, Mr. Zhu's supporters circulated a petition letter and collected 370 signatures.
The petition letter reads, "Mr. Zhu broke no law and caused no harm to society. His right to practice Falun Gong is protected by the Constitution. We urge the court to acquit him as soon as possible."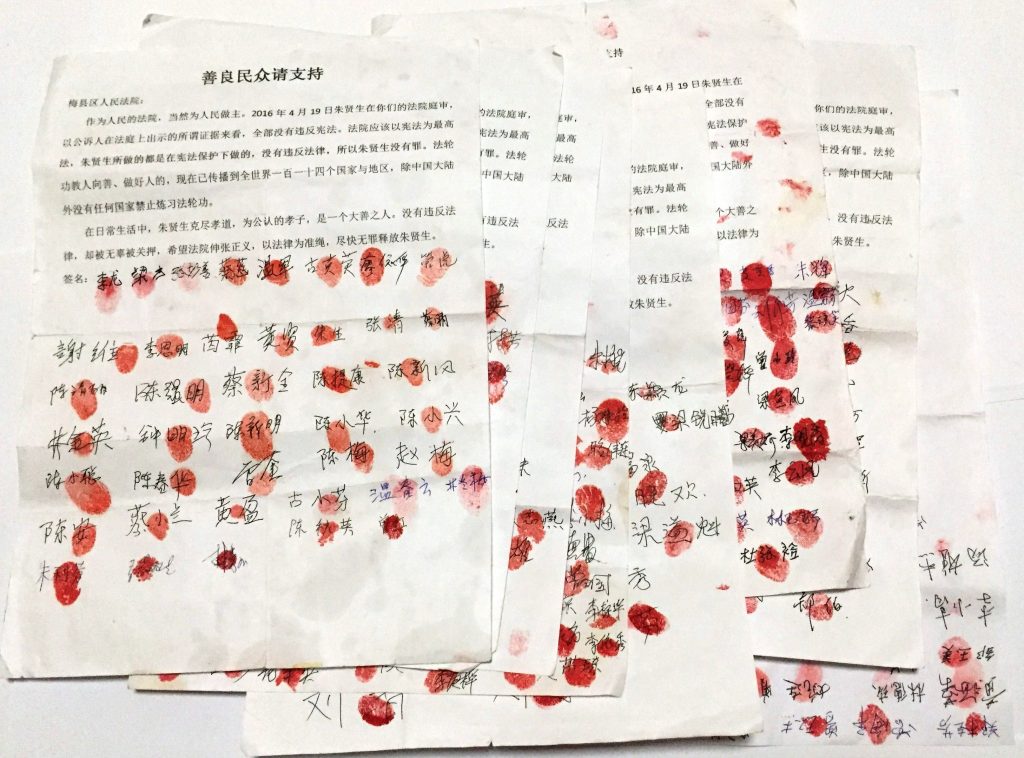 Background
In 1999, Jiang Zemin, as head of the Chinese Communist Party, overrode other Politburo standing committee members and launched the violent suppression of Falun Gong.
The persecution has led to the deaths of many Falun Gong practitioners in the past 16 years. More have been tortured for their belief and even killed for their organs. Jiang Zemin is directly responsible for the inception and continuation of the brutal persecution.
Under his personal direction, the Chinese Communist Party established an extralegal security organ, the "610 Office," on June 10, 1999. The organization overrides police forces and the judicial system in carrying out Jiang's directive regarding Falun Gong: to ruin their reputations, cut off their financial resources, and destroy them physically.
Chinese law allows for citizens to be plaintiffs in criminal cases, and many practitioners are now exercising that right to file criminal complaints against the former dictator.
(Clearwisdom)
8 total views