Falun Gong won the second place award at the Lunen City Multicultural Festival in North Rhine-Westphalia State on May 21, 2016.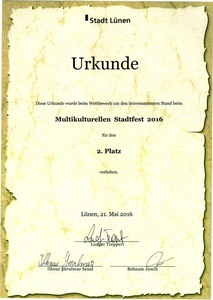 Thirty-six organizations participated in the event, focused on introducing culture and food from around the world. Falun Gong practitioners set up a booth, and also demonstrated the Falun Gong exercises, a traditional cultivation practice from ancient China, on-stage during the event.
Participating Falun Gong practitioners were very happy to share their personal experiences with the visitors.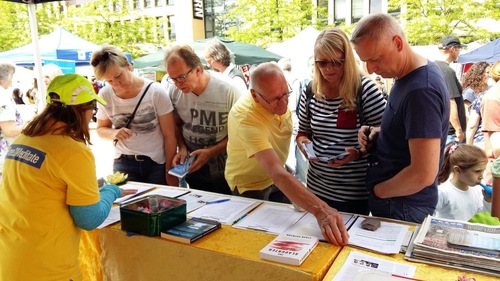 Sergio, a flute player from Italy, said that he felt that Falun Gong had a magical power that connected to his life faster than he could imagine. He said he read a story about the persecution of Falun Gong in China in German media in February. This was his first exposure to Falun Gong.
The next day, he went to see a doctor for migraine headaches he had been having, and the doctor gave him a flier printed "Falun Gong" on the front. Back at home, while browsing a website about music, he saw the words "Falun Gong" again.
He believed that he must have some relation with Falun Gong, so he found a public practice site and learned more about the practice.
Sergio said, "Falun Gong is what I have been looking for even before I knew it existed. Practicing Falun Gong changed my life for the better.
"I used to be afraid of conflicts between people. Now I can calmly handle the personal issues. Of course, my migraines disappeared, too."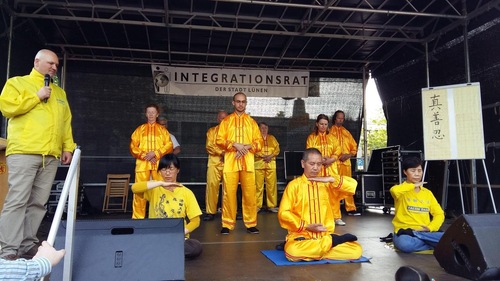 Milena, an immigrant from Croatia, returned from New York a few days before the event. She had joined nearly 10,000 Falun Gong practitioners in the celebration of the 24th anniversary of Falun Gong's public introduction, and participated in a grand parade through Manhattan.
Milena commented, "I can feel the peaceful atmosphere here. People come here to hear more about Falun Gong, and they truly care about it."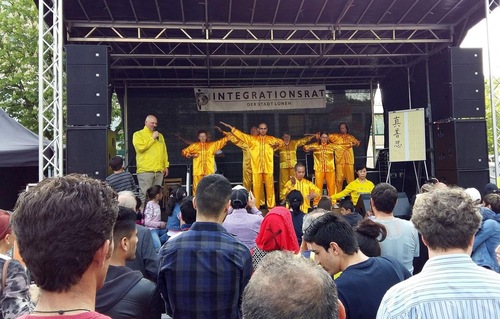 After introducing the merits of the practice, practitioners told visitors that a brutal persecution of Falun Gong has continued for more than 16 years in China.
A visiting couple said they knew that China had issues regarding human rights, but were not aware of the forced organ harvesting crimes. They signed a petition to help end the persecution and stop the forced organ harvesting.
When practitioners demonstrated the exercises on the stage, the host introduced the principles of "Truthfulness-Compassion-Forbearance" to the audience. He said that practitioners in more than 100 countries followed these principles in their daily lives, and experience positive life changes as a result.
(Clearwisdom)
62 total views