May 22, 2016 | The Langfang City 610 Office recently sent a message via the Chinese social media platform WeChat, making the accusation that Falun Gong was the cause of a former Falun Gong practitioner suffering a mental disorder.
The reported message is still circulating in Langfang City. Therefore, it is necessary to clarify the facts and expose the truth about the persecution that Ms. Cui Yanqiu suffered and the true reason for her current condition.
Steadfast in Falun Gong
Before practicing Falun Gong, Ms. Cui Yanqiu had severe meningitis from a high fever in middle school. Because of her ill health, she failed the annual college entrance exams twice.
However, following her parents, she began to practice Falun Gong in 1995 and her health dramatically improved. She soon passed the entrance exam with excellent grades and was accepted to the Hebei Teacher's University.
Ms. Cui graduated from the university in 1999, the same year the Chinese Communist Party (CCP) started to persecute Falun Gong. Ms. Cui bravely stood up and went to Beijing to appeal for the right to practice Falun Gong.
However, her parents were afraid of the CCP's brutal persecution and gave up the practice. In order to make their daughter do the same, they cooperated with the 610 Office and sent their daughter to the Langfang Brainwashing Center. They even paid 5,000 yuan of their limited income to do so.
In the brainwashing center, Ms. Cui was forced to stand straight for long hours, and she was not allowed to sleep for days. Guards forced her to keep her eyes open, using broken matchsticks to hold her eyes open. Nevertheless, no matter how they tortured her, Ms. Cui still refused to give up Falun Gong.
Injected with Unknown Substances
Two months later, Ms. Cui Yanqiu was sentenced to two years of forced labor. She was detained at the Tangshan Forced Labor Camp and the Shijiazhuang Forced Labor Camp, where she suffered increased mistreatment. She was released after finishing the two-year term.
Less than one year later, however, she was again taken to the Shijiazhuang Forced Labor Camp.
Ms. Cui was brutally tortured in the labor camp. She was hung up and other times forced to stand or squat for long hours. Guards deprived of her sleep and injected her with unknown substances. They also threatened her constantly. "If you don't give up practicing Falun Gong," they said, "we will strip you naked in public." As an unmarried young lady, and under such threats, torture, and drug injections, she finally gave in and relented in practicing Falun Gong.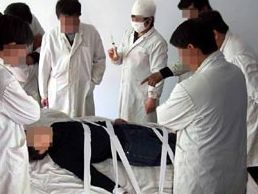 Ms. Cui's mental state became unstable in such a horrible environment and under such horrible treatment and pressure. After she was released, she stayed at home every day and refused to see anyone. She did not resume practicing Falun Gong. Sometimes when she was temporarily in a clear state of mind, she would mutter to herself, "She was hung up and beaten," and "She was injected with poison," among other mumbled accounts of abuse in detention. Now, Ms. Cui is 39 years old, still in in a state of trance, with worsening symptoms of mental disorder.
Ms. Cui Yanqiu's case is not an isolated instance. Several local Falun Gong practitioners have had similar experiences: They were injected with or fed unknown substances after they were arrested. They became mentally disordered to varying degrees.
For example, Mr. Jin Litao, in his 30s, from Baozhou City, was arrested on May 8, 2005. He was detained in the Langfang Brainwashing Center for more than 20 days. He was beaten, sworn at, deprived of sleep, fed toxic substances, and injected with unknown toxic substances. He also suffered a mental disorder.
(Clearwisdom)