May 22, 2016 | According to data compiled by Minghui.org, 158 more Falun Gong practitioners in China are now confirmed to have been sentenced to prison between November 2015 and April 2016.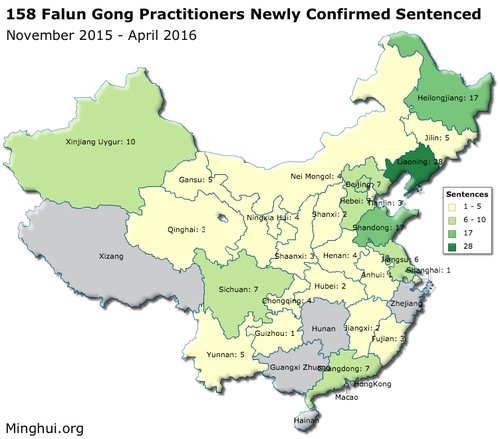 These citizens were imprisoned for refusing to renounce their belief as demanded by the communist authorities, and for talking to the public about the Chinese regime's persecution of Falun Gong.
These practitioners' cases were often riddled with numerous violations of legal procedure on the part of the police, the Procuratorate, and the court. Among them, 144 (91.14%) were tried without an open trial as required by law.
Many judges meted out prison sentences based on police-supplied evidence that was often fabricated or extracted through torture. The sentenced practitioners usually stood no chance of successfully appealing their sentences. Many higher courts simply upheld the lower courts' decisions without holding hearings.
Among the 158 sentenced, 150 have known prison terms ranging from 3 months to 10 years, with an average sentence of 3.71 years and a median of 3.25 years.
Ten of the sentenced were also given probation ranging from 2 to 5 years (meaning they would be imprisoned for their original sentence terms should they violate probation). They have now been released.
Liaoning Province has the most sentenced (28), followed by Shandong and Heilongjiang (each 17), and Xinjiang (10). The rest of the provinces and directly-controlled cities registered single-digit sentencing cases.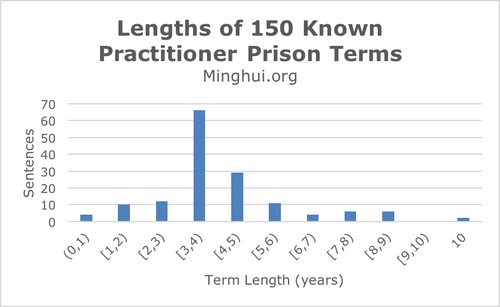 10 Sentenced for Suing Jiang Zemin
More than 200,000 Falun Gong practitioners have filed criminal complaints against Jiang Zemin since May 2015. They accuse the former Chinese leader of launching the persecution of Falun Gong that violated their constitutional right to freedom of belief.
Police across China have retaliated against those who have filed such complaints against Jiang. In particular, more than 300 locals from Chaoyang City, Liaoning Province, were arrested on November 9, 2015, for suing Jiang Zemin. At of now, five of them have been given prison sentences.
In Yangzhou City, Jiangsu Province, another practitioner met the same fate. Mr. Yin Hongpei, a senior engineer at China Shipbuilding Industry Corporation, was sentenced to three years last December. He filed an appeal, only to see the higher court uphold the original sentence on April 2, 2016.
Sentenced Without Open Trials
Ms. Li Aiqing from Qiqihar, Heilongjiang Province, was seized from her home in the middle of the night on November 4, 2015. She was sentenced to 4 years on March 4, 2016.
Her family was outraged to discover she had been tried and sentenced and asked the authorities why they were never notified. Judge Liang Fengfeng replied, "She is already an adult, so there is no need for the court to inform you of her trial!"
Ms. Li is now in the process of appeal.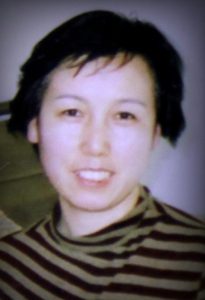 Brutal Treatment from Arrest to Detention
Many practitioners suffered various forms of abuse at the hands of police and detention centre guards.
Ms. Li Yifeng and Ms. Zhang Xiaoling from Shantou City, Guangdong Province, were assaulted by the police on a busy street on December 8, 2015. They were both further abused by detention center guards. A judge sentenced both young women to three years on April 22, 2016.
Ms. Chen Yan from Benxi City, Liaoning Province, was beaten in a detention center. The guards continued to deny her use of the restroom on the day of the trial, forcing her to relieve herself in her pants during the hearing. She was sentenced to three years on March 9, 2016.
Ms. Xiao Naixiang, in her 60s, is from Wusu City, Xinjiang Province. She was interrogated for 13 days straight, during which time she was not allowed to sleep, eat, or drink. On top of that, she was constantly beaten and interrogated. The judge, however, ignored her protest of police brutality. She was sentenced to 4 years.
Threatened Not to Appeal
Mr. Yang Guizhi and Mr. Wang Shengxin from Tieling City, Liaoning Province, were tried and both sentenced to prison on January 20, 2016. Judge Zhang Yuanxiang threatened them, "If you appeal, you'll only get heavier sentences!"
Funds Extorted
In addition to sentencing practitioners for exercising their freedom of belief, the courts also fined 19 of them a total of 194,000 yuan.
Ms. Chen Fengjun from Suining City, Sichuan Province, was sentenced to three years and fined 5,000 yuan on April 14, 2016. Her noodle restaurant was also shut down, essentially doing away with her family's livelihood.

(Clearwisdom)
28 total views