April 25, 2016 | Nearly one thousand Falun Gong practitioners from New York put on a grand march in Flushing, New York's Chinatown, on Saturday April 23, 2016, commemorating the 17th anniversary of the April 25 Peaceful Protest.
The grand march consisted of three teams. The theme of the first team introducing Falun Gong to the public. The second theme was exposing the persecution of Falun Gong in China, specifically the state-sanctioned organ harvesting. The third theme was supporting the 230 million Chinese people who have quit the Chinese Communist Party and its affiliated organizations.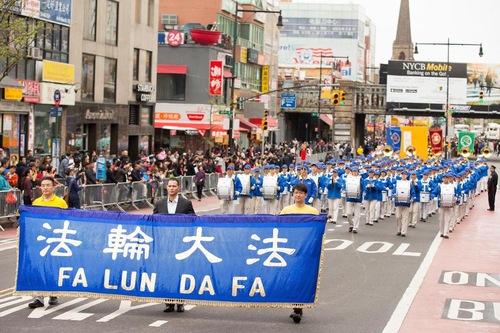 Crowds of Chinese people on Main Street watched the march, which was led by large banners reading, "Falun Dafa" and "Truthfulness-Compassion-Forbearance."
Main Street was packed with Chinese people during the march. Some had recently arrived in the U.S. from China, and had never seen such a large-scale event featuring Falun Gong. One Chinese gentleman said, "The performances in the march are amazing. It is so exciting to see Falun Gong here in New York."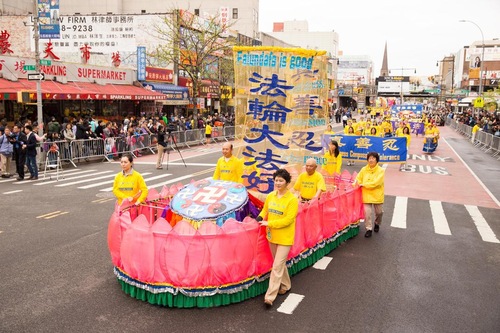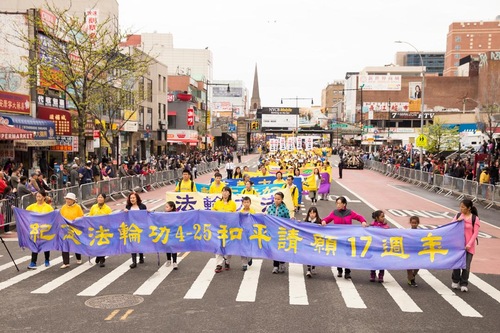 Many Chinese expressed support for Falun Gong's peaceful resistance to the persecution.
Mr. Liang said, "Of course I support Falun Gong, because it is supporting justice and the positive side of humanity."
Ms. Zhao said, "I just like Falun Gong, because they speak the truth. I like honest people. The Communist Party has created numerous lies and propaganda. I've lived in America for two decades, and I've learned a lot about the Party's evil history. I was totally deceived by the Party when I was in China."
Mr. Wang said he had heard about the April 25 Peaceful Protest. "I was amazed that after a large protest with ten thousand people, there was no trash left on the ground. Falun Gong practitioners even picked up police officers' cigarette butts."
Ms. Wang said, "People have a right to voice their concerns. The protest was peaceful, and the persecution is definitely wrong."
Ms. Li said, "Many people give in to the tyrannical power and give up their goals. It is impressive that the Falun Gong have persevered in their belief for so many years. Looking at them, I feel that I see the hope of China."
(Clearwisdom)
56 total views