May 26, 2016 |  Falun Dafa practitioners in Greece celebrated the 17th World Falun Dafa Day and Master Li's birthday with a group exercise in Parko Eleftherias on May 8, 2016. They took a group picture with their hands pressed together in front of the chest to express their gratitude to Master.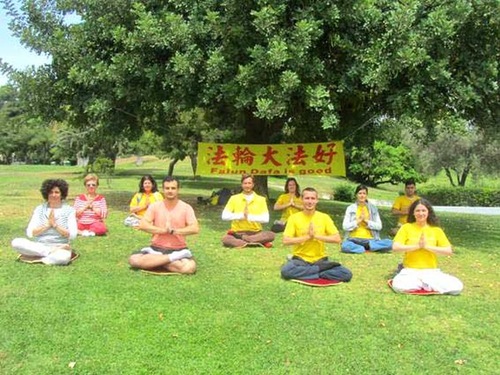 Practitioners Express Their Gratitude
"Falun Dafa is what I have been looking for. It gives me life's meaning." said Vasilis Katsenos, a 22-year-old graduate student of the Institute of Oceanography, "I'm determined to cultivate myself and assimilate to Falun Dafa."
Theodora Vourgoutzi, a 62-year-old Falun Dafa practitioner, said, "Falun Dafa is my essence. It has opened a door for me. I deeply feel what it means to be truly concerned for others."
Ioanna Tagari, a 38-year-old government employee, said, "When I started practicing Falun Dafa, all the pain in my life disappeared. The pressure and unstable factors were all gone."
Neli Sfigopoulou, a 29-year-old tour guide, said, "Falun Dafa taught me how to uplift myself. It's a way of living that I have been looking for since childhood. It doesn't have rituals or worship. It's a way of gaining physical and spiritual health, as well as tranquility. Thank you, Master!"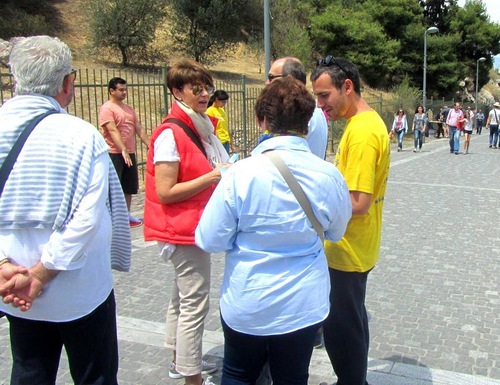 Exposing the Persecution at the Acropolis
Falun Dafa practitioners also demonstrated the exercises at the Acropolis of Athens. Tourists were fascinated by the beautiful exercises set to soothing music. They talked to practitioners to find out more information about Falun Dafa and the persecution in China, including the Chinese Communist Party's crimes of harvesting organs from living practitioners.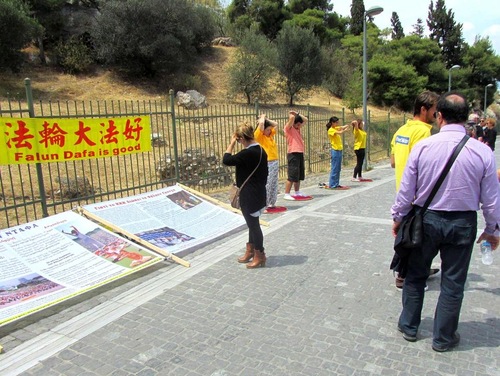 One passerby said, "All dictators are the same. They control people's thoughts with terror." A lady was surprised that she hadn't heard about such terrible persecution before. She sincerely thanked the practitioners for telling her about it. Another said, "Things are very clear. It's easy to tell who is good and who is evil. Falun Dafa is good!"
Many people became interested in Falun Dafa, and asked where they could learn the exercises.
32 total views