May 27, 2016 |  Falun Gong practitioners participated in the 118th Victoria Day Parade on May 23, 2016 at British Columbia's capital, Victoria. There were over 100,000 people who attended, with 115 participating groups.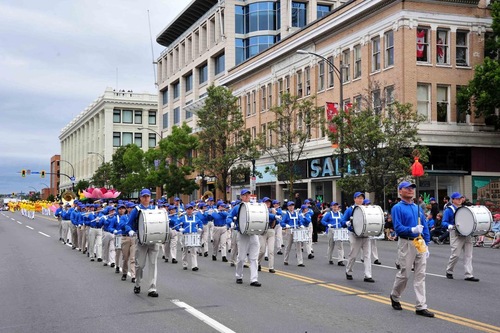 Benjamin Madison, a writer who lives in British Columbia, featured a picture of the waist drum troupe by practitioners in his blog. He said it was a great performance, and he was especially moved by the sincerity and happiness of practitioners.
"Today is a kind of milestone – this is the three thousandth consecutive post on this blog," wrote Mr. Madison as a footnote to the picture.
The Greater Victoria Festival Society, organizer of the event, was also impressed and posted a picture of the Divine Land Marching Band on its Facebook page.
Besides the band and waist drum troupe, local resident Mr. Kim said he also liked the exercise demonstration and the Falun Gong float. "They were fabulous!" he exclaimed.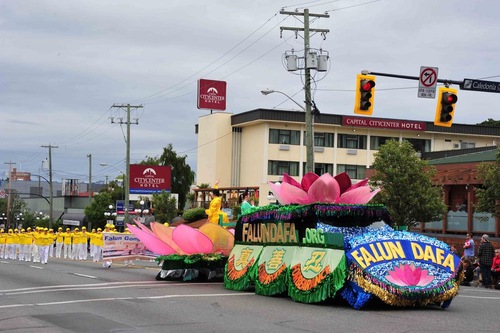 Chinese tourist Mr. Guo said this was the second overseas parade he had been to. "I really like the atmosphere here, relaxing and enjoyable. Glad to see Falun Gong practitioners are so healthy and happy." He said this is very different from what Chinese news media has claimed. "I am lucky to be here and see things with my own eyes," he added.
Mr. Wang, a student who came from China six months ago, agreed with this. Seeing the grand performance by Falun Gong practitioners such as the Divine Land Marching Band, he was astonished, "I can tell that Falun Gong practitioners are great, uplifting with positive energy."
He said this makes him reconsider the defamatory propaganda from communist party back in China, "Now I am interested in learning more about Falun Gong."
(Clearwisdom)