Sun Yat-sen Memorial Hall is a must-see destination for tourists from mainland China visiting Taipei, Taiwan. Besides the sightseeing, many of these visitors also have the opportunity to learn what Falun Gong really is and to quit the Chinese Communist Party with help from local Falun Gong practitioners.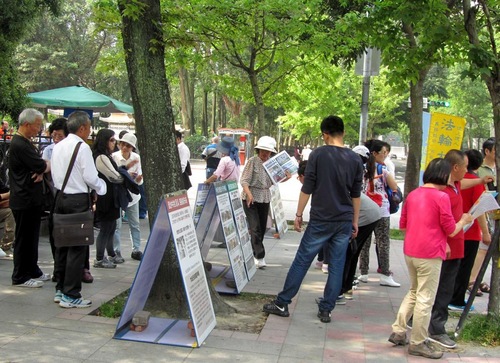 Local practitioner Jingzhi spends two afternoons every week in front of Memorial Hall, talking to Chinese visitors.
Jingzhi said, "I want more people to know about the beauty of Falun Gong. It is also my responsibility to expose the persecution of Falun Gong in China, especially the state-sanctioned organ harvesting."
She added, "Many Chinese tourists are happy to see us, and they encourage me to keep up the good work. In fact, a few days ago a middle-aged Chinese gentleman said to me that the moral standard in China has collapsed and that Falun Gong practitioners are the hope of China."
"He said, 'You guys have really been working hard. You need to keep it up and do even better. The future of China relies on you, Falun Gong.' I was very touched," Jingzhi said.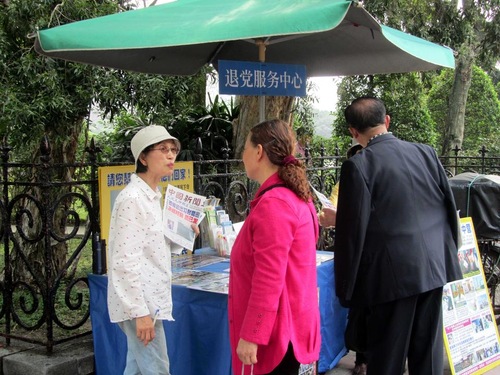 "Here's another example. A week ago, I was telling a young Chinese guy about the evil history of the Communist Party. He agreed to quit the Party, but his friend tried to stop him, because she was worried that quitting the Party would cause him trouble.
"The guy was brave, though, and he asked for my help to quit the Party. I told him and his friend that more then 230 million Chinese have quit the Party and its affiliated organizations, and that quitting the Party would bring him a good future and would not cause any trouble. They both smiled and gestured, 'OK.'"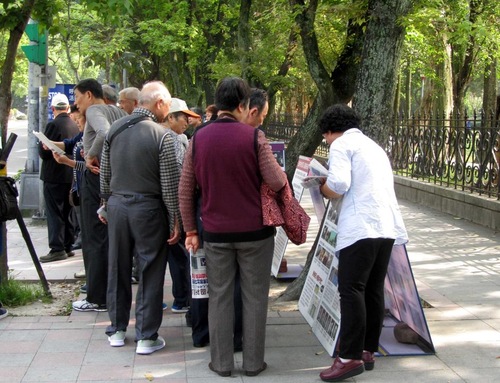 Shiya, another practitioner, also comes to Memorial Hall every week. She has made friends with several tour guides, who help her to talk to the Chinese tourists.
Shiya said, "I often ask them if they have encouraged their customers to take the Falun Gong materials. One lady always tells her tour groups to do that as soon as they get off the airplane.
"Another man often reminds his groups that people in Taiwan enjoy democracy and freedom and that Falun Gong is completely legal here. He tells them that Falun Gong practitioners, out of compassion, try to help people learn the truth, and he encourages them to talk to us.
"One day, this fellow said to me, 'You are trying to save people from the Communist Party. You are doing a great job and are making a significant contribution to society.'"
(Clearwisdom)
24 total views