Ms. Gong Yuqun, 73, a retired college professor from the City of Wuhan was arrested on February 22, 2016, for distributing informational material about Falun Gong. She was taken to a remote brainwashing center that night.
Arrested During Chinese Lantern Festival
Someone reported Ms. Gong to the police because she was talking to people about the persecution of Falun Gong and distributing brochures in the Meiyuan residential area of Wuhan. Police officer Zhou Yingguo deceived Ms. Gong, saying that if she signed a consent document to notify her family, she would be released due to her age. Instead, she was sent to a remote brainwashing centre that evening, and her family was not notified.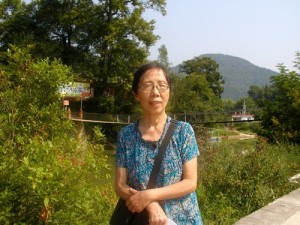 When they realized she hadn't returned home, Ms. Gong's family was very worried. They learned that she had been sent to a brainwashing centre when they tried to file a missing person's report. The directors of the brainwashing centre refused to give their names and claimed that Ms. Gong was not allowed to have visitors, even from family members.
The brainwashing centre is a four-story building surrounded by a high wall topped with barbed wire. It is an ominous looking building, and there are cameras everywhere. There are no street numbers or signs to identify what it is, even on the gate.
Ms. Gong's family is very worried about her.
Well-Known English Professor
Ms. Gong had hosted a popular English language learning program in Hebei Province during the 1970s. Many young people who had been sent to the countryside during the Cultural Revolution and never received any formal education returned to the cities. They were eager to catch up on the education they had missed and wanted to learn English. Ms. Gong's program was very helpful and popular. The Hebei Province government gave Ms. Gong a special contribution award for her radio program.
Becoming a Broad-minded Falun Gong Practitioner
Ms. Gong also taught English at a university in Wuhan. She started practicing Falun Gong when she was in her 50s and became healthy and broad-minded. She worked hard to follow the Falun Gong principles of Truthfulness-Compassion-Forbearance, enabling her to be a better person.
She told her family, "Teaching is a rewarding profession. I can help students gain knowledge. I don't care if I get promoted or get a pay raise." After she started practicing, she reached out to her colleagues in true friendship.
(Clearwisdom)