The U.S. East Falun Dafa Association held the Art of Zhen, Shan, Ren International Exhibition in the New York State Capitol building in Albany, New York, on March 14 and 15, 2016 (Monday and Tuesday).
The exhibition included 20 paintings which manifested the grace of Falun Dafa, and the uncompromising courage of Falun Dafa practitioners in upholding their belief while facing the brutal persecution in China.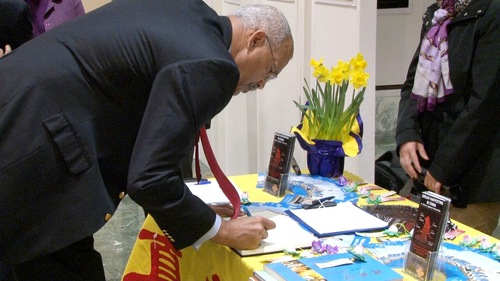 Monday through Wednesday are busy days for the state representatives who work in the capitol building, and citizens can visit their representatives on Tuesdays. The eye-catching exhibition was held in the hallway through which state representatives frequently pass.
Ms. Zheng, a coordinator with the hosting organization, said, "The objective of the exhibition is to have all members of the New York legislature, both Assembly and Senate, along with their staffers, know about the persecution of Falun Gong in China, and to win their support of Falun Gong."
Jack Martins, a member of New York State Senate, sponsored the exhibition, and showed up in person to show his support. He said, "There is no position for the Chinese Communist Party in the world. Falun Gong is a good traditional practice school. Its principles should be followed by everyone of us. Each of us will be encouraged by Truthfulness-Compassion-Forbearance."
He also indicated that he was pleased to see his colleagues pausing to learn more and signing the petition expressing their support of Falun Gong.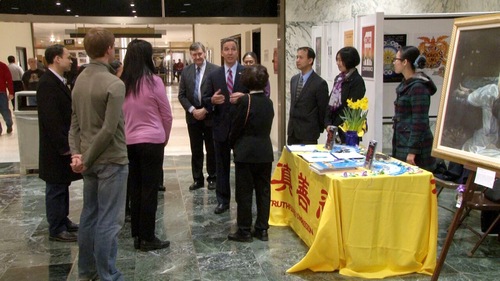 Lynn Couey, a staff member who works in the capitol, wept when seeing the innocent people being persecuted. She said, "I feel miserable for such things. I am concerned about the issue. Everyone should be concerned, as it should not happen."
Mr. Huang, a resident of Albany, said, "It is touching. A government can do such things to people." He said while pointing to the painting entitled "Pure Call," "She does not open her mouth, but expresses the feeling of her inner heart."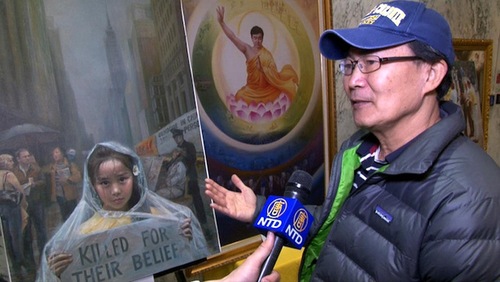 Some visitors inquired more about Falun Gong and the persecution in China. Many signed the petition and wrote their thoughts in the guest book. Following are some of the visitors' words from the guest book:
"An exhibit of peace and compassion, a tribute to human spirit."
"People expect beauty to come from the physical appearance, but will be surprised to find a rose grow from the concrete."
"The quality of mercy is not restrained; it is our duty to protect those sentient beings who are vulnerable. A world of love and peace is possible if we choose so."
"Such a beautiful and powerful way of telling this tragic story. Thank you!"
(Clearwisdom)
6 total views