"I cannot find words to express how shocked I am," said Maxine, a local Melbourne resident, after watching the documentary Hard to Believe, on the state-sanctioned organ harvesting in China. She added, "I never heard about the persecution of Falun Gong before. I am outraged. How can those doctors harvest organs from living people?"
The one-hour long documentary, which exposes the Chinese Communist Party's crime of harvesting organs from living Falun Gong practitioners for profit, and discusses the silence of public media, politicians, and the medical community on the issue, was screened at Darebin Arts and Entertainment Centre on March 21, 2016.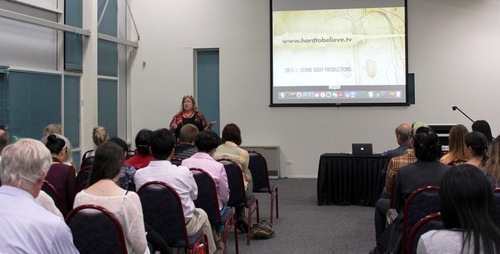 Organizer Leigh Smith said after the screening that remaining silent on the organ harvesting issue is helping the crime. She urged the audience to sign the petition and send letters to the Prime Minister, calling on the Australian government to take action to help stop the organ trade in China.
Like Maxine, many other audience members were shocked by the incredible crime, and supported Smith's call for action.
The Art of Zhen, Shan, Ren (Truthfulness-Compassion-Forbearance) International Exhibition was held in the same building. The audience who viewed the documentary screening was also able to view artworks by Falun Gong practitioners, which reveal the persecution and Falun Gong's peaceful resistance.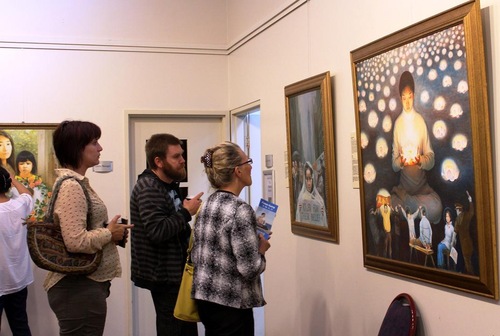 Local resident Alan said that he had heard about the persecution, but learned a lot more from the art exhibition. He said, "The artworks are very touching. I can feel the pain that these practitioners have suffered from. It is abominable… the worst is that the nice people are being persecuted by the Chinese government."
Daniela and her friend Caleb learned about the event from social media. They had not heard about the persecution, and both were shocked.
Daniela said the facts exposed by the documentary were suffocating. "I need time to digest what I learned. Just like the title of this documentary, it is incredible. It is unacceptable that the organ harvesting is still going on," she said.
Caleb said that it is great to expose the crime on social media, and they will share it all with their friends. "Every Australian should know about it," he said.
Daniela said, "When more and more Australians learn about this, our government will finally wake up."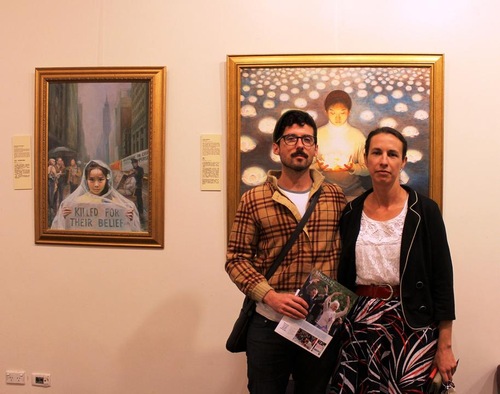 (Clearwisdom)