(Minghui.org) On September 8, 2023, Frantisek Miklosko, the former Speaker of the National Council of the Slovak Republic, sent a letter to Chinese Communist Party (CCP) officials, demanding an immediate end to the persecution of Falun Gong practitioners Ding Yuande and Ma Ruimei.
In his letter to Li Zaiwu, Secretary of the Rizhao Municipal Party Committee in Shandong Province, Mr. Miklosko said that his predecessor, Ms. Zhang Hui, was responsible for the illegal detention of about 70 Falun Gong practitioners in Rizhao City, Shandong Province.
Since June 13, 2023, Ding Yuande has been illegally detained in the Rizhao City Detention Centre. On June 14, two Rizhao City police officers threatened Ding Yuande's wife, Ma Ruimei, at her home. The police told Ms. Ma that her husband, Mr. Ding, was jailed because of the overseas rescue operation. On July 20, on the 24th anniversary of the CCP's persecution of Falun Gong, the Donggang District Police Station in Rizhao City issued an official arrest warrant for Mr. Ding.
Miklosko stressed that the CCP's persecution of Falun Gong seriously violates basic human rights such as freedom of belief, which is stipulated in the Chinese Constitution. There is no legal basis for the persecution.
He said that Mr. Ding and Ms. Ma are peaceful Falun Gong practitioners who have not violated any Chinese law.
He wrote, "I urge you to immediately and unconditionally release Mr. Yuande Ding, end the persecution of the Chinese couple, and grant them travel documents to join their son in Germany."
He requested that the letter be forwarded to Lin Wu, Provincial Party Secretary of Shandong Province, and Ms. Zhang Hui, Deputy Municipal Party Secretary of Qingdao City.
Mr. Miklosko also wrote to Vice President Josep Borrell of the European Commission, asking him to help communicate with the Chinese government to ensure that the couple is protected from further persecution. He asked vice president Borrell to write to the Chinese Ambassador in Germany to rescue the couple.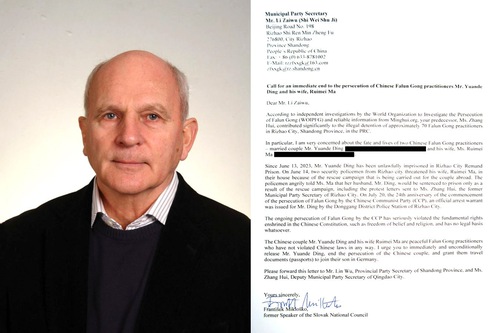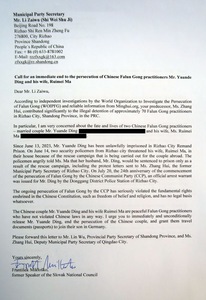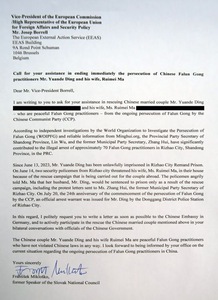 Background
Falun Gong practitioners Ding Yuande and his wife Ma Ruimei from Wulian County, Rizhao City, Shandong Province were abducted by the police at their tea farm on May 12, 2023. Ms. Ma Ruimei was released on May 24 and returned home on bail pending trial. Mr. Ding has been illegally detained since then. On July 20, the Donggang District Public Station issued an official arrest warrant. The Donggang District Procuratorate plans to prosecute him.
Their son Ding Lebin, who lives in Germany, has actively been calling on the international community to pay attention and rescue his parents.
Chinese version available
(Clearwisdom)