(Minghui.org) Falun Dafa practitioners from Austria and Hungary organised a truth-clarification event in Sopron [Ödenburg] on September 16, 2023. A popular weekend destination for both Austrian and Hungarian residents, the city of Sopron lies near the border of both countries.
In the Castle District within the city's centre, practitioners set up a booth and displayed posters. Besides introducing Falun Dafa to locals and tourists, they also wished to tell people about the brutal persecution faced by practitioners in China. Many people read the information displayed on the posters and talked with practitioners.
Many passers-by voiced their appreciation for this outreach effort and expressed their shock at the inhuman treatment of Chinese practitioners at the hands of the Chinese Communist Party (CCP).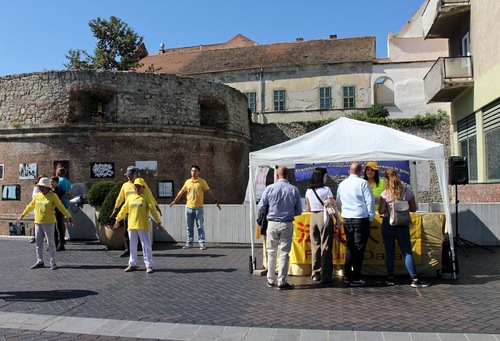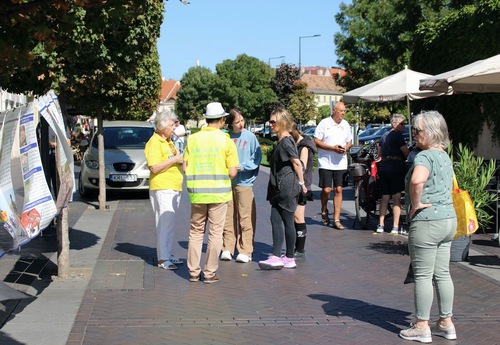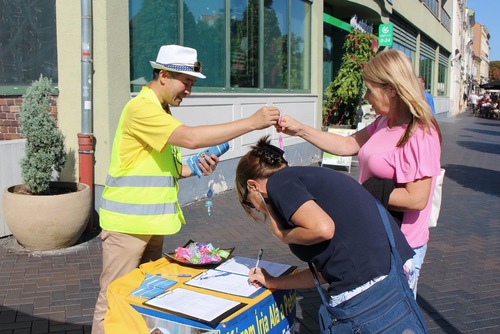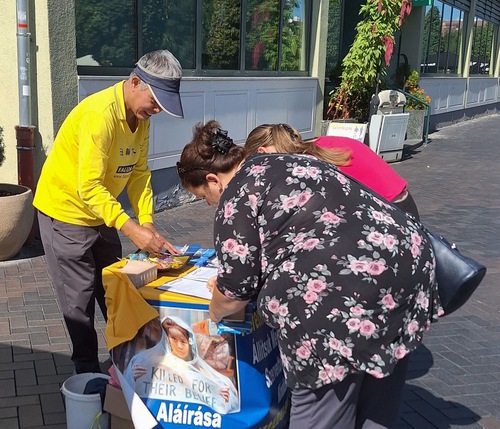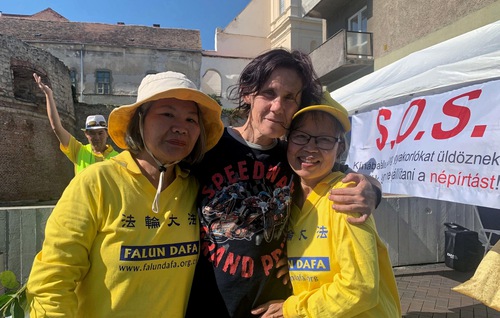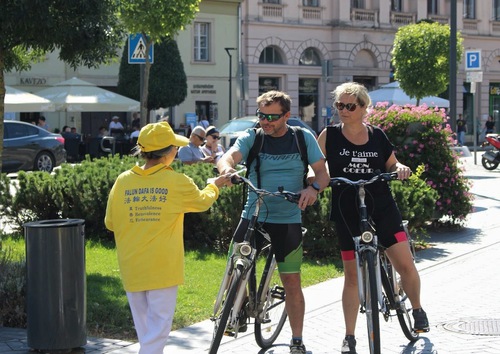 Introducing Falun Dafa to Visitors and Residents of Sopron
After learning about Falun Dafa, two women signed a petition requesting the Hungarian government to condemn the CCP's persecution and its state-sanctioned live organ harvesting from Falun Gong practitioners.
The two women later returned to express their gratitude. One said, "We would like to thank you for coming to Sopron to introduce Falun Dafa." The other said, "This practice is great, and we wish you the best of luck."
One woman purchased a German language version of Zhuan Falun, intending to gift it to her children studying in Germany.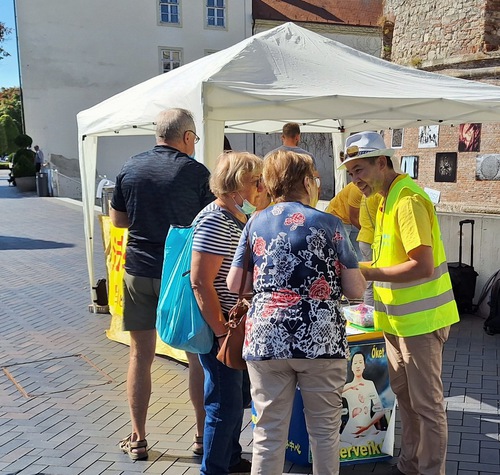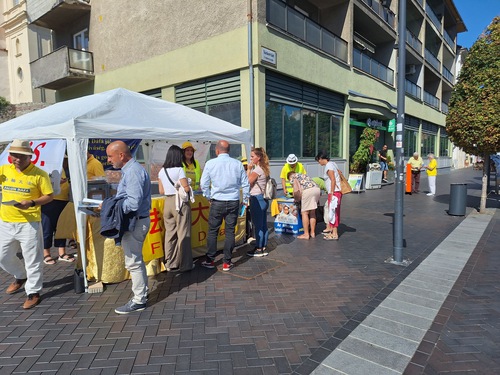 "This Gift, You Don't Even Know How Precious It Is!"
Vilmos and his friend Laszlo were visiting Sopron with two other friends. Vilmos was deeply shocked after hearing details about the persecution. "I have been to China several times but I never heard about this [persecution]," he said. "I can hardly believe something like this is happening there. It is simply too cruel."
Vilmos explained that he is a businessman and frequently travels around the world. He said a year ago, he and his father saw a similar truth-clarification event held by Falun Dafa practitioners in Taipei, Taiwan. While they were shocked by the pictures, which depicted the brutal injuries suffered by persecuted practitioners, the language barrier prevented them from talking with practitioners and learning more. Taiwanese practitioners had given Vilmos a CD containing information, which he later passed to his friend Laszlo, whom he knew had an interest in Buddhist practices.
The next time that Vilmos and Laszlo talked, Laszlo thanked him for the disc. Vilmos said Laszlo told him, "This gift, you don't even know how precious it is! This is exactly what I have been looking for!"
Laszlo started practicing Falun Dafa and even introduced the practice to his friends.
While conversing with practitioners at the event in Sopron, all four members of Vilmos's party signed the petition against the persecution.
New Practitioner 
Katalin specifically traveled from her home in Najikanniza to visit practitioners in Sopron. Having attended many online Falun Dafa seminars in an effort to learn the exercises, she said meeting fellow practitioners in person was a valuable opportunity for her to correct her exercise movements.
With her long-standing interest in Eastern healing arts, Katalin found the practice of Falun Dafa uniquely different. "While practicing the exercises, I immediately felt the presence of a powerful and pure energy. I had never felt anything like this before."
Overjoyed at meeting fellow practitioners, Katalin said she planned to participate in the next truth-clarification event.
During her time in Sopron, Katalin found out about the persecution of Falun Dafa practitioners in China. She said that she was deeply shocked that this morally upright practice could be so cruelly persecuted. She immediately signed the petition to help end the persecution in China.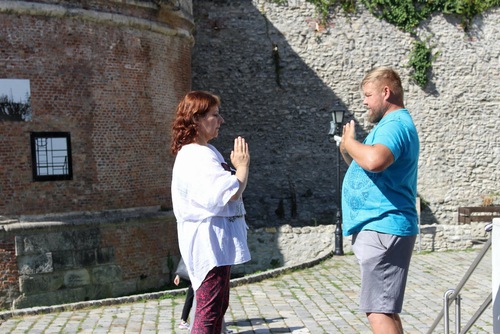 Chinese version available
(Clearwisdom)
Hungary: Local Residents Warmly Receive Falun Dafa at Informational Event