(Minghui.org) Falun Dafa practitioners in Australia expressed their gratitude to the founder, Mr. Li Hongzhi with the Mid-Autumn Festival upon us. A couple from Adelaide, South Australia who have practiced Falun Dafa for 20 years recalled meeting Master in New York many years ago. They still remember it vividly. Master's compassion encouraged them to cultivate diligently.
Sean Reid from Melbourne began practicing Falun Dafa last year. He said he feels fulfilled and that his mind and body are elevated.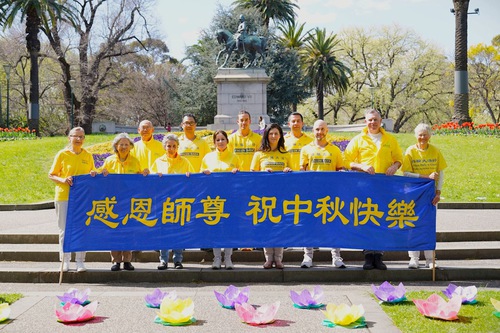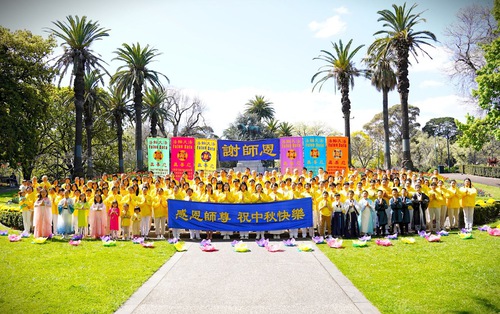 Practitioner Couple Recall Meeting Master
Brian and his wife Barbra from South Australia have practiced Falun Dafa for 20 years and talked about meeting with Master in New York many years ago. They still remember it vividly. Master's compassion has encouraged them to cultivate diligently.
They met Master during an international experience-sharing conference in New York many years ago. They recalled this unforgettable moment.
Barbra saw Master come after the practitioners finished an activity in New York. Master briefly spoke, and afterward, practitioners crowded around Master. They shook hands with Master and asked questions. Brian and Barbra stood at the back. When Master was leaving he walked towards the exit and then stopped, and looked back at them. Master walked to them and shook hands with Brian first and then with Barbra. Barbra said that was the most precious and unforgettable moment in her life and a cherished memory.
She said that she wanted to say thank you to Master in Chinese but was unable to say anything. But, as she held Master's hand, she felt Master knew everything. No words were needed. Master was so kind and approachable.
Brian had the same feeling. He said that he felt a tremendous energy and its powerful warmth and that he didn't need to say anything because he realised Master knew everything.
That day was Thanksgiving Day. When they returned to their hotel and saw the crowds of people on TV cheering a balloon turkey, their hearts were full. They felt they were so lucky that they obtained the Fa and understood the meaning of life and that they saw Master. This was the best Thanksgiving Day they ever had.
They were very thankful to Master for introducing Falun Dafa to the world. They became better people and gained wisdom and power from Dafa.
Barbra said that she had changed a lot after she practiced Falun Dafa. She learned to see things from the perspective of Truthfulness-Compassion-Forbearance. There were opportunities for cultivation and improvement when she was with friends, family members, and in every aspect of life every day. Just one day before, she chatted with a friend over the phone. The friend suddenly became unhappy and rude. After putting down the phone, she reminded herself that she was a practitioner and should comply with the principles of Truthfulness-Compassion-Forbearance and consider others first. Her friend might not be in a good mood. She didn't take it to heart and prepared to call her a couple of days later. If she hadn't practiced Falun Dafa, she would not have gotten over it for two or three months.
Brian said practicing Falun Dafa opened up his wisdom and empowered him. He could do the things that he couldn't do before. He was introverted and didn't express himself very well. But he changed his mentality after he practiced Falun Dafa. He made breakthroughs. He made speeches in rallies and clarified the truth to MPs, which was unthinkable for him before he practiced Falun Dafa.
He said that he still felt nervous and was afraid of making mistakes or doing new things but he knew what he should do. His wisdom opened up and he improved during the process.
They sincerely wish Master a Happy Mid-Autumn Festival and hope to see Master again.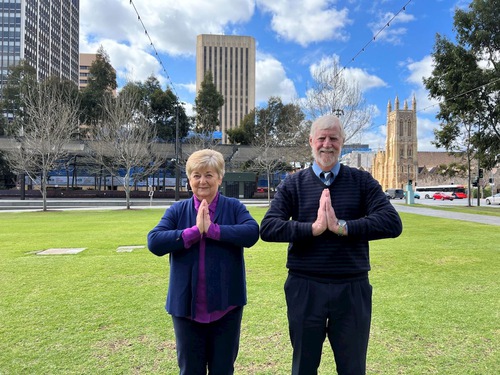 New Practitioner: I Am Glad That I Have Found Falun Dafa
Sean Reid began practicing Falun Dafa last year. He said that he felt fulfilled and that he became a better person after following the principles of Truthfulness-Compassion-Forbearance.
He shared his experiences of how Falun Dafa had improved his mind and body. He said, "I meditated on my own for years and I searched for life. When I read Zhuan Falun, I understood everything that Master was saying. So it was everything that I had been looking for. I found it quite easy to understand."
He continued, "I go to the practice site to do the exercises with other practitioners every weekend and study the Fa with them every Thursday night. It was good being around the right kind of people and being around a group like that. That was good. I now have like-minded people to communicate with and to understand the aspects of life."
He said his body changed after he began practicing. He said, "My body feels really light, especially when I do the exercises, I feel even lighter and my mind is clear. It's like when I walk around during the day I feel energised as well and all my stress and everything is gone, and my anxiety is gone too. My health has improved and is now really good.
"I have found that I am more compassionate toward people and more tolerant. When I stand back and look at people who get frustrated, I can understand that they are upset and that they need help and I go and help them. So I think that having compassion and tolerance has helped me a lot.
"I would like to say thank you to Master for his salvation. I am so pleased that I have found Falun Dafa. It has changed my life. I am a better person for practicing Truthfulness-Compassion-Forbearance, the principles of Falun Dafa."
Chinese version available
(Clearwisdom)