(Minghui.org) July 20, 2023, marks 24 years since the Chinese Communist Party (CCP) began to suppress Falun Gong. Falun Gong practitioners in 44 countries submitted another list of perpetrators to their respective governments, urging them to hold these individuals accountable for the persecution of Falun Gong in China. The practitioners asked their governments to bar the perpetrators and their family members from entry and to freeze their overseas assets.
Among the perpetrators listed was Tian Zhi, warden of Dongling Prison in Shenyang City, Liaoning Province.
Perpetrator Information
Full Name of Perpetrator: Tian (last name) Zhi (first name) (田志)
Gender: Male
Country: China
Date/year of Birth: N/A
Place of Birth: N/A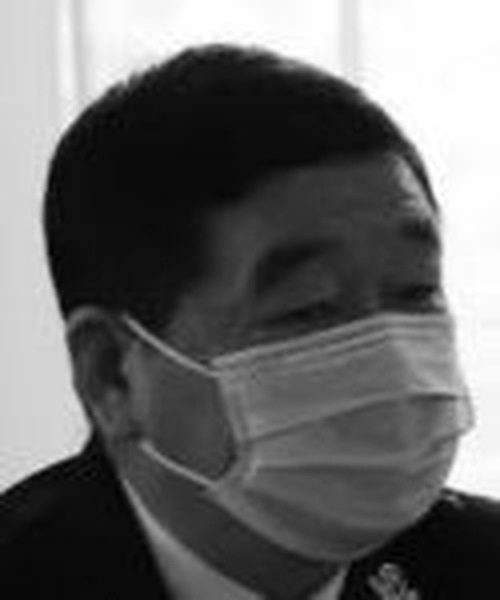 Title and Position
June 2019 – present: Warden of the Dongling Prison in Shenyang City, Liaoning Province
Before June 2019: Director of the Zhangshi Drug Rehabilitation Centre in Shenyang City, Liaoning Province
Main Crimes
After Tian Zhi took over as warden of the Dongling Prison in 2019, he implemented the CCP's inhumane persecution policies against Falun Gong practitioners. Under his direction, practitioners were tortured and ordered to give up their spiritual belief, Falun Gong. Three practitioners died during his tenure so far. They are Mr. Teng Yuguo, Mr. Li Zhendong and Mr. Liu Xiyong.
The common torture methods used in the Dongling Prison include:
– Sleep deprivation– Punching, kicking, and slapping– Shocking with electric batons, including shocking the practitioners' penises wrapped with metal wires– Pulling pubic hairs– Inserting bamboo sticks into practitioners' penises– Pouring ice water over practitioners, often in cold weather– Pouring urine and fecal matter on practitioners
Many practitioners who were in good health developed physical ailments due to the abuse they endured and died shortly afterward. When they were in critical condition due to the torture inflicted on them, Tian would instruct his subordinates to conceal the information from practitioners' families so that the persecution would not be exposed to the public.
Tian, along with officials from the Liaoning Provincial Department of Justice and the Liaoning Provincial Prison Administration, also refused to allow practitioners to be released on bail to receive medical treatment. Not only did he refuse or delay medical treatment for practitioners, but he also forced their family members to pay for their treatments in hospitals designated by the prison.
When the practitioners' families tried to seek justice for their loved ones, Tian threatened them and took action to prevent them from exercising their legal rights.
Select Death and Torture Cases
Case 1: Cancer-stricken Man Dies Days After Being Denied Medical Parole, Remains Shackled as He Dies
Mr. Teng Yuguo, a Shenyang City, Liaoning Province, was arrested on October 13, 2020, and sentenced to five years by the Yuhong District Court around February 2021.
He developed colon cancer and incontinence around May 2022 while he was incarcerated in the Dongling Prison. Despite his condition the prison authorities refused to release him on medical parole. He was so weak that he did not have the strength to sit up. He also could not have bowel movements.
Mr. Teng passed away at the age of 67 on December 2, under tight surveillance. After he died the guards did not allow his family to get close to his body or dress him. They hired a company to prepare his body. Also under tight surveillance, Mr. Teng's body was taken to a funeral home and cremated on December 4.
His wife could not fall asleep for days and often burst into tears. She said as soon as she closed her eyes, she saw her emaciated and dying husband, still shackled as he lay dying in the heavily guarded hospital bed.
Case 2: Prison Administration Bureau Refuses Man's Medical Parole Until One Day Before His Death
Less than one month after Mr. Li Zhendong was admitted to the Dongling Prison to serve a 3.5-year term, he developed severe ascites and was unable to eat. When his family visited him in the hospital, Mr. Li was emaciated. His belly was severely swollen and he had to undergo a daily procedure to remove the excess fluid. Despite his condition, the prison guards still handcuffed him to the hospital bed and watched him around the clock.
Mr. Li's family applied for medical parole but it was denied. The prison also demanded they pay all his medical fees. He had a persistent high fever of 105.8°F (41°D) and lapsed into a coma on November 9.
The guards monitoring Mr. Li reported his condition on the morning of November 12. Two officers from the Shenyang City Prison Administration Bureau came to the hospital to check on him. After the doctor confirmed that Mr. Li might not survive the night, the prison administration produced a medical parole approval notice and told the four guards who had been monitoring Mr. Li to leave the hospital.
Mr. Li's wife, daughter, son-in-law, brother, and sister went to the hospital and stayed with him. He passed away at 5 a.m. the next day. He was 68.
Case 3: Former Lecturer in Serious Condition While Incarcerated for His Faith
Mr. Wang Zhongsheng, a 75-year-old senior lecturer of Xinbin County, Liaoning Province, was arrested and his home was ransacked on November 1, 2020. He was sentenced to four years and fined 4,000 yuan by the Shuncheng District Court on April 26, 2021.
According to an insider, because Mr. Wang refused to renounce Falun Gong, the guards at Dongling Prison forced him to sit on a small stool for long hours without moving, even after his buttocks developed sores and became severely infected. When Mr. Wang's condition continued to deteriorate, he was taken to the prison hospital for treatment.
Case 4: 32-year-old Man Tortured in Prison, Not Allowed to Contact Family
Mr. Zhang Shude, a 32-year-old resident of Panjin City, Liaoning Province, was arrested on June 29, 2017, for answering yes when he was asked if he practiced Falun Gong while filing his residence permit at the police station. He was later sentenced to seven years and sent to the Dongling Prison on December 27, 2018.
When he said he wished to do the Falun Gong exercises on January 4, 2019, two guards and an inmate beat him until they were exhausted. Mr. Zhang's nose bled and his entire body was covered in bruises.
The guards put Mr. Zhang on strict management and refused to let him take showers or buy extra food when they did not feed him enough. Because the guards ignored him when he complained about the lack of food, he started a hunger strike in protest and was force-fed.
Because Mr. Zhang refused to do the forced labor, the guards handcuffed him, shocked him with electric batons, and beat him, including slapping him on his head and ears with their shoes. The torture lasted over two hours until all three electric batons ran out of power. Afterwards, Mr. Zhang was made to do forced labor.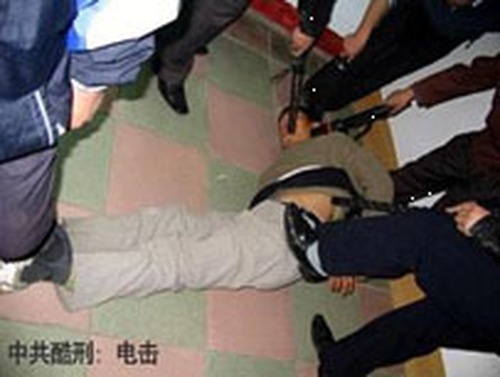 Beginning in September 2021, the prison intensified the torture of Falun Gong practitioners. The guards arranged for two inmates to watch Mr. Zhang around the clock. He was forced to sit on a small stool without moving for long hours during the day. He was not allowed to close his eyes for one second. At night, the guards handcuffed Mr. Zhang to the bed to keep him from doing the Falun Gong exercises. They also accused him of disrupting prison order when he demanded to do the exercises.
Chinese version available
(Clearwisdom)