(Minghui.org) Dafa practitioners were invited to introduce Falun Dafa to the public during the Lalbagh Flower Show in Bangalore from August 5-15, 2023. Many people were interested in the practice. Some bought Falun Dafa books and asked where they could learn the exercises.
This year was the 214th Lalbagh Flower Show in Bangalore, India's third most populous city. More than one million residents and tourists attended the event held at the beautiful Lalbagh Botanical Garden.
Practitioners contributed a statue of flowers, representing a female figure meditating, and the bright flowers attracted many people. While stopping to take pictures, they learned about Falun Dafa and how this peaceful practice is brutally suppressed in communist China.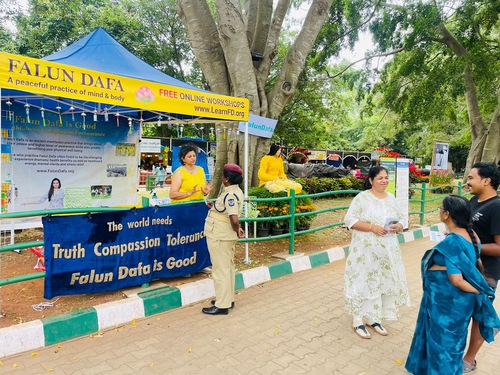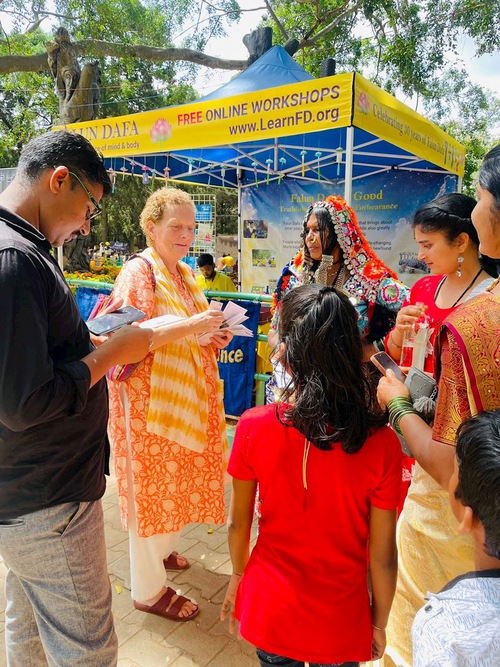 Eager to Learn the Practice
Hema Narasimhan, a teacher from Bangalore, came to the flower show after reading a newspaper article describing the flower statue made by Falun Dafa practitioners. "I really like the [exercise] music and statue, so I was interested in talking with practitioners to learn more," she explained.
After talking with practitioners at length, Ms. Narasimhan learned how Falun Dafa improves one's moral values through the principles of Truthfulness-Compassion-Forbearance. She is studying for a life counseling certification and found Falun Dafa very useful as a mind and body improvement practice.
To deepen her understanding, Ms. Narasimhan bought a copy of Falun Gong and Zhuan Falun. She said she was eager to learn the practice and obtained practitioners' contact information. She took Falun Dafa flyers in various languages to give to her family.
"This Will Help Everyone"
Amul Vaishu, who works at Sishu Griha Senior School, tried the five sets of Falun Dafa exercises while visiting the practitioners' booth. "The results are very good and I could feel energy circulating throughout my body," he said afterwards.
After reading part of a Dafa book, he said he was very interested in looking into the spiritual benefits of the practice. "Falun Dafa is extraordinary and this will help everyone," he said. He wrote down the contact information of a local group practice site and said he would keep looking into Falun Dafa.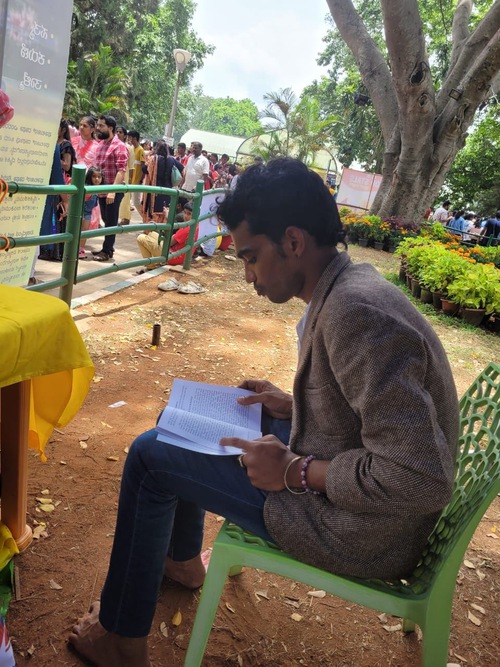 A Path to Inner Peace
Sanskrit teacher Madan Mohan stopped at the Falun Dafa booth and said he believed the practice could show him a path to inner peace.
Mr. Mohan said he chanted anthems to calm his mind, but it did not work. A practitioner shared his understanding of Falun Dafa, which focuses on the improvement of one's mind nature. Mr. Mohan bought a copy of Falun Gong and said he would look into it.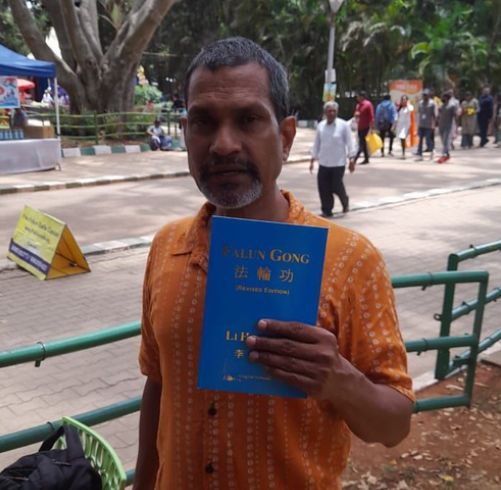 Event Host Praises the Principles of Truthfulness-Compassion-Forbearance
Ms. Kusuma, deputy director of the Lalbagh Botanical Garden, said the statue made by practitioners looked great and she praised their efforts to introduce the principles of Truthfulness-Compassion-Forbearance at the flower show.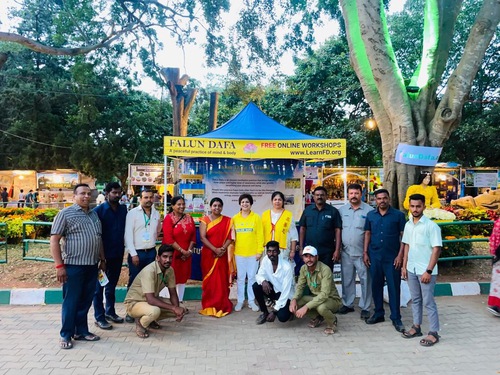 Learning the Practice
Because the flower show is free of charge for students, many young people came to the event and learned the Falun Dafa exercises at the booth. Among them were fifth-grade students from BNM Primary School.
Four students from Vidyanidhi and Saptagiri, college prep schools, asked about the practice, and read the pamphlets. They said they were looking for a way to reduce stress and improve their quality of life. When they heard how Falun Dafa practitioners are brutally suppressed by the Chinese Communist Party (CCP), they were shocked and said this peaceful practice should not be persecuted.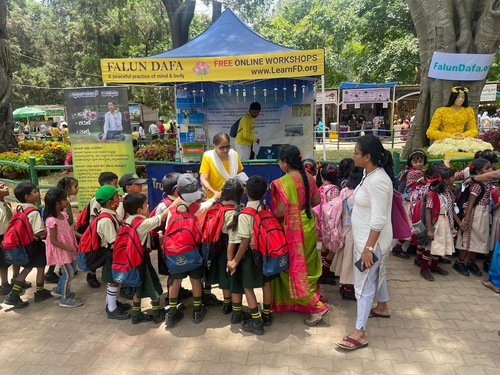 Ms. Nagarathna, a teacher, came to the flower show with her students. She resonated with the principles of Falun Dafa and encouraged her students to try the exercises. She also invited practitioners to her school to teach the exercises.
Several police officers on duty at the flower show also visited the booth and asked about Falun Dafa. They were very interested in the practice and asked many questions. They invited practitioners to their police stations to teach the exercises, so that their fellow officers could benefit from Falun Dafa.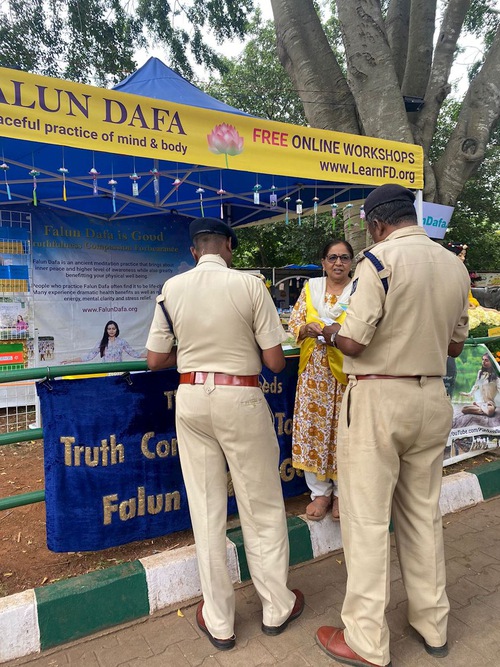 Chinese version available
(Clearwisdom)
India: Practitioners Introduce Falun Dafa at the Bangalore Biannual Flower Show