____________________________________
(Minghui.org) Thousands of people gathered in downtown Winchester to watch the Apple Blossom Festival parade on the afternoon of April 30, 2022. Falun Dafa practitioners' float and waist drum team were invited to participate, and many local people heard about Falun Dafa for the first time and asked for leaflets to learn more about it.
The popular festival is the biggest event in Winchester but was canceled in 2020 due to the COVID pandemic. A small-scale event was held in 2021, but this year things are back to normal. Winchester is located seventy-five miles northwest of Washington, DC, and has a population of nearly 30,000. The annual Shenandoah Apple Blossom Festival is the most important local celebration that is held for ten days and is well attended by dignitaries.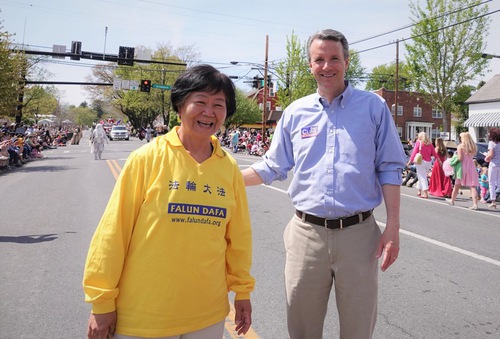 As the practitioners marched to the rostrum, the moderator announced: "Falun Dafa is a traditional cultivation practice, which is based on the principles of Truthfulness-Compassion-Forbearance, the characteristics of the universe, and includes four sets of gentle exercises and meditation. People who practice Falun Dafa regularly find that this practice allows them to gain physical and mental health, reduce stress and anxiety, gain energy, feel energized, maintain inner peace, and improve morality. In 1992, Mr. Li Hongzhi began teaching Falun Dafa in China publicly. Falun Dafa is currently practiced in more than 70 countries around the world, and Falun Dafa books have been translated into more than 40 languages."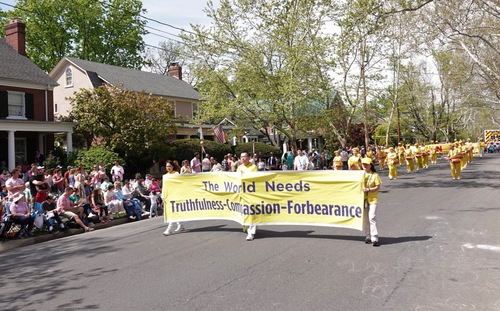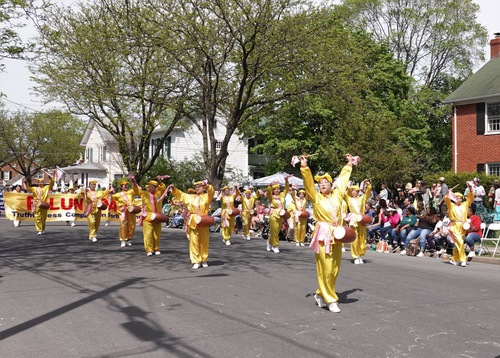 Abbey said, "This is the first time I've seen Falun Dafa in this parade. My first impression is that this is a peaceful group."
Ms. Koclowski also heard about Falun Dafa for the first time. She kept applauding practitioners as they passed by and said, "They are beautiful. I've never seen them before," she said. When she read the banners they were holding, she said, "Truthfulness-Compassion-Forbearance is exactly what the world needs now."
Lenora Young said, "They (Falun Dafa practitioners) are very peaceful, quiet, smiling and happy. They have brought Truthfulness-Compassion-Forbearance to this community, which is very inspiring. We need this practice to relieve stress ourselves."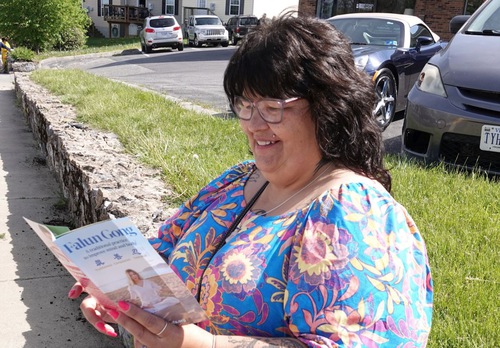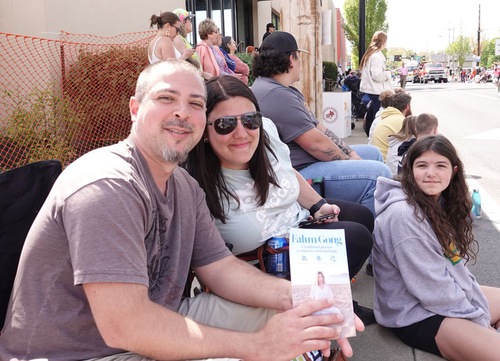 Dorsett who watched the parade said, "It's such an honor to be here. It's like being reborn, coming together as a community after such a dark time. For me this holiday is important and special."
Mr. Hood, a local resident, said, "It's great that the community is starting to open up again. Finally, events can be held in the city center with many people."
More than 30 Falun Dafa practitioners participated in the parade that day. Two young practitioners demonstrated the exercises on the float. Accompanied by the song Falun Dafa is Good, the waist drum team was greeted with cheers and applause from spectators along the parade way.
Gessenia watched the parade with her family and used her mobile phone to film the practitioners' entry. "It's really unique. I've never seen a drum band like this. It's uplifting and joyful," she said.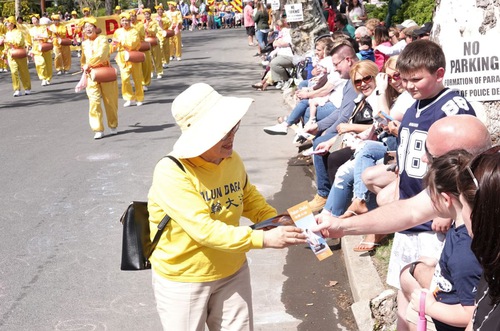 Views expressed in this article represent the author's own opinions or understandings. All content published on this website are copyrighted by Minghui.org. Minghui will produce compilations of its online content regularly and on special occasions.