(Minghui.org) Falun Dafa practitioners from Moldova gathered in Chisinau, the nation's capital, on May 13, 2023, to celebrate World Falun Dafa Day, and to present the practice to passersby. The practitioners performed the exercises, distributed Dafa informational brochures about the practice, and gave people origami lotus flowers.
They also raised awareness about the Chinese Communist Party's (CCP) ongoing persecution of practitioners in China. Practitioners collected signatures on their petition to the Moldovan Parliament to ban transplant tourism to China, which entails the CCP regime's forced organ harvesting from Falun Gong (also called Falun Dafa) practitioners.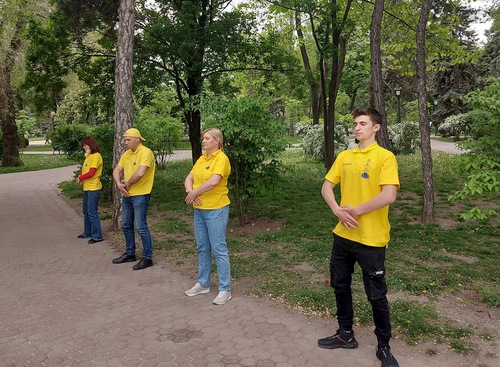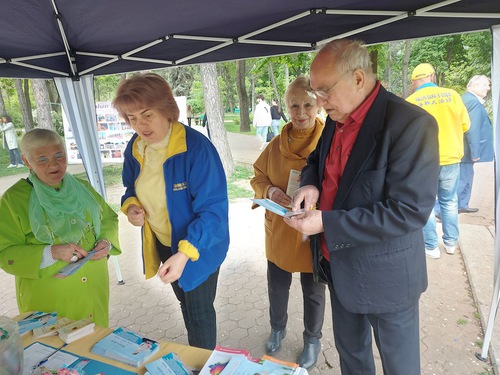 Moldovans Learn the Facts about Falun Dafa
World Falun Dafa Day celebrations often coincide with Europe Day celebrations, which observe a holiday on May 9 designated by the European Union to commemorate peace and unity across the continent. Because of this, many visitors passed by and stopped to find out more at the practitioners' informational booth.
A young woman, Dodon Dumitrița, approached the practitioners because she had come across Falun Dafa earlier. She said that she was interested in learning the exercises.
Alexandra, another young lady, had not come across Falun Dafa in the past. After a practitioner explained the benefits of Falun Dafa to her, and also how it was persecuted in China, she expressed her sympathy for the Chinese practitioners. "It is sad that the Chinese communist regime banned the practice and does not allow people to cultivate," she said.
Three young boys, Ervin, Damian, and Bogdan, also stopped by the booth. They were given origami lotus flowers as a gift from the practitioners.
When they heard that the lotus flower represented purity and compassion in Chinese culture, Bogdan got excited. "The Chinese culture is new for us and very interesting," he said. The boys also said that the three principles of Falun Dafa—Truthfulness, Compassion, and Forbearance—were very inspiring.
Another woman, Iuliana, came to the booth and showed enthusiasm about the cultivation practice. She told the practitioners that she had heard about Falun Dafa from her friend who moved to China and that she is a big fan of Chinese culture, even having studied some Chinese herself.
"The principles of Falun Dafa, Truthfulness, Compassion, and Forbearance, are essential principles for life," said Iuliana.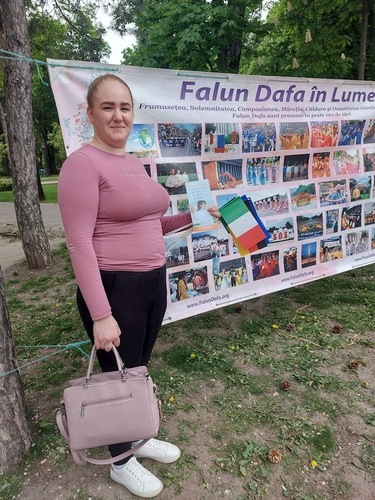 Moldovan Practitioners Improve Their Health and Character
Like Iuliana, Dumitru Roman was also very excited when he first encountered Falun Dafa in 2004. His life has changed greatly since then, and he was at the event to tell more people about the practice which has turned his life around for the better.
"I received Zhuan Falun, the main book of Falun Dafa, in 2004. I was highly impressed by the extraordinary character of the teachings," he said. In 2005 after a trip to China, I decided to practice Falun Dafa."
Soon, as he began to improve his character using the teachings of Zhuan Falun—he began to sense changes in his physical health as well.
"Shortly after I practiced cultivation, I recovered from the heartaches that I had been suffering from for many years. I felt that my body was light. When I was running it was as if the wind was pushing me from behind. I was not tired when I worked hard, and the heavy weight on my soul disappeared suddenly," said Roman.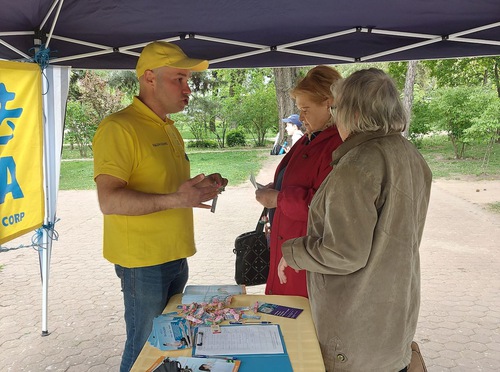 Roman: "Falun Dafa gave me a purpose in life."
On World Falun Dafa Day, Roman is thankful for the people who have shown their support for the practitioners in China.
"I'm glad for the people who found out about Falun Dafa and who found out the truth about the persecution of Falun Gong practitioners in China," he said. "I am also happy for the people who have recognised the nature of the CCP, and the importance of eliminating the communist ideas from people's minds," said Roman.
Armando Buruian, a young practitioner who joined the practice recently, said that Falun Dafa changed his attitude and behavior for the better.
"World Falun Dafa Day is a very special day for me. I feel energetic and very light. I am surrounded by a field full of compassion," he said.
Chinese version available
(Clearwisdom)