(Minghui.org) The Korea Association for Ethical Organ Transplants (KAEOT) held a poster exhibition at the Seoul Metro Museum of Art in downtown Seoul from May 21 to 27, 2023. The exhibition aims to expose the crimes of forced organ harvesting by the Chinese Communist Party (CCP), which targets Falun Dafa practitioners and other prisoners of conscience. The exhibition drew local residents as well as tourists.
The Seoul Metro Museum of Art is located inside the Gyeongbokgung station. As it is surrounded by government offices and tourist attractions such as Gyeongbokgung Palace, Gwanghwamun Square and the Blue House, approximately 50,000 people, both tourists and locals, pass through the area every day. The museum is in on basement level 1 of the Gyeongbokgung Subway Station.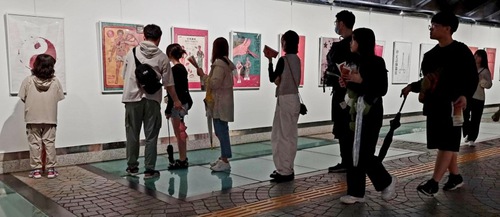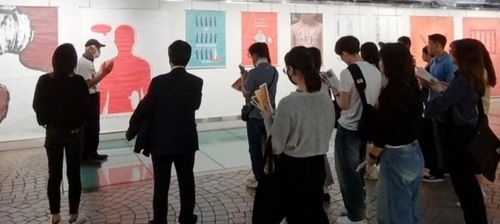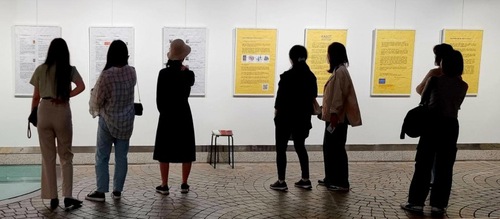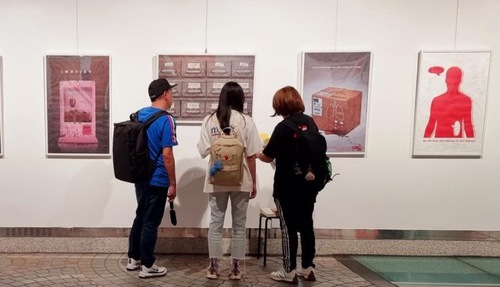 The exhibition organisers screened "Human Harvest," a documentary on illegal organ harvesting in China, every day during the exhibition so that visitors could have a deeper understanding of the CCP's forced removal of organs from detained Falun Dafa practitioners.
The documentary narrates the independent investigations by Canadian human rights attorney David Matas and former secretary of state for Asia Pacific, David Kilgour, who were nominated for the Nobel Peace Prize. It provides evidence of transactions for organs taken from Falun Dafa practitioners and as such exposes the CCP's crimes against humanity.
Through the exhibition, visitors learned about the Chinese regime's organ harvesting and what is happening in international society to try to bring an end to the crimes. Each poster contained information about the organ harvesting crimes in today's China. Many people took photos and video recordings and uploaded them onto social media platforms. Some returned with friends and family to see the exhibition again.
Visitors from many countries, including France, Singapore, Japan, Vietnam, Thailand, Mexico, U.S, China and Taiwan saw the exhibition.
After attending the exhibition, a journalist from a major daily news media outlet said he would publish reports on the event. A representative from an international rescue organization also invited KAEOT to hold the exhibition at their events.
A former public servant who worked in the legal department for 30 years was moved by the silver award winning poster. He wanted to do something to stop organ harvesting and left his contact information with the organisers. He returned to see the exhibition again with friends.
More People Should Know About This Brutal Crime
After he learned about the organ harvesting, a man who owns a company that has business dealings with China said that more people should know about this brutal crime. He took a number of flyers so that he could distribute them to his employees.
It happened to be the Buddha's birthday, a public holiday, during the exhibition. Many times, a whole family came to see the posters. Parents explained to their children that organ harvesting is wrong and they discussed human ethics while viewing the posters and the messages conveyed by each poster.
Similar exhibitions have been held in Taiwan, Japan and South Korea every year. The organizer, KAEOT, held exhibitions at Korea University and Seongnam City Hall in 2021 and 2022, respectively. Human Asia, a human rights organisation in Korea, sponsored this exhibition.
Chinese version available
(Clearwisdom)
South Korea: Clarifying the Truth in Front of a Chinese Consulate for More Than 20 Years