(Minghui.org) For upholding his faith in Falun Gong, a veteran in Hanzhong City, Shaanxi Province, was given a heavy prison sentence and had his pension-qualifying years of service cut by more than half.
When Mr. Zeng Chaohua applied for pension benefits in 2022 after reaching the retirement age of 60, the authorities returned the contributions his family made to his pension account on his behalf during his seven-year term, and adjusted his 42 years of service to 20. He now receives only 1,200 yuan every month, which is barely enough to cover basic living costs for him and his mother, who is in her 80s.
Mr. Zeng served in the military between 1980 and 1988. After being discharged, he found a job in a local chemical factory, only to be laid off soon after. He did odd jobs to support his family, and in 2006, he took up Falun Gong. His frozen shoulder, arthritis, and other diseases that developed while in the military soon disappeared.
Mr. Zeng moved to Xi'an, the capital of Shaanxi Province, in 2008 and began to do business there. He was arrested on April 20, 2013, while visiting a local Falun Gong practitioner. The police slapped him in the face and stand with his legs spread apart. They then covered his head with a black hood and took him to the police station.
After tying him to a tiger bench, the police punched him like a sandbag. His nose and mouth bled. The police wiped off the blood and continued beating him all over his body. After four hours of beatings, they handcuffed his hands behind his back, with one hand pulled over the shoulder to meet the other pulled up from the back. The handcuffing lasted half an hour and the pain was excruciating.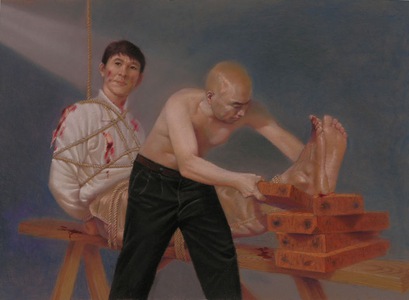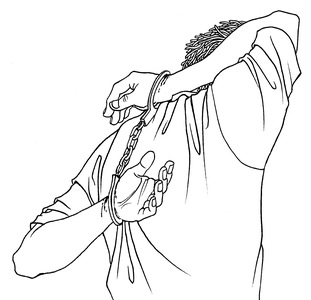 Meanwhile, another group of officers raided Mr. Zeng's home, and confiscated his more than 40 Falun Gong books, a computer, DVDs, six cellphones, a camera, MP3 and MP4 devices, informational materials about Falun Gong, as well as 7,000 yuan in cash.
The Lianhu District Court sentenced Mr. Zeng to seven years in prison in September 2014. The other four practitioners arrested with him were also convicted. Ms. Li Hua was sentenced to nine years, Ms. Kou Qiaoyun was given five years, and Ms. Jin Rong and Ms. Wang Juanxiu each received four years.
Mr. Zeng was transferred to the Weinan Prison, also known as the Shaanxi Province No. 2 Prison, on April 8, 2015. In order to force him to renounce Falun Gong, the guards held him in solitary confinement and forced him to stand from early morning to midnight, every day for two weeks. His feet became swollen, he couldn't bend his knees, and he had trouble walking.
The guards also forced him to watch videos smearing Falun Gong and work at least 12 hours a day without pay and without weekend breaks.
Mr. Zeng's father was so devastated by his sentencing that the elderly man fell ill and passed away in 2016, without seeing him for the last time. His younger brother was also traumatised and died of a sudden disease shortly after their father's passing. To prevent their teenage son and daughter from being implicated in the persecution, Mr. Zeng's wife was forced to divorce him. She also struggled to raise the children all by herself. Mr. Zeng's mother, then in her late 70s, struggled to travel nearly 200 miles to Xi'an to visit Mr. Zeng in prison.
After Mr. Zeng was released in 2021, he hoped to spend more time with his mother, but the reduction of his pension forced him to start working again.
Chinese version available
(Clearwisdom)