(Minghui.org) Practitioners held a parade in San Francisco on Saturday, May 6, 2023, to celebrate the 31st anniversary of the introduction of Falun Dafa to the public as well as Master Li Hongzhi's 72nd birthday.
At 9 a.m., practitioners started the day's celebrations with group exercises in front of the Ferry Building. Many tourists stopped to find out more about the practice after seeing the gentle, relaxing exercises. Several people who didn't practice Falun Dafa also participated in the parade.
The parade began at 12 p.m. Setting off from the Ferry Building, practitioners marched along Market Street, walked through Chinatown, and finished at Portsmouth Square in Chinatown.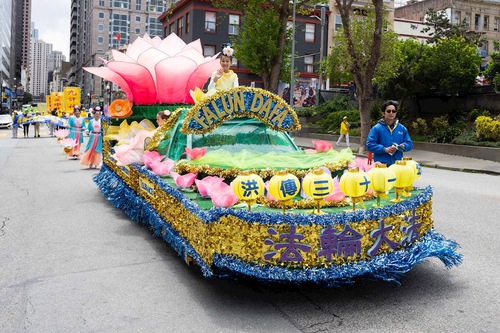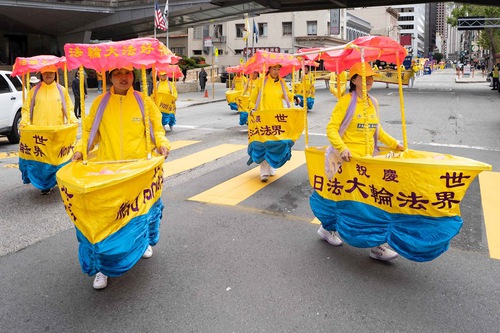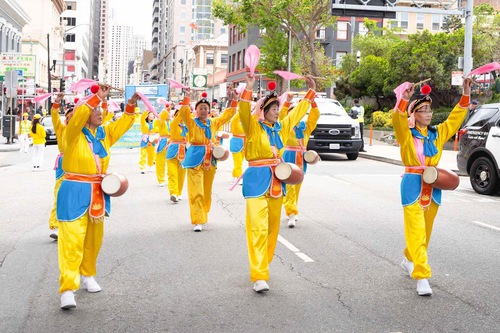 The parade was divided into three sections. First up was "Falun Dafa Is Good" made up of the Western U.S Tian Guo Marching Band, dragon dance team, tiny boats, banners, flags, exercise demonstration, fairy maidens and car floats. This was followed by "Quitting the CCP," calling on people to withdraw from the CCP and its affiliated organisations; The final section of the parade exposed the CCP's brutal persecution and called for an end to the CCP's organ harvesting.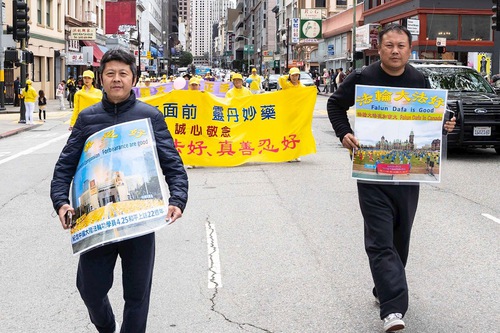 Practitioners Appreciate Master for His Compassionate Salvation
Practitioner Linda Campbell said, "We came here today to celebrate and share our cultivation stories with people."
In 2008 a customer told Linda about the persecution suffered by practitioners in China. She did some research and found there were free classes in her area, so she signed up to find out more about Falun Dafa. "I learned the five sets of exercises and it felt great. Therefore I decided to find out more about Falun Dafa.
"I thought it was just health and fitness in the beginning. Later on, I discovered it was cultivation and that is what I had been looking for. I became calmer and happier after I began practicing."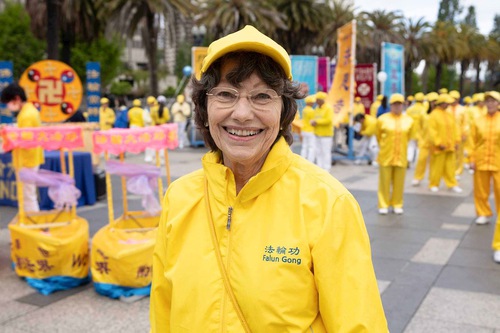 Winnie Liu, who started practicing Falun Dafa in 2021, is a certified accountant in the Bay Area. This was the first time she attended World Falun Dafa Day celebrations.
During the COVID outbreak, she could not understand the chaos in the world. She wanted to find a form of spiritual sustenance. She said, "This chaos made me feel lost. I started searching for a faith, hoping this would soothe my fears and uneasiness. One day, I listened to a media outlet started by practitioners who mentioned they practiced Falun Dafa. I began to search online for information on the practice."
She found the Falun Dafa website and downloaded the main text Zhuan Falun. "I found it easy to read and understand. The book answered all the questions I had about life. I was astounded. For example where do I come from, where am I going? As well as the structure of the universe. Although I didn't quite grasp it, I could not stop reading the book. I finished reading it in a day. I then downloaded the other lectures. I formed a new understanding of life and viewed things differently after I began practicing Falun Dafa."
After practicing for over a year, her husband sees her positive changes and is very supportive of her practice. She said, "I just bought the English translation of Zhuan Falun. I hope my husband will read it."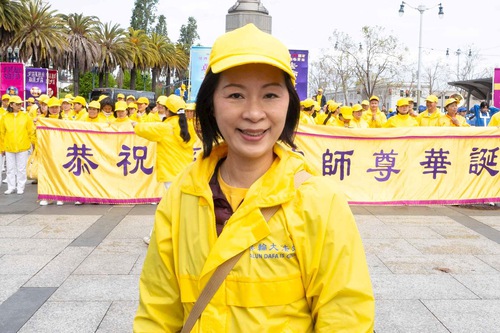 Falun Dafa Brings People Hope
Gao Zhibin came to the U.S. a month ago. He left Beijing and went to South America, and then risked his life walking long distances before arriving in the U.S. In China, his home was demolished by the authorities and he was forced to flee.
He said, "In the past, I thought everything the CCP said was right. A Falun Dafa practitioner told me how to break through the information censorship and visit overseas websites. I read a lot of information and realized everything the CCP said was lies. They have been deceiving people for 70 years. In China, Falun Dafa is demonised by the CCP. Practitioners face persecution if they don't give up their faith."
He said practitioners in China are kind and remarkable in explaining the facts to people. "Practitioners in China distribute many fliers. Through these materials and visiting overseas websites, I learned about the CCP's organ harvesting. Such crimes are inconceivable. You don't realize how evil the CCP is, there is no limit to what they are willing to do."
Mr. Gao held a placard with the words "Falun Dafa Is Good" and joined practitioners in the parade. He said he was glad to see so many Falun Dafa practitioners overseas. "Recently, I saw Falun Dafa practitioners outside the San Francisco City Hall building. So many people practice Falun Dafa outside China and I am glad to see this. Falun Dafa gives hope to all of us. I hope practitioners can spread the word to all parts of the world and let people know what is happening in China."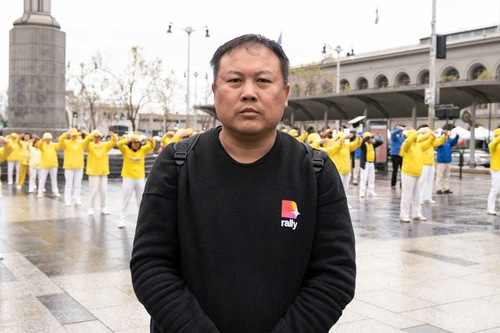 Falun Dafa's Principles Are Correct
Hao Jianping fled China and came to the U.S. two months ago after traveling through nine countries. Despite the dangerous journey, he said it was all worth it to leave the CCP's control.
He said he knew about Falun Dafa when he was in China, "I sympathised with practitioners. I agree with freedom of belief. Falun Dafa's principles are correct but the CCP launched its persecution of Falun Dafa and even takes their organs—these are acts against humanity."
Hao said the media in China is controlled by the regime, and people cannot see the truth. He only knew the facts about the persecution after breaking through the information censorship. "In China, those who break through the information censorship are threatened by the CCP. Many were even detained and arrested."
He was happy to see practitioners' activities that day and said, "I am delighted to see that they have the freedom to practice here. It is not possible in China. In China, practitioners are persecuted. I sympathise with them. If I said this in China, I may face being arrested.
"I heard that the CCP removes organs from detained Falun Dafa practitioners and sells them for huge profits. The regime has made organ harvesting into an industry."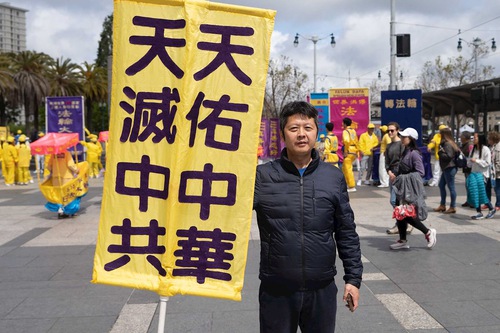 Everything the CCP Said Are Lies
Chen Zhengmin came to the U.S. from Nanjing two years ago. He is currently a high school student. He attended the activities to celebrate World Falun Dafa Day. He held a flag with the words "Heaven Will Disintegrate the CCP" and walked the entire parade.
He said from his earliest childhood that he was brainwashed by the CCP's education and used to be a CCP follower. He had misunderstandings of Falun Dafa. A few years ago, he learned to break through the information censorship and found everything he was told by the CCP was lies. He said, "I had the opportunity to meet Falun Dafa practitioners after coming to America. They are completely opposite of the CCP's propaganda. They are a group of kind people and well educated, too. They have outstanding achievements in different fields. This made me further realise that everything the CCP said is lies and the Party cannot be trusted."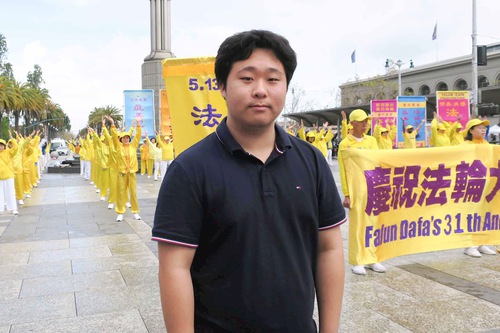 "I Love Truthfulness-Compassion-Forbearance. It Is Wonderful"
Tascha Brown from Iowa was sightseeing in San Francisco and stopped to watch practitioners as they did the exercises outside the Ferry building. She said, "Watching them do the exercises, my whole body feels relaxed. They look so beautiful and peaceful."
She read the banners and said, "I love Truthfulness-Compassion-Forbearance. It is wonderful. Now, the world needs Truthfulness-Compassion-Forbearance. We all need it. The world lacks kindness or tolerance, it is even harder to find the truth."
When she learned that practitioners were there to celebrate the 31st anniversary of Falun Dafa's public introduction, she said, "That's great, more people will learn about Falun Dafa."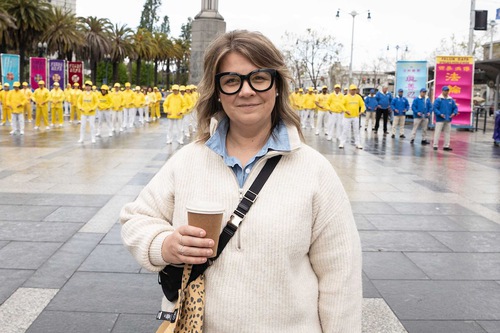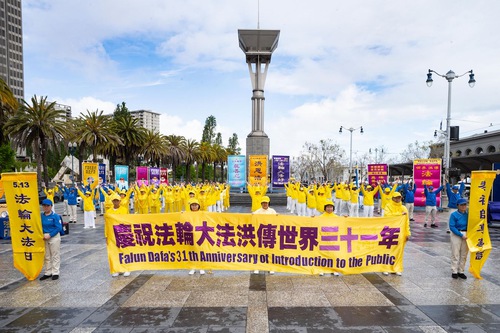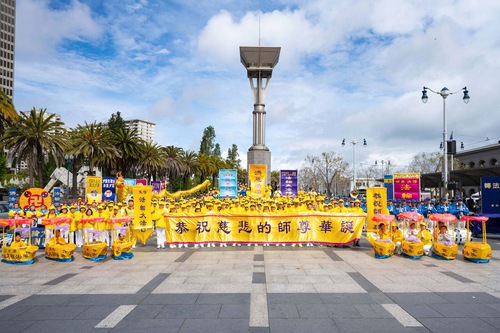 Background: What Is Falun Dafa and Why Is the CCP Persecuting It?
Falun Dafa (also known as Falun Gong) was first introduced to the public by Mr. Li Hongzhi in Changchun, China, in 1992. The spiritual discipline is now practiced in over 100 countries and regions worldwide.
Millions of people who have embraced the teachings, which are based on the principles of Truthfulness, Compassion, and Forbearance, and have learned the five exercises, have experienced improved health and well-being.
Jiang Zemin, former head of the Chinese Communist Party (CCP), perceived the spiritual discipline's growing popularity as a threat to the CCP's atheistic ideology and on July 20, 1999, he issued an order to eradicate the practice.
Under Jiang's personal direction, the CCP established the 610 Office, an extralegal security organization with the power to override the police and judicial systems and whose sole function is to carry out the persecution of Falun Dafa.
Minghui.org has confirmed the deaths of thousands of practitioners as a result of the persecution over the past 24 years. The actual number is believed to be much higher. Countless practitioners have been imprisoned and tortured for their faith.
There is concrete evidence that the CCP sanctions the harvesting of organs from detained practitioners, who are murdered to supply China's organ transplant industry.
Chinese version available
(Clearwisdom)
California: San Francisco Veterans Day Parade Welcomes Falun Dafa Practitioners