(Minghui.org) May 13, 2023, is the 31st anniversary of Falun Dafa's public introduction and the 24th World Falun Dafa Day. Politicians at all levels in Ontario, Canada sent greeting letters and video praising and thanking Falun Dafa.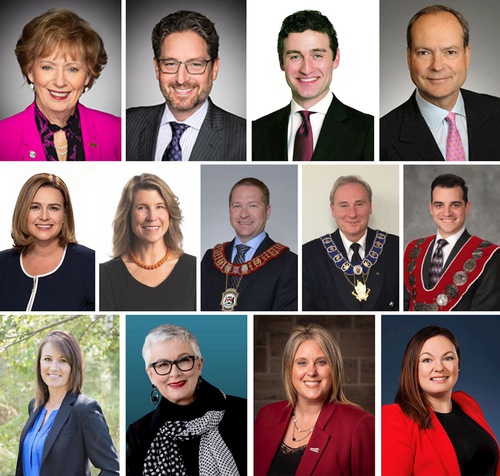 MP: Truthfulness-Compassion-Forbearance Benefits Millions of People
Judy Sgro MP, co-chair of the Falun Gong Parliamentary Friendship Group, said in her video greeting, "Today we celebrate the beauty and power of Falun Dafa, a spiritual discipline that has touched the lives of millions of people around the world, including Canada. Through its emphasis on Truthfulness, Compassion, and Forbearance, as well as its gentle exercises and meditation exercises, Falun Dafa has helped people find inner peace, balance, and a deeper sense of purpose.
"Its teaching has inspired countless individuals to overcome physical and emotional challenges, to cultivate their hearts and their minds, and to live with greater kindness. The message of spiritual growth and enlightenment continues to resonate with people of all backgrounds and beliefs.
"So let's celebrate today the transformative power of Falun Dafa. Let's honor the practitioners who dedicated themselves to the teachings. May the teachings continue to inspire us all to cultivate our hearts and minds, to live in compassion and integrity. Thank you. God bless everyone."
MP: The Falun Dafa Values of Truthfulness, Compassion, and Tolerance Are Canadian Values
Kyle Seeback, MP wrote in his letter, "The Falun Dafa values of truthfulness, compassion, and tolerance are Canadian values. I commend the Falun Dafa Association of Canada's work to strengthen our communities by sharing Falun Dafa traditions, while helping practitioners improve their mental and physical well-being.
"Congratulations again on Falun Dafa Day and thank you for the important contributions your Association and Falun Dafa members continue to make to our communities and country."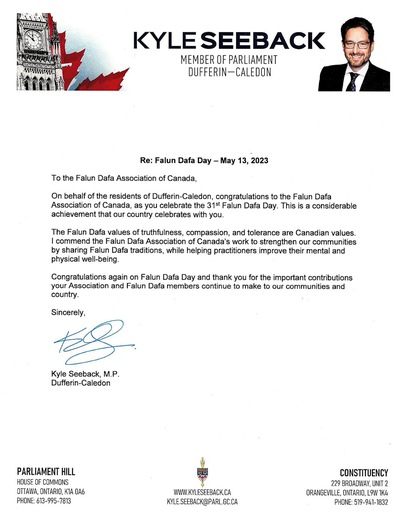 MP: Thanking Falun Dafa for the Meaningful and Significant Contributions to Canada
Yvan Baker, MP of Etobicoke Centre, wrote, "I would like to take this opportunity to extend my greetings to all attending the Falun Dafa Day celebration today in Ottawa and I welcome you to Parliament Hill.
"For their beliefs, Falun Dafa practitioners in China continue to be victims of persecution and human rights abuses, including arbitrary arrest and torture, at the hands of the communist government.
"I thank the practitioners of Falun Dafa for the meaningful and significant contributions they have made, and continue to make, to Canada. Your spirituality and the values you hold have helped build our Canadian social fabric."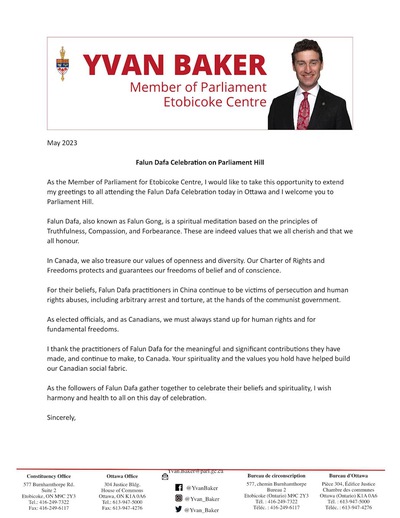 Minister of Finance of Ontario: Commending Your Effort to Promote the Universal Principles of Truthfulness, Compassion, and Forbearance
Peter Bethlenfalvy, Minister of Finance of Ontario, wrote, "I join with your family, friends, and colleagues in wishing you much joy celebrating. I commend you for all you have done to promote the universal principles of Truthfulness, Compassion, and Forbearance."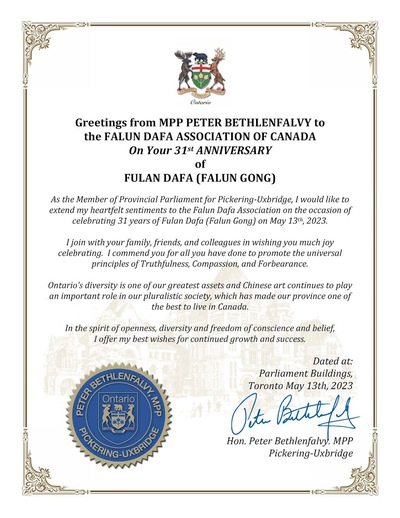 Deputy Mayor of Toronto: Falun Dafa Benefits Community-Building
Deputy Mayor Jennifer McKelvie of Toronto wrote, "It is my pleasure to extend greetings to everyone participating in the Falun Dafa Association of Toronto's 31st Anniversary celebration.
"Events like these encourage residents to connect with each other and participate in activities that contribute to community-building."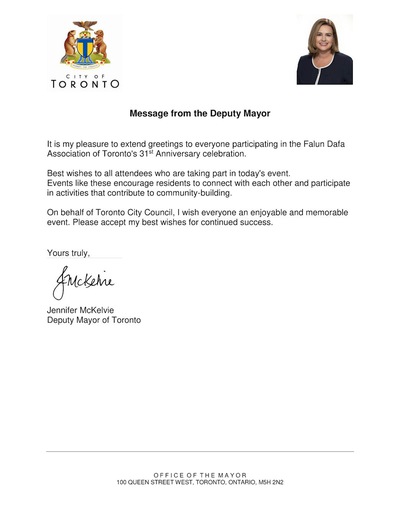 Elected Officials Thank Falun Dafa Practitioners for Their Contributions to Communities and the World
Mayor Kate Rogers of Fredericton wrote, "Originating from China more than 30 years ago, Falun Dafa communities have flourished peacefully across our country, creating a more unified and harmonious society. Now, more than ever, Falun Dafa's message of truthfulness, forbearance, and compassion are an example to all of us."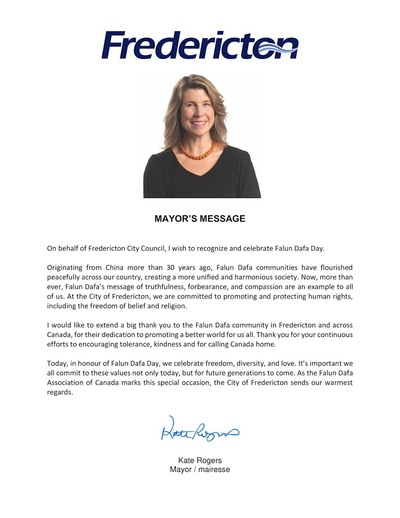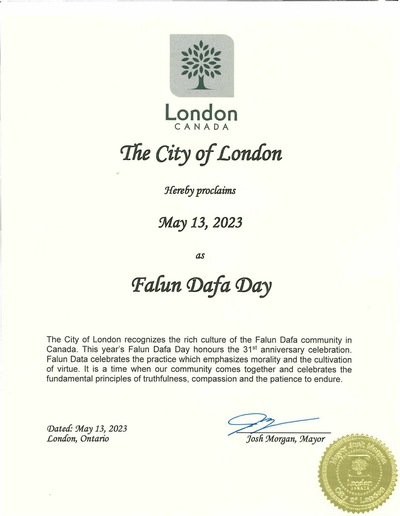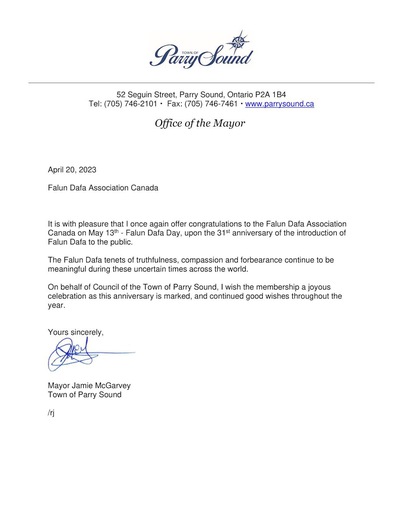 Proclamations and Congratulatory Letters for World Falun Dafa Day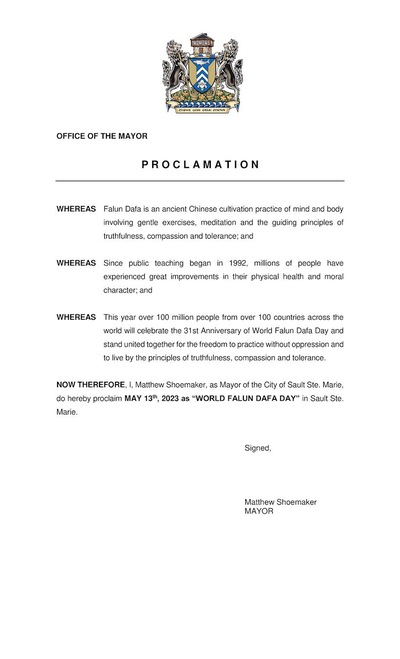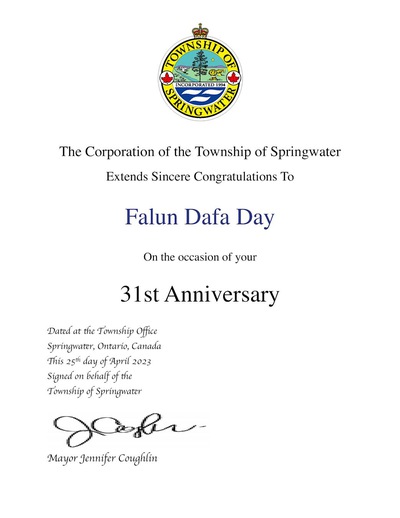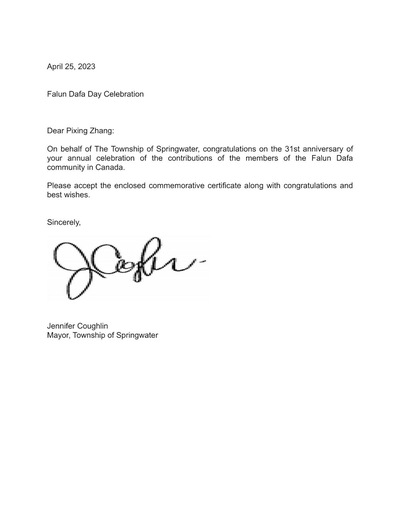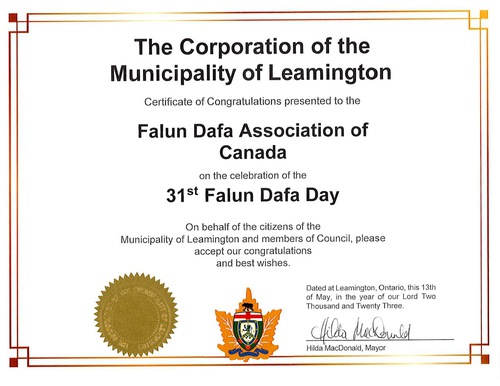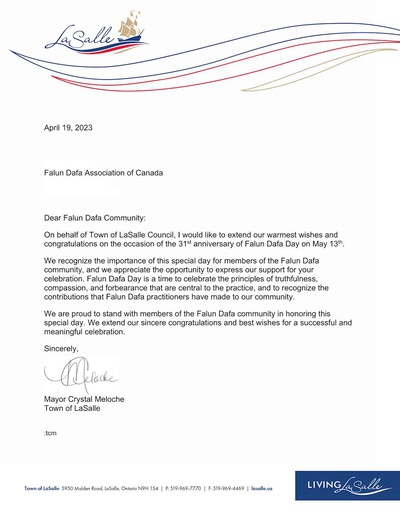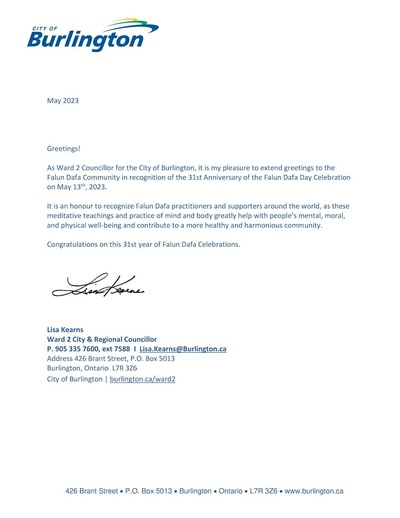 Background: What Is Falun Dafa?
Falun Dafa (also known as Falun Gong) was first introduced to the public by Mr. Li Hongzhi in Changchun, China, in 1992. The spiritual discipline is now practiced in over 100 countries and regions worldwide. Millions of people who have embraced the teachings, which are based on the principles of Truthfulness, Compassion, and Forbearance, and have learned the five exercises have experienced improved health and well-being.
Chinese version available
(Clearwisdom)