(Minghui.org) Practitioners in Chicago gathered at Lincoln Park on May 13, 2023, to celebrate World Falun Dafa Day. They did the exercises, read proclamations from three Illinois cities, held celebratory activities, and introduced Falun Dafa to the community.
The peaceful exercises and gentle movement attracted much attention. Many local residents and tourists came to hear more about the practice.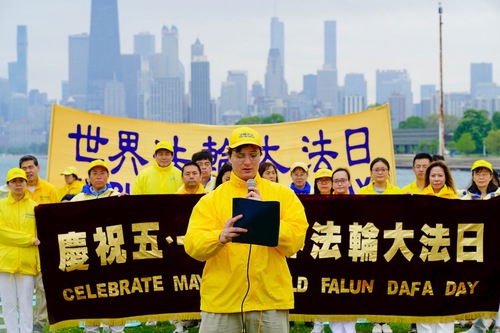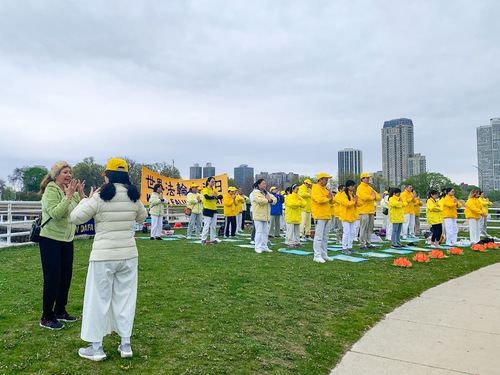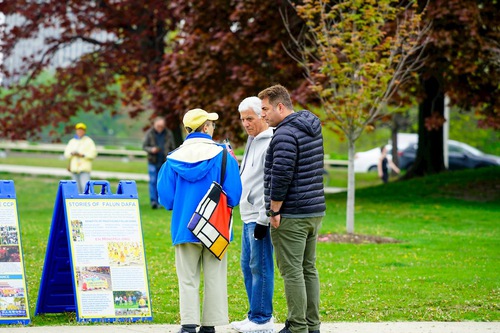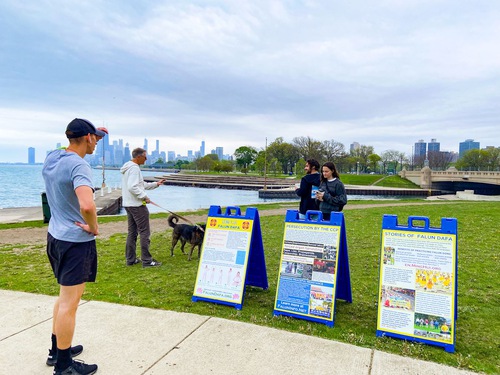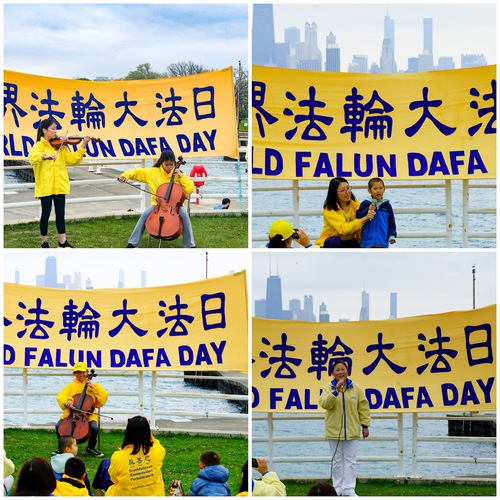 Finding a Path
Autumn Dang, an architect from Vietnam, obtained a copy of Zhuan Falun from a friend in 2008, but she did not read it at the time. Her mother was severely ill in Vietnam and in a coma. For seven years, she was busy traveling between the U.S. and Vietnam.
Forty-five days after her mother passed away in 2015, Dang was so upset that she decided to stop praying. When praying for the last time, she looked at the Buddha statue and said, "If the divine does exist, please help me find a master."
Back then, Dang slept a lot. If no one woke her up, she slept until 11 a.m. The day after she made the request in front of the Buddha statue, however, she work up at 5 a.m. and remembered "Falun Dafa."
She began to read Zhuan Falun, the main teachings of Falun Dafa. "After reading the first chapter, I realized this is what I had been waiting for," Dang recalled. "So I cleared away books on various religions in my home and began to learn Falun Dafa."
It took her some time to make up her mind. Following the teachings, she wanted to be a better person by improving herself. "I could feel Falun rotating in my body," she added. "The migraine headaches that bothered me for decades were also gone."
Dang always tries to align herself with Falun Dafa's principles of Truthfulness-Compassion-Forbearance and identify areas where she can improve. "That is why I am so grateful to Falun Dafa and Master Li for giving me so much, both physically and spiritually."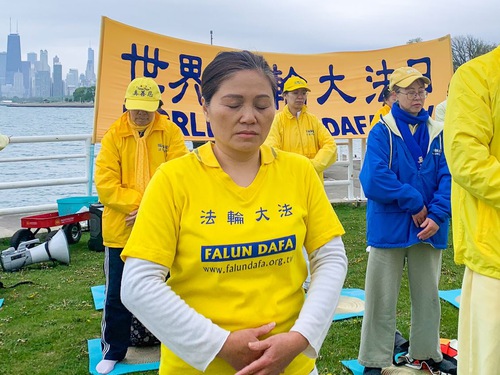 Questions Answered
Liu is an intellectual property lawyer and started to practice Falun Dafa as a child with her parents. "I am fortunate to be a practitioner, understand the purpose of life at a young age, and do things to help society," she said.
Many people have three questions unanswered in their lives, she said. That is, where mankind came from, why we came to this world, and where we will go after death. Master Li's recent article of "How Humankind Came To Be" explained all of them.
Liu is thankful for the blessings. "Every day is productive because of the principles of Truthfulness-Compassion-Forbearance. These principles are very important to me," she said.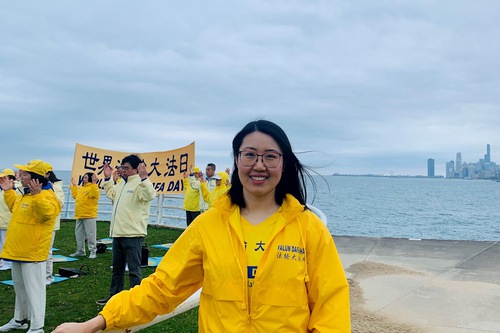 Deep Appreciation
Theresa Chen, a certified public accountant with over 20 years of experience, said that she and her mother heard about Falun Dafa in 1999. Her family was already in the United States at that time and they were impressed by the peaceful appeal of practitioners on April 25, 1999.
Chen started practicing in 2004. Before that, she encountered some difficulties in life that she could not get over. "I understood why some people are so depressed that they would commit suicide," she recalled.
While in despair, Chen noticed that one of her mother's audio tapes contained Master Li's lectures. So, she began to listen to them. "Although I still felt sad, my mind calmed down. I began to practice Falun Dafa," she said.
Looking back these years, Chen said Master has helped her so much and she is very grateful. She works as an accountant and recommends the practice to her friends and clients so that they can also benefit from it.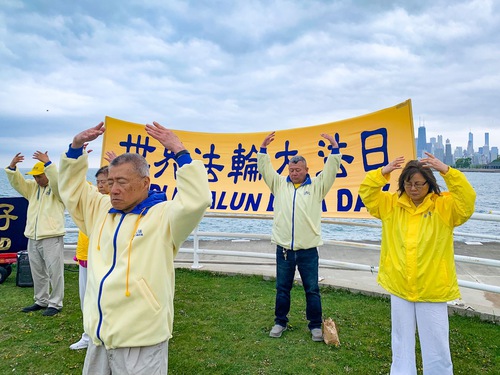 "Our Society Needs Truthfulness-Compassion-Forbearance"
During the event, many people read the posters and asked questions. They praised practitioners for their efforts to safeguard their faith despite the suppression in China.
Juan Barco is an electrical engineer from Colombia and works in Texas. "Our society needs Truthfulness-Compassion-Forbearance," he said. He also said the persecution by the Chinese Communist Party (CCP) is wrong and people should abandon communism.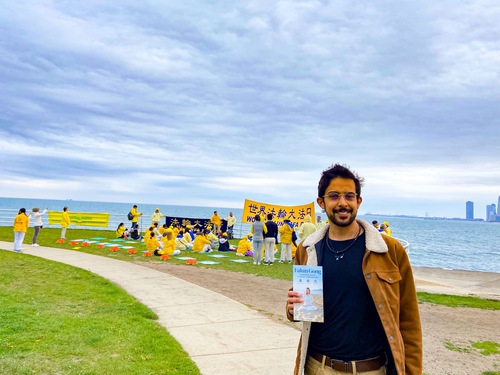 Gaby Sampayo came to Chicago to visit her daughter. As a former athlete, she attended the 2018 Summer Youth Olympics. She said she really liked the principles of Truthfulness-Compassion-Forbearance and wanted to learn how to practice Falun Dafa.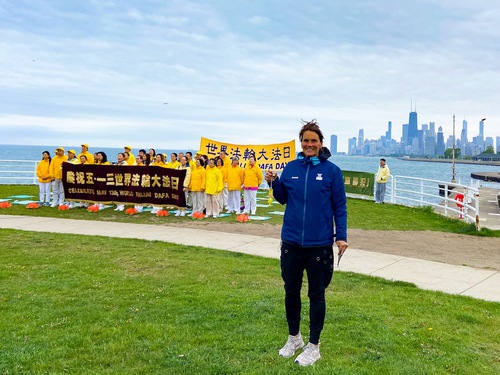 This was the first time for Chicago resident Cal Wonham to hear about Falun Dafa. While chatting with a practitioner, he said he would like to look into the practice and learn the exercises.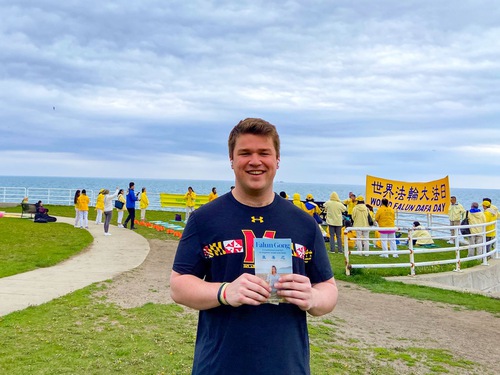 Chinese version available
(Clearwisdom)
Chicago, Illinois, US: Rally Commemorates Peaceful Appeal in Beijing 24 Years Ago