(Minghui.org) The Tianti Bookstore in Seoul, South Korea, held a book club meeting on January 4, 2023 to celebrate the 28th anniversary of the publication of Zhuan Falun, Falun Dafa's main teachings. Over 30 people, most of whom had recently begun practicing Falun Dafa, attended. Many of these people had previously attended the Nine-day Falun Dafa Workshop held in the bookstore, which is located in the Yongsan District of Seoul. They read Zhuan Falun together and discussed their thoughts and cultivation experiences.
Other practitioners in South Korea sent in videos to share how reading the book has changed their lives. The attendees also watched the video Now and for the Future, which documents when Zhuan Falun was first published in China. The video showed precious moments when Mr. Li Hongzhi, the founder of Falun Dafa, taught the practice, which quickly spread far and wide throughout China.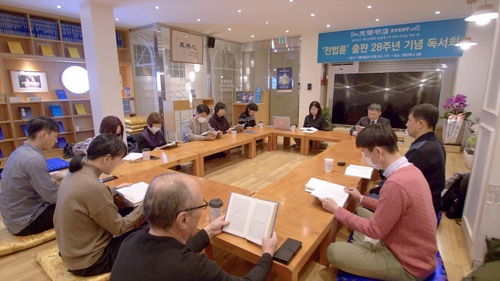 Zhuan Falun systematically guides people to live by the principles of Truthfulness, Compassion, Forbearance. The practice was first taught to the public by the author of the book, Mr. Li Hongzhi, in 1992.
Mr. Li traveled to over 20 cities in China between 1992 and 1994 and held a total of 56 classes to introduce the teachings. He combined the contents of his teachings into the book Zhuan Falun, which was first published in 1994. The following year Mr. Li held a publishing ceremony at the People's Public Security University of China on January 4, 1995.
Ms. Zhang Shu, who runs Tianti Bookstore, said, "The book contains answers to questions and difficult problems in life. As long as I settle down and read the book with a calm mind, my wisdom continues to grow. I hope that through this book club more people can learn about Zhaun Falun."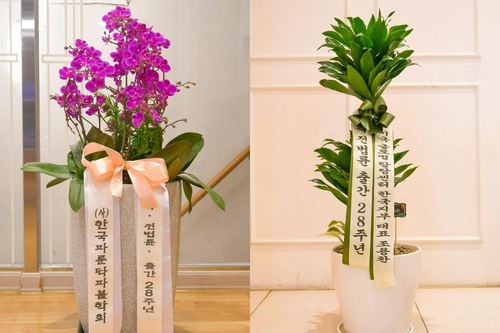 Different Understanding Each Time 
Ms. Jin Minzhu received a Falun Dafa flier two years ago when she walked by Gwanghwamun Square. From the flier she learned about the book and the Nine-day Falun Dafa Workshop. She said that after she began reading Zhuan Falun she could not put it down. "The same content has different meanings each time I read it. Every time I read the book I have a different understanding of the teachings," said Ms. Jin.
Ms. Jin Yunzhi is a documentary producer. She and her mother often read Zhuan Falun together. That day she brought her mother from Daegu to Seoul to attend the book club. "I am glad to meet so many people at the club. I'd like to join these meetings if they are held in the future," said Ms. Jin. She said that Falun Dafa teaches people to be kind and let go of attachments, which attracted her to learn the practice.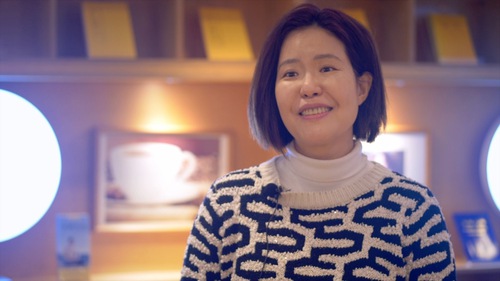 Feels Relaxed After Reading Zhuan Falun
A close friend told Ms. Li Hemei about the book club. After reading Zhuan Falun, Ms. Li said, "I feel very relaxed. The atmosphere here makes me feel comfortable. The attendees come from all walks of life, men and women, young and old. It's quite interesting and nice. I will continue to read the book."
Improved Temperament After Studying the Book 
Ms. Cui Yingshu, an elementary school principal, talked about the positive changes she experienced after reading Zhuan Falun. In her challenging line of work, she is now able to face her students with reasons and kindness, even when they are crying, cursing or throwing a tantrum.
Sees Beautiful Worlds While Reading Zhuan Falun 
Mr. Li Kangming, a former police intelligence officer, had an amazing experience when he read Zhuan Falun. He saw splendid scenes in other dimensions. "At first I thought it was my imagination," he said. "I rubbed my eyes a few times but I still saw every character in the book as colorful, shining, and three dimensional. There is a beautiful world behind each character. It's not an illusion."
Ms. Shen Cairi began practicing Falun Dafa when she was 72 years old, which was 18 years ago. The first phrase in Zhuan Falun touched her, and she's been a steadfast Dafa practitioner since. She's now 90 years old and can still read well without glasses.
Mr. Jin Xidong shared that he first read Zhuan Falun three years ago. "I let go of many of my attachments after reading it. Had I read the book sooner, I'd have performed better at work. I am so lucky to be reading it now," he said with tears in his eyes. "I hope everyone I hurt can forgive me."
Popular Book for 28 Years
Zhuan Falun has been a popular book since its publication. It was ranked a top ten seller by Beijing Youth Daily in 1996, and the best seller for January and February by Beijing Evening News. In the following years the book has been translated into over 40 languages and is available in over 100 countries and areas and treasured by more than 100 million people. The book is the number one seller at the Tianti Bookstore.
Background: What Is Falun Dafa?
Falun Dafa (also known as Falun Gong) was first introduced to the public by Mr. Li Hongzhi in Changchun, China, in 1992. The spiritual discipline is now practiced in over 100 countries and regions worldwide. Millions of people who have embraced the teachings, which are based on the principles of Truthfulness, Compassion, and Forbearance, and have learned the five exercises, have experienced improved health and well-being.
Chinese version available
(Clearwisdom)
63 total views