(Minghui.org) On January 30, 2023, the Shen Yun World Company concluded its 2023 Japan tour at the Aichi Prefectural Art Theatre in Nagoya.
This season, the performing arts company presented a total of 32 performances in ten cities across Japan from December 26 to January 30.
Known to have a reserved disposition, Japanese audience members displayed a great amount of enthusiasm during Shen Yun's performances. The performers took multiple bows on numerous occasions.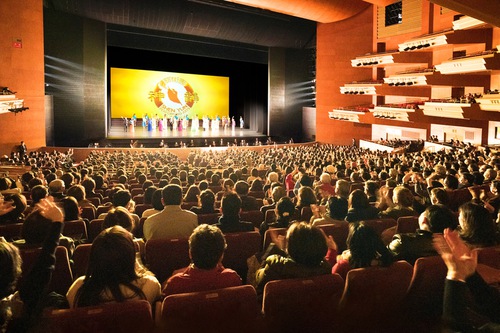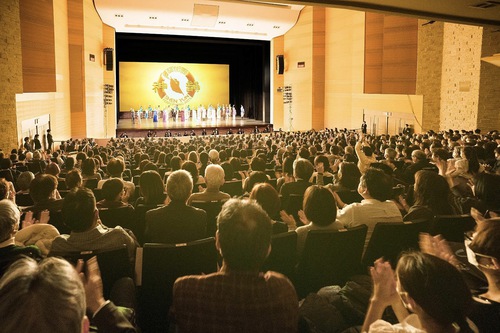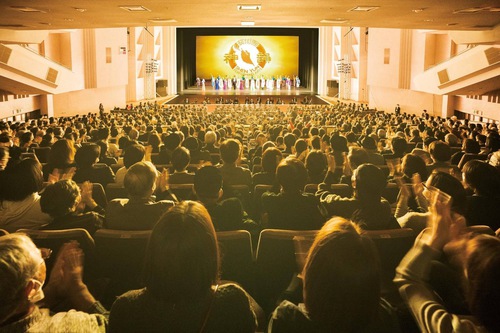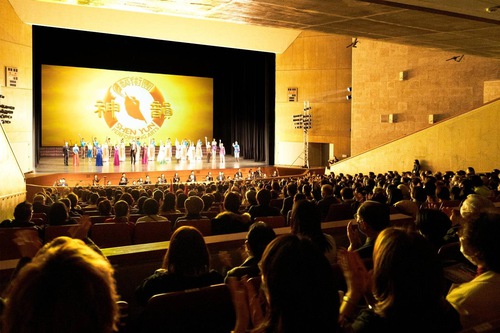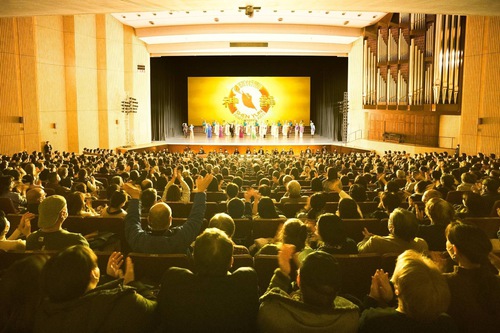 "I Was Taken into a Dream"
Mr. Tanaka Sakuji, former president of Rotary International, at the Shen Yun performance in Kawaguchi on January 17 (NTD Television)
Mr. Tanaka Sakuji, the former president of Rotary International, saw Shen Yun in Kawaguchi on January 17.
"I entered another world when the curtain first opened… The stage and backdrop cooperate very well. I felt like I was taken into a dream," he said.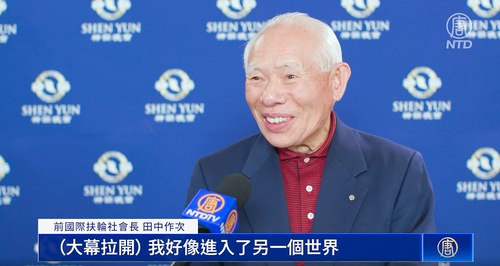 "It Represents Great Artistry"
Mr. Maruyama Itaru, Mayor of Sakata, and his wife saw Shen Yun in Kamakura on January 14.
"It's really amazing! I have never thought a human body can be as flexible as Shen Yun dancers. They float in the air, jump very high, and flip freely… The dances are magnificent," said Mr. Maruyama.
He said the most brilliant part of Shen Yun is that the performance integrates the dynamic backdrops, dances, and live orchestra into one body.
"The backdrops coordinate with the dancers' movements on stage… Then the dancers dance the stories. This made the dance so entertaining and so magical. It represents great artistry," he said.
Mr. Maruyama said the orchestra's music was very powerful and could penetrate people's souls.
"The tunes and melodies are very well composed… The combination of the music, dance, and stage is very creative. It presents us something really spectacular," he said.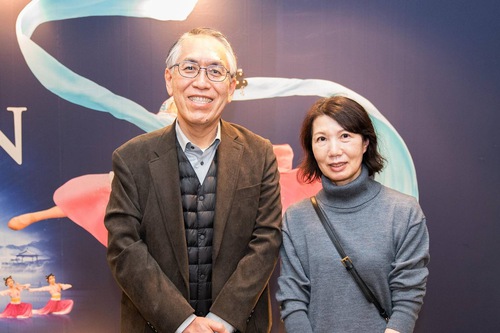 "A Grace Bestowed by Divine Beings"
Mr. Nemoto Terunao, the chair of a gut health association in Kawaguchi, saw Shen Yun in Kawaguchi on January 19. He said Shen Yun was "a grace bestowed by divine beings."
"When the curtain was first opened, a palace from heaven was shining just in front of me. My heart was full of expectations at that moment. I was shocked by that divine power," said Mr. Nemoto.
He enjoyed the performance, during which "I didn't dare to blink" to avoid missing any moment.
"The dance, in which female dancers dressed in costumes featuring long, flowing sleeves, is extremely beautiful. I was mesmerised by it. I felt very happy when I saw it… The dancers coordinate seamlessly. They are on the level of heavenly maidens," he said.
Mr. Nemoto was also impressed by the male dancers.
"They are very handsome and valiant. Their dances are full of energy, which is fantastic," he said. After seeing their Tibetan dance, "I want to visit Tibet now," he said.
Mr. Nemoto said Shen Yun "is really spectacular."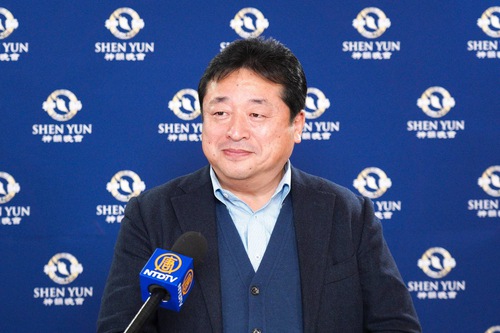 "It's Hard to Describe How Grateful I Am"
Mr. Takada Munehiko, the president of the nearly 160-year-old Kaiun Sake Brewery in Fukushima Prefecture, saw Shen Yun in Utsunomiya on January 22.
"It's beyond expectations. I was shocked. It's really magical… I have never seen a performance like Shen Yun. It's huge but very well coordinated," Mr. Takada said.
"The female dancers moved very smoothly, like water. These movements are very elegant and perfectly show feminine softness and grace… They cooperated with each other seamlessly while presenting what was most exquisite. I kept on asking myself: 'How can they do it?' " he said.
He said the dynamic backdrop was very well designed. It extended the stage to a broader, wider, and deeper space. With the live orchestra playing, "You don't need any words. You feel you are there [on the stage] and you experience the stories yourself," he said.
Mr. Takada is also a person of faith. He said he was very happy to see Shen Yun reviving traditional Chinese culture, in which people respected divine beings and follow moral codes.
"I'm very emotional now. It's hard to describe how grateful I am… People need these traditions. Then people can live peacefully and support each other. I'm excited to attend Shen Yun," he said.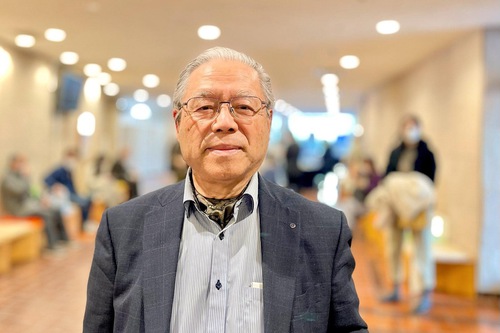 "Uses the Most Advanced Technologies to Present Traditional Values"
Mr. Maruyama Harufumi, a councilor of Zushi city, saw Shen Yun in Kamakura on January 13. He expressed his gratitude and said the experience will be a lifelong good memory that he will cherish forever.
"Shen Yun is majestic. I was moved. It represents the core culture of both the East and West. It focuses on details but is very grand. It is grace mixed with bravery. It's really fantastic," Mr. Maruyama said.
"Shen Yun integrates the art of dance, music, and backdrops. It uses the most advanced technologies to present traditional values, which is really an excellent artistic expression," he said.
Mr. Maruyama was amazed by Shen Yun's soloists.
"The soloists have extraordinary power. They perfectly revived the bel canto. I definitely will attend Shen Yun next season," he said.
He said the deepest impression he had of Shen Yun is one of harmony. He felt the whole stage and orchestra cooperated seamlessly, and the whole show was in an atmosphere of harmony.
"In Japan, the most important thing is harmony. Watching Shen Yun, I have been feeling harmony, which I also can say is compassion. It's really outstanding," he said.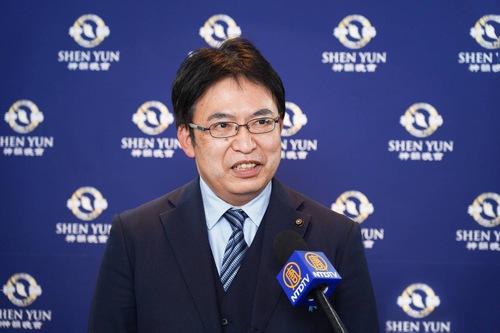 "There's a Divine Nature in Shen Yun"
Mr. Okamoto Shigeru, the president of a paint manufacturer, saw Shen Yun in Nagoya, Japan, on January 29.
"We are in the pandemic. I was very touched to attend Shen Yun – such a fabulous show," said Mr. Okamoto.
He said Shen Yun's programs were brilliant and full of elegance, magic, beauty, and grace.
"The dancers synchronised with each other perfectly, and their flexibility is outstanding… They must have received tremendous and strict training. It's very touching. It's fantastic," he said.
Mr. Okamoto said he is a Buddhist, and felt Shen Yun was spiritually encouraging.
"There's a divine nature in Shen Yun. I felt traditional Chinese culture is given by divine beings… The messages that Shen Yun presented resonated with my soul. My heart is incredibly relaxed now," he said.
Mr. Okamoto said Shen Yun is the best performance he has attended in his life. He felt hope in Shen Yun and was inspired by it.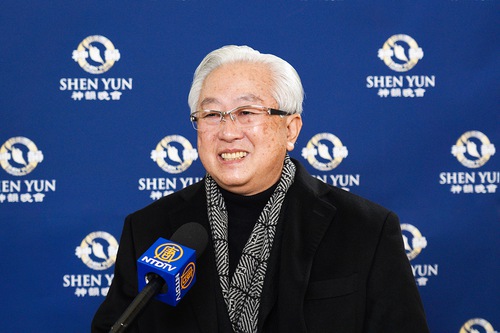 Shen Yun Arrives in Busan to Begin South Korea Tour
After completing the Japan tour, the Shen Yun World Company flew to South Korea and arrived at the Gimhae International Airport in Busan on January 31.
This was the first time in three years that Shen Yun returned to Korea due to the pandemic. This year, the company is scheduled to perform a total of 14 performances in Busan, Gumi, and Seoul from February 2 to February 19.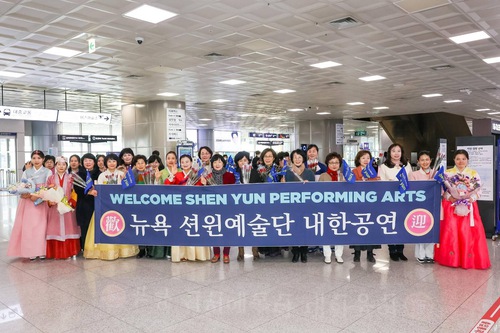 "Our performance has many contents of traditional culture, which Korean people are familiar with as well. I believe Korean audiences will enjoy our show… We hope our bright and beautiful show can bring people hope in these uncertain times," said Shen Yun Principal Dancer Du Zengmei.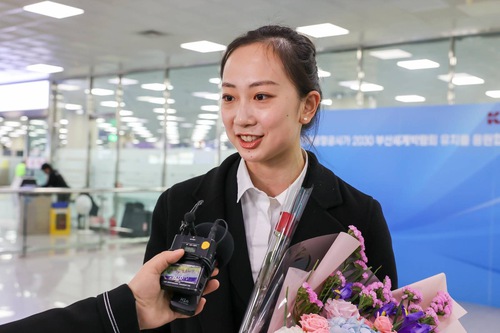 Ms. Du mentioned that Shen Yun just successfully finished its tour in Japan. Japanese people are very reserved in general, but many audience members were moved to wait backstage to express their appreciation to Shen Yun artists.
"There has been a lot of preparation during the past three years. We're visiting Korea again this time with a brand-new program. I hope Korean audiences do not miss the performances in Busan, Gumi, and Seoul. Come see Shen Yun," said French horn player Seung Hyun Lee, a native of South Korea.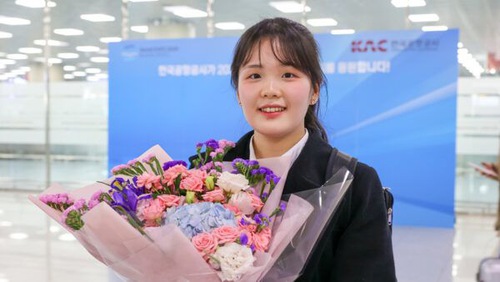 Fans waiting at the airport also said they couldn't wait to see the performance.
Choi Yeong-cheon, a president of a primary school in Gimhae, said she was touched by Shen Yun's soloist in 2008 when she first saw it. Since then, she has been a Shen Yun fan.
"Shen Yun is great in many aspects, such as colors, costumes, music, choreography, and so on. This is the best art in the world… Students will have better moral codes in their lives if they attend Shen Yun," she said.
Lee Sang-cheon, a former director of Busan Daecheonri Elementary School, said Shen Yun's stories convey virtues, including honesty, kindness, endurance, etc.
"A friend told me that the knowledge a child learned from one Shen Yun performance is more than the knowledge they obtained from school in 10 days… It's a must-see for all ages," she said.
Upcoming Performances
Shen Yun continues its 2023 tour with upcoming performances in:
Cleveland, Ohio, February 5
Mobile, Alabama, February 7
Reno, Nevada, February 7–8
Lyon, France, February 5–9
Busan, South Korea, February 5
Montreal, Canada, February 5
Santiago, Dominican Republic, February 6–7
Chinese version available
(Clearwisdom)