(Minghui.org) Falun Dafa practitioners participated in the Christmas parade in Banbury, the third largest city in Western Australia, on the evening of December 11, 2022. Practitioners shared the blessings of Falun Dafa with the residents of Bunbury.
Parade-goers remarked on how much they enjoyed the practitioners' colorful procession and energy. They admired the practitioners' high spirits and said that they supported religious freedom.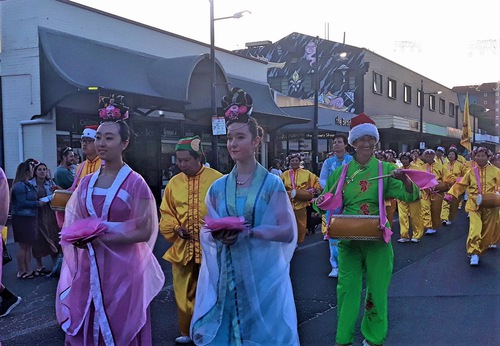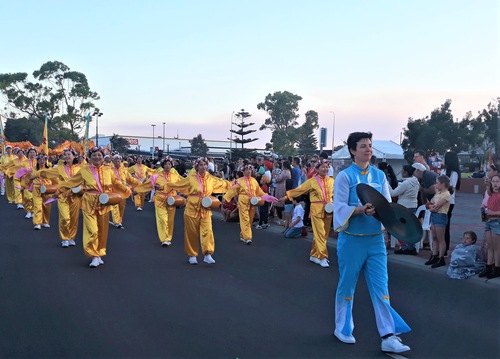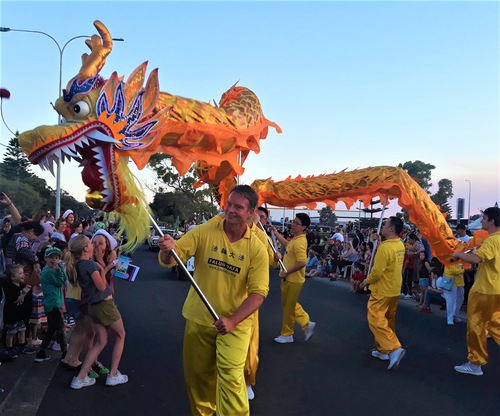 "Falun Dafa is great and they motivate spectators"
Duncan Walker said that he thought the Falun Dafa practitioners were "amazing." He said, "We'd go to Asian restaurants in Perth's Chinatown, and I would always see practitioners holding activities there."
Referring to the ongoing persecution of Falun Gong, he said, "It is terrible to hear what practitioners in China are going through. I have heard about the Chinese Communist Party's (CCP) crime of forced organ harvesting from living practitioners. It is horrible. Everyone should be able to have a faith and the freedom of religion."
Julie, another onlooker, said, "Falun Dafa's procession is beautiful. Everyone is smiling. I enjoy listening to the drumbeats of the waist-drum team. They made a deep impression on me because everyone seemed so happy."
Julie had never heard about Falun Dafa and was shocked to learn about the CCP's persecution. She said, "I lived in Taiwan for two years. I realised that the Taiwanese and the mainland Chinese are very different, because people who live in China have no human rights."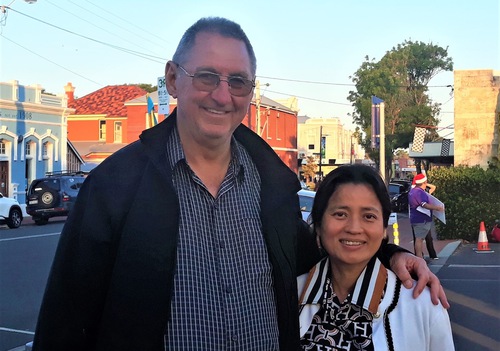 "Falun Dafa's procession carries a strong energy"
Victoria, who said that she had heard about the ongoing persecution, agreed with Falun Dafa's principles of Truthfulness-Compassion-Forbearance.
She said, "Falun Dafa's costumes and props are aesthetically pleasing. The procession carries strong energy. It is amazing!"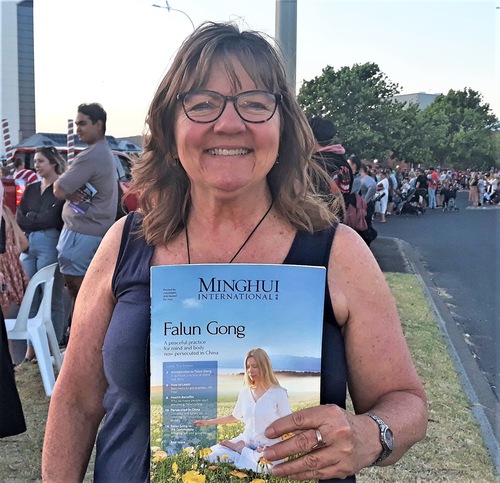 "The principles of Truthfulness-Compassion-Forbearance are good and we need to follow them in our daily lives"
Preeya Patel said to practitioners after the parade ended, "I liked the waist drum performances. Falun Dafa's procession left a deep impression on me because of the vibrant colors. The principles of Truthfulness-Compassion-Forbearance are good and we need to follow them in our daily lives."
Chinese version available
(Clearwisdom)
Western Australia: Falun Dafa Wins First Prize in Mandurah Christmas Parade
13 total views