(Minghui.org) On the evening of Wednesday July 20, 2022, a rally was held in front of the Chinese Embassy in Tel Aviv to oppose the persecution of Falun Gong that has been going on in China for 23 years. A number of public figures showed their support for ending the persecution, with letters, videos, and addressing the rally in person.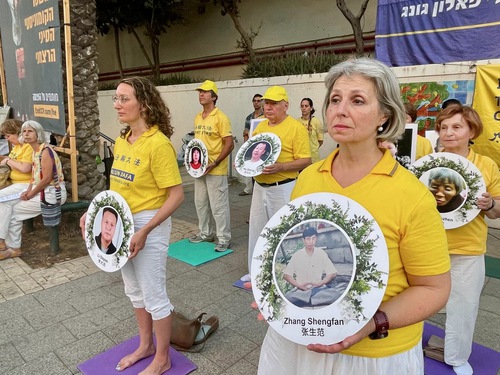 Israeli Member of Parliament: These are among the most difficult and cruel crimes known to humanity
Member of the Knesset (Israeli Parliament) Mossi Raz wrote:
"For 23 years a brutal and cruel crime against your community has been taking place. The world knows, and allows these atrocities to continue happening. These are among the most harsh and cruel crimes known to humanity.
"We demand that the Chinese government stop the organ harvesting, stop the persecution of Falun Gong, release all its members from prison, and allow freedom of speech, freedom of action, freedom of practice, and freedom of thought and belief.
"Thank you for spreading truth, compassion, and tolerance. Thank you for your constant pursuit of personal and social improvement. Thank you for continuing the fight against unimaginable evil and oppression. May it be, that this will be the last year in which we commemorate the continuation of the brutal oppression."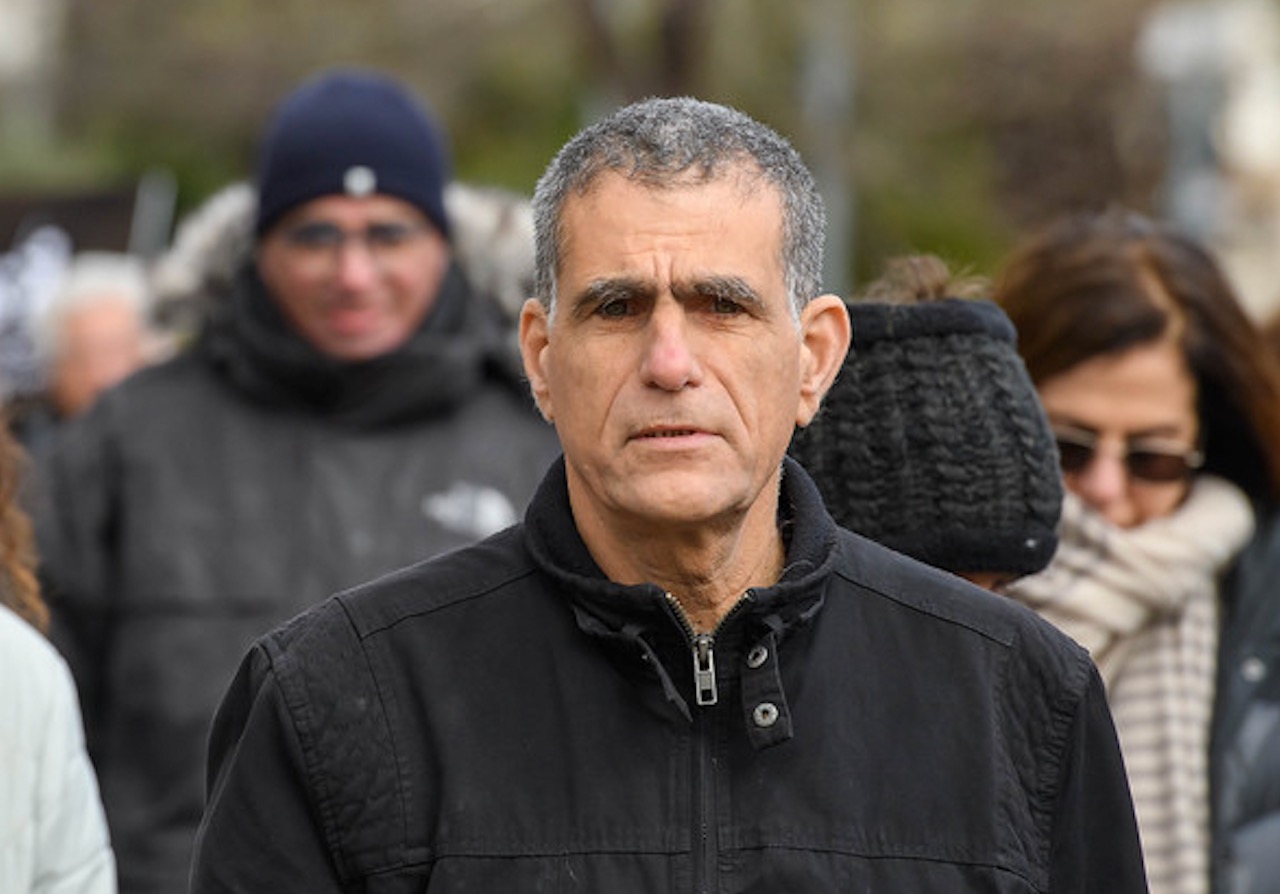 Former Minister: "Dictators grow stronger because of our fear"
Mr. Natan Sharansky, a former member of the Knesset and a former minister in the Israeli government, who was a "prisoner of Zion" in the Soviet Union, sent a video message. Mr. Sharansky said, "We must remind ourselves that dictators grow stronger because of our fear. We must remember that we will be stronger as we expose the true nature of these regimes and not fear them."
Commentator and expert on China affairs: "Tonight I broke my self-censorship"
Noam Orbach, a commentator and expert on Chinese affairs, addressed the rally. He spoke in Hebrew, but at the end of his talk, he addressed the embassy staff in Chinese.
"I lived in China in 1999, a few months after the persecution of Falun Gong practitioners began. I was a daily witness to propaganda broadcasters who were in fact inciting against a group of believers, of practitioners. They called them names like "science deniers" or "medical treatment refusers." The incitement was truly dehumanisation. The fear in the eyes of a Falun Gong practitioner who approached me and handed me a small card with an explanation of what Falun Gong is, was terrible. In Israel, Falun Gong is legitimate but in China, practitioners take on such a serious risk in the face of the government [opposition]. When I returned to Israel, I began studying Oriental studies of Asia and China.
"China has succeeded in creating an atmosphere of fear among those in Israel who deal with China – in academia, in business, among language teachers, etc. – an atmosphere of acceptance of the Chinese rules of the game; that is, they remain silent on any 'sensitive' issue and certainly avoid any open criticism of China especially demonstration. The Chinese Embassy exerts influence on the consciousness/mind of all China experts, teachers of Chinese culture and researchers in Israel – towards China. This is a dangerous internalisation of the Chinese rules of the game, in which no one should protest or demonstrate, even though we are in a democratic country.
"I am ashamed that until today I also internalised the rules of the game and avoided coming to the demonstration against the persecution, even though my heart was with it. Tonight, I broke my self-censorship and I say what is on my heart in front of the Chinese embassy."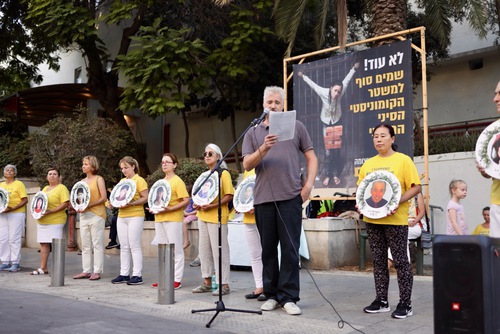 "China can easily revoke the freedom of nine million Israelis"
Dr. Thomas Guttmann, chemist, molecular biologist and patent editor, said, "In the last 30 years, China has taken advantage of the benefits of a free market but has not given up its political terrorism and evil campaign. China threatens all its neighboring countries and wants to take over our country as well, factories and important strategic projects. The CCP established education centres here in Israel and was caught planting listening devices in government offices. China threatened Israeli journalists who interviewed politicians from Taiwan, proposed to cancel the airport and let China build another airport in its place, and established a Chinese university in Petah Tikva. At the same time, China signed a huge agreement with Iran for military and intelligence cooperation. China is able to cancel the freedom of nine million Israelis easily. China is the greatest danger to the sovereignty and security of the State of Israel."
"Murderous regime"
Prof. Hillel Weiss, Bar-Ilan University (emeritus), defined the regime in China as "murderous," and said that it should be boycotted – until China proves that it has stopped murdering citizens and residents for the purposes of organ trafficking.
Prof. Weiss was one of the founders of the "New Sanhedrin" – a body that tried to revive the ancient court of Judaism. He said in his speech at the rally that several years ago, the members of the Sanhedrin discussed the subject of the persecution of Falun Gong in China, and interviewed researchers and victims of the persecution from all over the world. The ruling reads:
"In their final decision, the Sanhedrin said: 'The Government of the People's Republic of China is required to implement the Chinese law, which was enacted in the spring of 2007, which will put an end to the killings without trial and to organ harvesting without consent.'"
"It falls into the category of the Holocaust"
Rabbi Michael Avraham, Doctor of Physics at Bar Ilan University said, "It is common to think that the validity of a state's existence stems from its commitment to protect its citizens. When the state does not do this and even uses its power to harm its citizens, how is there justification and validity for such a state? How can you cooperate and represent it? I call on the representatives of our country who are supposed to protect us to stop cooperating with China, to express our voice and declare that we are not ready to be silent about this. Our Prime Minister is constantly talking about the memory of the Holocaust; he must express vigilance to the most brutal crime that takes place in China against human beings just because of a certain worldview, including a threat to their lives. It falls into the category of the Holocaust, and I expect everyone who holds the memory of the Holocaust dear – to express opposition."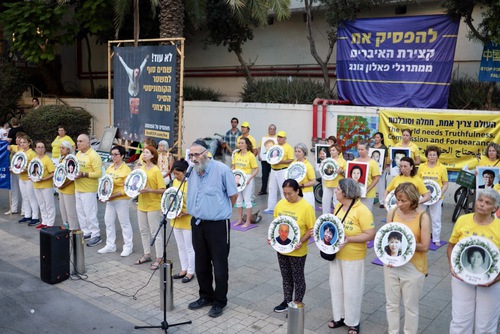 "The values of truth, compassion, and tolerance, connect us to the root of our soul"
Mr. Elie Yoseph, head of the "Jewish Heart" Party and an activist against military aid to countries that commit genocide, said, "Why do truthfulness, compassion, and tolerance – the virtues that characterise Falun Gong – so interfere with the Chinese Communist Party? Why have these virtues made Falun Gong the enemy of the regime? Why does the CCP suppress and torture them to the point of murder? Because these virtues connect us to the root of our soul. But the Communist Party wants us to be strangers to ourselves. It wants to neutralise our emotions. Because that's how we can be controlled. And without truth and compassion and tolerance – we become strangers to ourselves, treat others as strangers. And become cruel."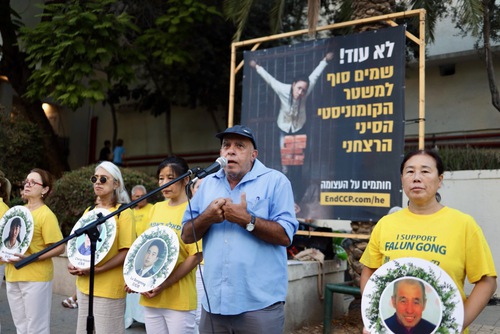 "An immediate danger"
Adam Attias, chairman of the "Free People" Party and a human rights activist, said, "The Chinese government is a clear and immediate danger to every country that considers itself democratic. It is a clear and immediate danger to those who support sovereignty, to those who advocate for independence and human rights. The Israeli government continues to do business with a murderous administration and is slowly transferring all the state's assets into its hands."
Chairman of the Falun Dafa Association in Israel: "The price of silence is always heavier"
Mr. Vadim Berestetsky, chairman of the Falun Dafa Association in Israel, said, "Among all the reports of the ongoing persecution which come regularly from China, the most shocking to me are the news about elderly women in their 60s, 70s, 80s and older, who are tortured and murdered by the police. Any normal human being cannot understand how you can raise a hand against an older woman. But in communist China, the policeman who tortures and even kills an elderly woman receives money and benefits from the regime for this 'work.' The communist regime, which has the world's largest army, police, enormous economic resources, and a propaganda industry, is afraid of people who practice truth, compassion, and tolerance.
"I met Falun Gong practitioners who managed to escape to the West after being released from re-education camps in China. I expected to see broken people, full of anger and insults, people thinking about revenge. But to my surprise, I met people who believe in goodness, who love life, people with hearts full of compassion. What kept them going was their firm belief in truth, compassion, and tolerance. In detention, while suffering, they thought of other people. They helped other detainees and even helped the guards to understand how important it is to be a good person. They helped the guards to wake up from the lies of the regime and stop cooperating with evil.
"Thanks to such people, the persecution against Falun Gong in China is not only a tragic story of suffering and sacrifice. It is a tremendous story of hope, a story that gives me strength and inspiration. For me it is the story of the true strength of truth, compassion, and tolerance. The persecuted practitioners in China chose to pay such a great price for their right to be a good person, an honest person, a person with compassion in their heart.
"Perhaps the persecution has lasted so long in order to give each of us a chance to wake up and choose between good and evil, to wake up and realise that the price of silence is always heavier."
More letters and video messages sent in support
Rabbi Shlomo Aviner, head of the "Ateret Yerushalayim" Yeshiva, sent a video message, in which he said,
"Blessed are you for protesting against the serious harm to the Falun Gong people in China, who are innocent people. A country needs a political base, an economical base, but above all – a moral base. Therefore, we must protest and protest. If the people of spirit and morality nod their heads as a sign of approval for any injustice on earth, our lands are lost.
"Don't ignore the greatest danger humanity faces."
Dr. Oz Guterman, researcher and international lecturer, wrote:
"Whoever chooses to remain silent in the face of the crimes against humanity committed by the Chinese Communist Party, against the Uyghurs, the Falun Gong practitioners, or any person who has a different opinion, makes the world a more dangerous place for him and for his children. He is under threat from dark regimes that spread terror in the world … a person who does nothing about it, ignores the greatest danger humanity faces, as most people did when the Nazi Party came to power."
Michael Phua, former advisor to the Israeli Ministry, wrote:
"COVID-19 gave us an opportunity to see what are the consequences when we allow a tyrannical and murderous regime to be a member of the family of nations. The disregard for human life, together with the lack of transparency, harm not only the citizens of China, but easily and quickly turns into an epidemic that threatens the entire world. The Chinese communist regime must be stopped, and it should stop the torture, oppression, and murder of citizens in China which is done to them just for being people of freedom.
Rabbi Oury Cherki wrote:
"The violation of the basic human norm, which commands us not to use the human body as if it was a store of organs, and to kill humans in unbearable agony, are what disqualify regimes from being trusted by the community of reformed states.
"Every honest person should know how to express disgust in the face of these acts, and should not stand by while the image of man is being defaced."
Rabbi Azriel Ariel, Rabbi of Ateret (small Israeli town), wrote:
"The Jewish people went through a terrible holocaust eighty years ago, while the world kept silent. It was not only those who did not know, or those who knew and had no power to do anything that were silent. Those who had the power to do something were also silent and they also ignored these horrible actions. These days, terrible things are happening in China. We are a small country among great enemies. We don't have much ability to act. But by no means must we be silent!!!"
Rabbi David Spitz wrote:
"There are many cases in the life of nations in which freedom fighters wage their war away from the spotlight and public information.
"This is what happens every day in distant China. There, Falun Gong practitioners and other freedom seekers languish in prisons, used as a bank of organs for transplantation.
"I join in appreciation of those standing in front of Chinese embassies around the world: 'Together with you, I call on China and the nations of the world to do everything for the sake of freedom, and release all prisoners of conscience.'"
Chinese version available
(Clearwisdom)