(Minghui.org) Tarunga is located on the Northeastern coast of New Zealand's Northern Island. Facing the Pacific Ocean, Tarunga has beautiful scenery and pleasant weather.
New Zealand Falun Dafa practitioners held a parade, rally, exercise demonstration, truth clarification activities, and more in Tarunga on August 20, 2022. Dafa practitioners are striving to spread the Falun Dafa principles of Truthfulness, Compassion, Forbearance, and it gained the appreciation of the local folks. When the people learned about the Chinese Communist Party's (CCP)'s persecution of Falun Dafa practitioners, they all condemned the CCP's totalitarian ruling.
The parade started at noon at the crowded beach of Tarunga and continued into the city centre. The performances by the Tian Guo Marching Band, Waist Drum Team, and Dragon Dance Team, which are all made up of Falun Dafa practitioners, attracted many people. They all watched or walked alongside the parade. The people clapped and cheered as the parade passed by. Some people even followed the parade all the way to the end.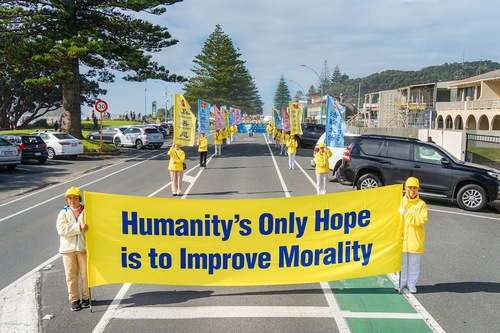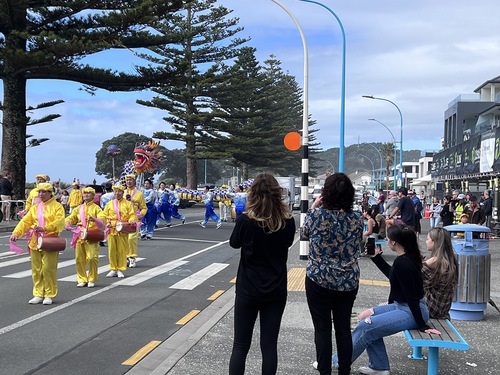 Passersby Expressed Their Wish to Learn Falun Dafa
A young lady, who was watching the parade approached practitioners to find out where she could learn Falun Dafa. She became very interested after reading the Falun Dafa introduction flier.
"I am currently learning qigong by myself," she said. "When I meditate, I can feel that I am connected with the earth around me, and I can feel peace and tranquility. I really hope that through cultivation, I can bring good energy to the people around me. Usually, I do qigong exercises by myself. Therefore, I truly hope to learn Falun Dafa, and join all of you."
The woman really liked the parade. She said, "The color of the practitioners' costumes is bright and colorful, and their performances are outstanding. Not only did they bring joy, they also helped people to understand more about Falun Dafa and the persecution. This is because people do not have the freedom to speak in China or the freedom to choose their belief."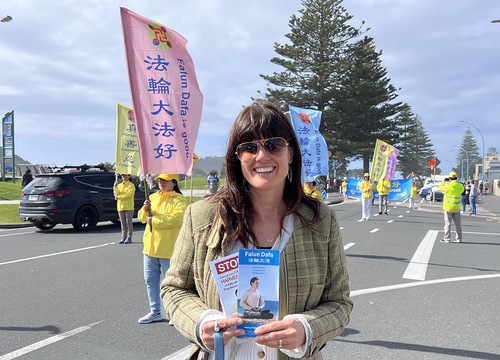 Retired Teacher: The Schools Should Popularise the Values of Truthfulness, Compassion, and Forbearance
Brian Coutts is a retired teacher. He and his wife, Shirley, like to meditate.
"Meditation can soothe the soul and help one calm down," he said. "If a person meditates frequently, he will be able to restrain himself, and not do bad things. This is because meditation is beneficial to the mind and the body. It makes people improve their mind nature, become better, think more of others' needs first, and improve in many aspects. The Dafa principles of Truthfulness, Compassion, Forbearance are very important. All the schools in New Zealand should teach their students such values. Nowadays, many parents over-rely on teachers. Therefore, the schools should take the responsibility to popularize such values."
Coutts continued to say, "In modern society, it is because there is a lack of such correct values that there are robberies and murders. If parents can teach their children the values of Truthfulness, Compassion, and Forbearance, the teenagers will not be loitering and drinking in the streets after 11 p.m. Some parents even treat electronic products as their nannies. They let their children play with mobile phones, and get addicted to them at a very young age. In fact, all children should learn Falun Dafa."
With regards to the CCP's repression of Falun Dafa, Coutts said, "The CCP is an autocratic government that oppresses its people. It tries to control what people should wear, and eat. It tells people where to live, where to move to, and their behavior. It makes people hate it to the core. When people have enough of it, they will rise to overthrow it. The CCP is harvesting organs from Falun Gong (also called Falun Dafa) practitioners while they are still alive – the CCP wants to gain economic benefits. This is too horrible. This is why the Western countries boycott and reject the CCP."
I have a dentist friend who went on a tour in China and took many photos. We were astounded by the beautiful scenery and vast land. But, due to the CCP's evil nature, many Western people do not dare to go to China."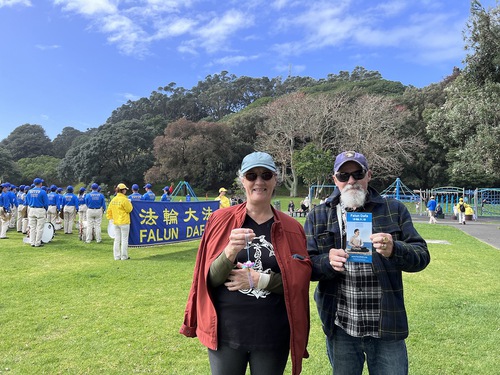 Falun Dafa Has Significant Meaning for the Whole World
Bert Henkelman migrated to New Zealand from Hungary and is over 80 years old. When Hungary was governed by the Communist Party, his parents were university lecturers. They suffered persecution at the Communist Party's hands. The peaceful scene of the Falun Dafa practitioners doing the exercises deeply moved his inner soul.
Bert had tears in his eyes. He said, "I can feel the tranquility and peacefulness because China's culture has a history of thousands of years and has great wisdom. Although I know that there are many bad things happening in the world, including in China, the introduction of Falun Dafa to the world can be said to be a matter that is righteous and meaningful although it originated in China. As the practice originated from an ancient cultivation culture, this is also what I really would like to learn and seek. I am very thankful for this peacefulness. It is really not easy to be able to find the true peacefulness in one's inner soul."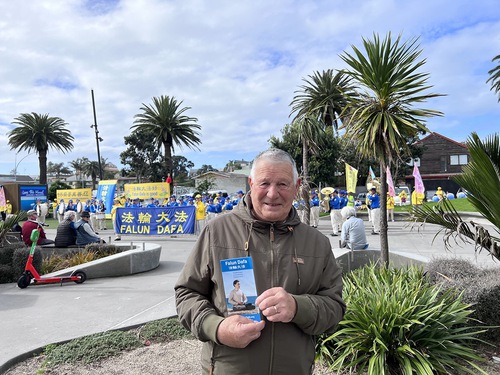 "The Principles of Truthfulness, Compassion and Forbearance are Good"
Alicia Reynolds is in charge of the parade's traffic control. The spiritual belief of the Falun Dafa practitioners resonated within her. She said, "I also like to meditate. I believe that Qi and energy can heal the mind and body, and meditation also makes me steadfast in what I truly want. It helps me return to my original nature. I feel that the principles of Truthfulness, Compassion, and Forbearance are very good. It can help people maintain their kindness, peacefulness, and tolerance and make them learn to forgive. This is the best way of living, especially during this pandemic period. This ideology will help bring stability to people and shows them how to overcome their fears."
She also said, "The CCP defames Falun Gong because they feel that their political power is threatened. The Falun Dafa practitioners are such a wonderful and peaceful group, but they are being treated so unfairly in China. This is really too horrible. Today, the parade is especially good. It makes people open their eyes and pay more attention to Falun Dafa."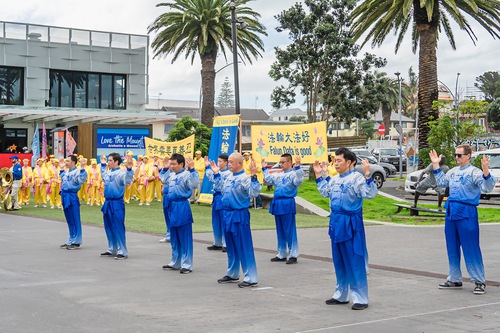 Chinese version available
(Clearwisdom)
New Zealand: Rally and March in Nation's Capital Call to End Persecution in China
8 total views