(Minghui.org) According to information collected by Minghui.org, 2,707 incidents of Falun Gong practitioners being arrested or harassed for their faith were reported in the first half of 2022.
Falun Gong, also known as Falun Dafa, is a spiritual discipline that has been persecuted by the Chinese communist regime since 1999. Countless practitioners have been arrested, harassed, sentenced, and tortured for upholding their faith. But due to strict information censorship in China, the persecution cases can't always be reported in a timely manner, nor is all the information readily available.
Among the 1,447 arrests, nine took place in 2020, 245 in 2021, and 1,193 in 2022. Of the 1,260 harassment incidents, one was in 2020, 241 in 2021, and 1,018 in 2022. A total of 662 practitioners remain in custody and 943 had their homes ransacked. The following chart shows a breakdown of the cases by month in 2022.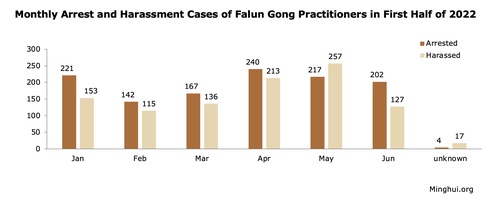 Weeks ahead of the Beijing Winter Olympics in February 2022, the authorities arrested and harassed practitioners in Beijing and Zhangjiakou City, Hebei Province, two of the three zones to host the snow sports, under the pretext of preventing them from speaking out about Falun Gong during the games.
Other cases of harassment were reported prior to the Party Congress in Shanghai, held between June 25 and 27, including an 87-year-old woman the police harassed over the phone.
The targeted practitioners came from 28 provinces and municipalities. Shandong (418), Sichuan (323), Hebei (297), Heilongjiang (222) and Hubei (200) reported the most combined cases of arrests and harassment. Jilin, Liaoning, and Hunan also reported triple digit cases. Eighteen other regions had double-digit cases.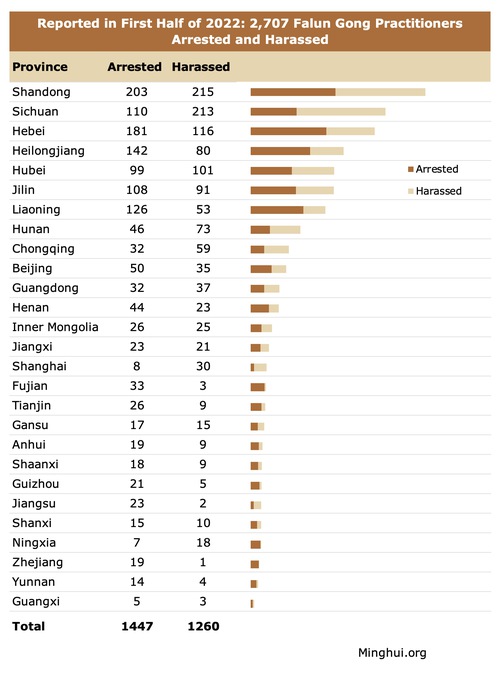 The practitioners came from all walks of life, including college professors, police officers, company managers, teachers, doctors, accountants, and bank employees. A total of 399 practitioners, including 241 arrested and 158 harassed, were 60 and above, with three practitioners in their 90s.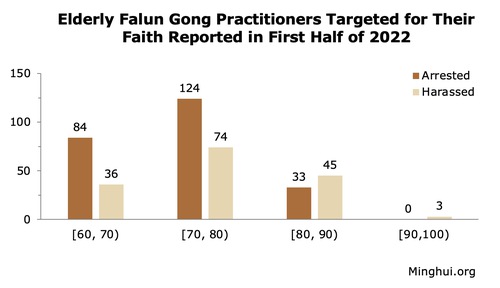 While the "Zero-out" harassment campaign targeting every practitioner on the government's blacklist that was started at the height of the pandemic has slowed down in 2022, practitioners are actually being treated worse than ever, and some practitioners have died hours or days after their arrests. One woman died two hours after her arrest and another 14 hours later. A third woman died three days after being arrested and another one eight days. Two more practitioners were traumatized by the latest harassment and passed away shortly after.
Other practitioners also reported being beaten by the police following their arrests, resulting in serious injuries, including fractures, bruising, and swelling. When a practitioner with a persistent fever was denied admission to a detention center, the police attempted to falsify her temperature to get her detained.
After a practitioner was assaulted by the same man twice in two months while distributing Falun Gong materials, the police let the assailant go and interrogated the practitioner instead.
The authorities also disrupted the practitioners' daily lives, including breaking into a female practitioner's bedroom in the middle of the night to arrest her, covering some practitioners' peephole on the door and their security cameras, as well as cutting off power and Internet to their homes. Some practitioners reported that the authorities set up surveillance cameras around their homes to monitor them.
In Guangdong Province, the police changed the lock on an 84-year-old woman's door without her consent. When she was forced to live away from home to avoid being persecuted, the authorities kept calling her neighbors and asking if she had returned.
In some cases, the authorities used the pandemic as an excuse to arrest or harass the practitioners, claiming they needed to check their coronavirus test results or give them vaccinations. While arresting six practitioners in Hebei Province for reading Falun Gong books together, the police said, "We're in a pandemic, and you are violating the law by having an illegal gathering."
In addition to the local police and residential committees that have been on the front lines in carrying out the persecution policies, the general public was also mobilised to report on the practitioners. In the first half of 2022, a teacher deceived a practitioner's son into telling her their address, claiming she needed to make a home visit, and the former tenants of another practitioner reported on her for telling them about Falun Gong.
Examples of the various kinds of cases of persecution reported in the first half of 2022 are presented below:
Deaths after Arrests and Harassment
The following cases were also part of the 92 death cases reported earlier.
Police Withhold Death Certificate of 88-year-old Woman Who Dies Two Hours Following Arrest
An 88-year-old woman in Harbin City, Heilongjiang Province, died two hours following her arrest on April 13, 2022, for practicing Falun Gong. The police prevented her family from ordering an independent autopsy and withheld the death certificate. Her body is being held in a funeral home.
Ms. Cui Jinshi was reading a Falun Gong book at home on April 13, 2022, when several officers broke in and arrested her. Two officers dragged Ms. Cui from her apartment on the second floor to the ground floor. Then they suddenly let go and she fell down.
At 5:45 p.m., Ms. Cui's son, Mr. Piao Hu, got a call from the police telling him his mother had been taken to the 242 Hospital emergency room. Moments after he arrived, the doctor pronounced Ms. Cui dead. Mr. Piao went into the operating room and saw his mother's body. Her face was pale, her throat was cut open, and she was only wearing one shoe.
The police ordered a local funeral home to take Ms. Cui's body away and didn't allow her family to see her until two days later. Nearly four months after Ms. Cui's death, her body was still in the funeral home. Because the police refused to provide her death certificate and other paperwork, the family is unable to order an independent autopsy or even have her cremated so that she can rest in peace.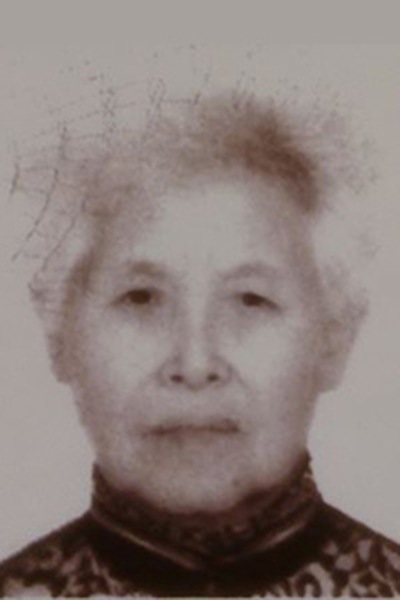 Shanxi Woman Dies 14 Hours after Being Arrested for Practicing Falun Gong
Ms. Niu Lanyun's family was told by the police on the evening of March 28, 2022, that their loved one, who had just been arrested that morning, had died.
Ms. Niu had been living away from her home in Datong City, Shanxi Province, since early 2021 to avoid being persecuted for her faith in Falun Gong. A witness saw her climbing down a rope from her third-floor temporary apartment in the Heng'an Residential Area of the same city at around 6 a.m. on March 28. When she got almost to the first floor, she fell.
Before Ms. Niu left, the ambulance arrived. When she refused to get into the ambulance, an emergency medical technician tried to drag her into it. As they struggled, the police showed up. They pushed her into the police car and left.
At 8 p.m., the police called Niu's family and informed them of her death.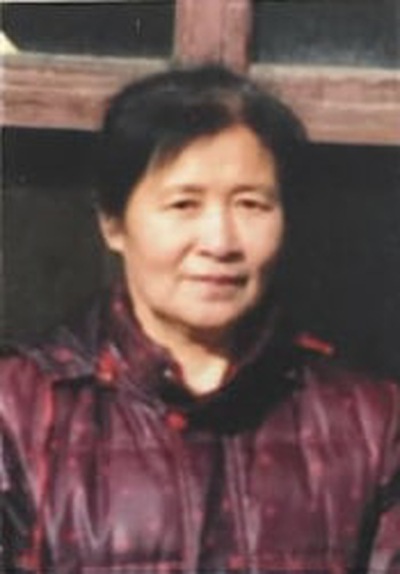 Elderly Woman's Health Quickly Deteriorates after Latest Arrest, Dies Two Months Later
While Ms. Yue Shuxia was released soon after she and her daughter were both arrested for practicing Falun Gong, the mental pressure from the arrest and police interrogation was the last straw. Having endured two decades of persecution and serving two prison terms for a total of seven years, Ms. Yue quickly lost her vision and her health rapidly declined. She passed away two months later, on June 6, 2022, at the age of 73.
Ms. Yue, a resident in Chifeng City, Inner Mongolia, was arrested at home on March 31, 2022, with her daughter Ms. Li Xiurong. Because Ms. Yue refused to cooperate with the police during her arrest, four officers put her on a blanket and each held a corner to carry her to the police car. She was then taken to the Pingzhuang Police Station and interrogated.
The arrest and interrogation dealt Ms. Yue a huge blow. After returning home, she soon became blind and developed many other symptoms. She passed away two months later on June 6, 2022.
Ailing Beijing Man Dies after Repeated Harassment
After a Beijing resident was released on bail after he fainted during a court hearing, the police continued to harass him for his faith in Falun Gong. To avoid subjecting his family to non-stop harassment, Mr. Zhu Yunjiang lived away from home. He passed away in his temporary residence on March 16, 2022.
Mr. Zhu's latest ordeal stemmed from his arrest on May 25, 2020. After four days of detention and interrogation, he was released on bail. The police later submitted his case to the procuratorate, which then indicted him.
While attending a court hearing (date unknown), Mr. Zhu fainted and the police took him home. The doctor said he had neuro-muscular weakness and he had to use crutches after that.
The police harassed him regularly. At one point, they took him to the detention centre, but the guards refused to admit him when they saw that he was unable to walk on his own.
Another time, even though Mr. Zhu wasn't home, the police smashed in the door when his wife refused to let them in. They then shouted at and intimidated her and her son. When the young man tried to argue with the police, they pushed him down and handcuffed him. His mother fainted from the shock. Seeing the situation getting out of control, the police left.
The harassment terrified Mr. Zhu's wife, who in turn tried to pressure him to give up Falun Gong. To avoid having his family implicated in the persecution, Mr. Zhu moved to a small temporary housing unit.
When Mr. Zhu's son called him on March 16, 2022, he didn't answer. His son then went to check on him, but no one opened the door. The son reported it to the police who came and found Mr. Zhu near death. By the time the ambulance arrived, he had already died.
Life in Danger Due to Persecution
Ms. Ma Yinhuan on Hunger Strike for 60 Days and Counting
Following her arrest on May 9, 2022, Ms. Ma Yinhuan went on a hunger strike to protest the unlawful detention.
Ms. Ma of Shijiazhuang City, Hebei Province, was arrested after being recorded by a surveillance camera putting up banners about Falun Gong. She was put in criminal detention the next day. After she started a hunger strike in police custody to protest, the police retaliated by refusing to provide her any daily necessities, including toilet paper. They also force-fed her.
Ms. Ma was transferred to the Shijiazhuang No. 2 Detention Center three weeks later and continued her hunger strike.
Ms. Ma's family hired a lawyer to visit her, but the detention centre used all kinds of excuses to deny the visits. They claimed that they had communicated Ms. Ma's situation to the police. But when the lawyer contacted the police, they responded that they had never received such information.
Ms. Ma's family applied for her release on bail only to be given the run-around between the detention centre and the police station. Some officers revealed that they couldn't release her, given an order from the Gaoxin District Police Department. She is now in critical condition and her family is very worried about her.
Three Members of a Family Arrested for Their Faith, 27-year-old Daughter in Serious Condition
A married couple and their daughter, all natives of Jiexi County, Guangdong Province, have been detained for almost seven months for their faith in Falun Gong. The daughter is now in serious condition and her 97-year-old grandmother is left without anyone to care for her.
Mr. Cai Zhongda, 60; Ms. Zeng Sufang, 53; and their daughter Ms. Cai Xiaoting were arrested on December 15, 2021, after being reported for distributing calendars with information about Falun Gong. They were held in the Jiexi County Detention Centre. Ms. Cai, 27, was taken to the hospital for resuscitation on March 6 and then taken back to the detention centre. She was in serious condition, but other details remain unclear.
Elderly Unable to Live in Peace Due to Persecution
Police Break into Elderly Woman's Home and Changed Her Lock Without Her Consent
More than ten police officers and residential committee staff members showed up at 84-year-old Ms. Liao Yuying's home in Maoming City, Guangdong Province, on June 9, 2022. Ms. Liao and her aide, 60-year-old Ms. Mai Weilian, weren't home, so the police pried open her lock and broke in.
When the police left, they installed a new lock on the door. They kept two keys for themselves and asked Ms. Liao's neighbor to give the other two keys to her and Ms. Mai. The neighbor asked why the police wanted to arrest Ms. Liao again. The officers responded that they weren't there to arrest her but to have her sign some statements (to renounce Falun Gong).
The latest harassment of Ms. Liao came only one and half months after her and Ms. Mai's previous arrests on April 21.
To avoid further persecution, Ms. Liao has lived away from home since the police changed her lock. Unable to find her, the residential committee has been calling her neighbor and asking if Ms. Liao has returned.
80-year-old Woman Living on Her Own Harassed by Police at Night
A loud bang on the door at 9 p.m. on April 25, 2022, jolted Ms. Zhan Huizhen awake. In the quiet neighborhood with mostly elderly residents, the loud noise also woke up many others.
When the police kept pounding on the door, Ms. Zhan, an 80-year-old resident in Suizhou City, Hubei Province, had to open up. Without showing their IDs or a search warrant, three officers barged in and walked around, looking for items related to Falun Gong.
Not finding any Falun Gong materials, the officers asked Ms. Zhan if she had gone out recently or contacted other Falun Gong practitioners.
This was the second time that the police targeted Ms. Zhan since last year. On September 13 and 16, 2021, during the "Zero-out" campaign, 610 Office agents forced Ms. Zhan to fingerprint a document to give up Falun Gong.
Ms. Zhan deeply regretted having been forced to fingerprint the document against her will and she published a solemn statement on Minghui.org to void the document. She suspected that the authorities harassed her again when they saw her solemn statement on the Minghui website.
Ms. Zhan isn't the only one in her family targeted for practicing Falun Gong. Her late husband, Mr. Liang Haifeng, took up the practice during the 1990s. The bedridden man soon recovered and was able to do heavy chores by himself. Witnessing this, Ms. Zhan also began to practice Falun Gong.
After the communist regime started the persecution, the non-stop harassment and pressure from society forced Mr. Liang to stop practicing. His health declined and he eventually passed away.
Woman Still Incarcerated after Being Diagnosed with Acute Lymphoma
An almost 80-year-old woman in Kaili City, Guizhou Province, is still detained, even after she was diagnosed with acute lymphoma, a type of cancer that affects the white blood cells.
Ms. Luo Qinxian was arrested on October 12, 2021, for talking to people about Falun Gong. The Kaili City Court scheduled a hearing on April 12, 2022, but postponed it after her family hired a lawyer to enter a not guilty plea for her.
On April 13, 2022, the Guizhou Province Social Security Insurance Bureau suspended Ms. Luo's pension and ordered her to return the payments she had received after December 2021, when her arrest was approved. They cited a new policy that no incarcerated retirees are entitled to any benefits, although no Chinese labor law has such a stipulation. They threatened to sue her if she didn't turn in the money in time.
Ms. Luo was diagnosed with acute lymphoma on May 16, 2022, and was operated on at a local hospital. While she was still recovering, the authorities took her back to the Kaili City Detention Centre on May 27 and didn't allow her to be released on bail.
Financial Persecution
In addition to Ms. Luo, 51 other practitioners have had their pensions suspended.
Ms. Guo Peiying of Baicheng City, Jilin Province, has had her pension suspended since January 2021. The authorities also ordered her to return the nearly 150,000 yuan she received earlier.
Ms. Chen Jingyu and Ms. Ma Jinlan of Chifeng City, Inner Mongolia, were ordered by the local social security office to return their retirement payments, 140,000 and 90,000 yuan respectively.
Ms. Liu Yuhua, a 69-year-old Tonghua City, Jilin Province resident, had 150,000 yuan in cash confiscated from her home after she was arrested on February 13, 2022, for talking to people about Falun Gong. Her computer, printer, and other personal belongings were confiscated.
A bank card with a 200,000-yuan deposit and 10,000 yuan in cash were taken from Ms. Li Ping of Jiujiang City, Jiangxi Province, during her arrest on November 20, 2021.
Beaten and Interrogated
Hunan Woman Beaten by Police Suffers Multiple Fractures
Ms. Zeng Xiaoying of Huaihua City, Hunan Province, was arrested on April 19, 2022, for distributing informational materials about Falun Gong in a mall.
Because she refused to sign the deposition that slandered Falun Gong, the police hit her in the chest and knocked her down. Her jade bracelet was broken and her wrists swelled. She was unable to get up.
When she was released that evening, her family had to carry her upstairs. At the hospital the next day, the doctor discovered that six joints on the right side of her body were fractured, and she had a fracture on her chest and a back rib.
Displaced Woman Arrested for Raising Awareness about Her Faith, Abused in Police Custody
A Chongqing resident was arrested and detained for a week for raising awareness about the persecution of her faith in Falun Gong. The police tortured her, forced a local detention centre to admit her under a false identity, and fabricated her interrogation record.
After the Chinese communist regime started the persecution of Falun Gong in 1999, Ms. Zhang Liqun was fired from her accountant job and divorced by her husband. She was unable to find a job after the police suspended her ID and lived a very difficult life. Despite the unimaginable ordeal, she holds fast to her faith and persists in speaking up about it.
Ms. Zhang's latest arrest was on June 10, 2022, after she was reported by three students for talking to them about Falun Gong near the Yongchuan District Stadium.
When Ms. Zhang resisted the physical examination, the police handcuffed her behind her back and pulled her arms up. They kept her chained to a metal chair for 27 hours under the air conditioning. She shivered from the cold.
When they took her for a coronavirus test the next morning, the police pulled her handcuffed arms again and hit her on the back.
When the police took Ms. Zhang to the local detention center on the evening of June 11, the police fabricated an identity for her because she had refused to provide her personal information. The detention center initially refused to enter the false information but relented after being pressured by the police.
A few days later, the police found Ms. Zhang's identity and her address through the massive surveillance system. They ransacked her home and confiscated her Falun Gong books.
The police took Ms. Zhang to the police department on June 17 and fabricated an interrogation account in front of her. This was the third time they made up interrogation accounts for her, fabricating answers to their own questions. The police took Ms. Zhang to Chongqing University for another interrogation in the afternoon. Her sister, who went with them, was also interrogated. Ms. Zhang was then released.
65-year-old Man Detained for a Month for His Faith, Wife Interrogated by Police
Someone knocked on the door of Mr. Ran Chunhui, a 65-year-old retired manager of a railroad construction company in Kunming City, Yunnan Province, on May 30, 2022, claiming to be from the property management. His wife, Ms. Hu Qiongfen, 62 and retired from the Yunnan Province Railroad Bureau, opened the door, only to have eight officers barge in. The property management person then left.
One officer standing in the front held up a piece of paper, without letting the couple read what was on it.
Another officer then showed Ms. Hu a photo of someone in a black down jacket walking down the street. He claimed that it was Mr. Ran in the photo and that they had been monitoring him for the past two months after he was recorded distributing Falun Gong informational materials on April 5.
The officers spent over two hours searching the couple's home, without showing their IDs or revealing where they came from. The couple's Falun Gong books, a photo of Falun Gong's founder, Falun Gong lecture audiotapes, and DVDs, as well as their laptop and cellphones, were all taken away. The police later returned Ms. Hu's phone, but not Mr. Ran's. No confiscation list was provided.
The couple was then taken to the Xiaobanqiao Police Station in cars with private plates. Ms. Hu was chained in a metal chair and interrogated. The officers asked her when she started to practice Falun Gong, whether she did it to improve her health, what time she usually did the exercises, where she learned it, where she got the Falun Gong books, and if she had contact with other practitioners and who they were. They also asked about Mr. Ran's daily activities, his previous prison sentence given in 2013 for practicing Falun Gong, and whether their son practiced it. It's not clear if Mr. Ran was interrogated.
At 9 p.m., the police used another private car to take Ms. Hu home, while keeping Mr. Ran in custody. Ms. Hu was notified the next day that her husband was detained for "undermining law enforcement with a cult organisation," the standard pretext used to charge practitioners. He was taken to the Xundian Detention Centre and was officially arrested on June 15. No family visits were allowed.
Police Beat Liaoning Woman, Attempt to Falsify Her Temperature in Order to Detain Her
After the police in Jinzhou City, Liaoning Province, arrested Ms. Gao Ying for practicing Falun Gong, they beat her and then tried to falsify her temperature so that the detention centre would admit her.
Ms. Gao was arrested on May 24, 2022, when she was working in a field. She refused to answer any questions at the police station. The police slapped her in the face, hit her in the ribs, and stabbed her ribs with a pen. The left side of her face and parts of her body and arms were covered with bruises.
When the police took Ms. Gao to the detention centre the next day, the staff refused to accept her because her temperature was 37.5°C (99.5°F). They urged the police to try again seven days later.
The police took Ms. Gao back to the police station, held her overnight, and took her to the detention center the next day, only to be turned away again as Ms. Gao's temperature was higher at 37.7°C (99.86°F).
Xu Shilin, the head of Liaotun Police Station, called Zhang Xiaomin, the head of the Domestic Security Office, about what to do. Zhang instructed Xu to take Ms. Gao to the hospital and give her some antibiotics.
After two days of "treatment," the police made a third attempt to get Ms. Gao into the detention centre. They prepared a special thermometer, setting the temperature at 36.5°C (97.7°F), and attempted to replace it with the thermometer used by the detention center. Ms. Gao discovered their plan to swap thermometers and called them out in front of the detention centre staff. She was thus denied admission again because of her high temperature.
The police were furious, because it was always normal whenever they took Ms. Gao's temperature themselves. But whenever the detention centre took her temperature, it was always high. They finally had to release her.
General Public Turned Against the Practitioners
Police Interrogate Woman Who Was Twice Attacked, Assailant Let Go
A woman in Huaihua City, Hunan Province, was assaulted by a man twice within two months while distributing informational materials about Falun Gong. The police overlooked the man's violent behavior and interrogated the woman instead.
Ms. Yang Linying, 56, gave a man a booklet about Falun Gong on March 27, 2022. As soon as he realised that it was about Falun Gong, he snatched her purse. She asked him why he took her bag and what his name was. But he refused to answer.
The man grabbed Ms. Yang's hair, shoved her down, and stomped on her head. Passersby tried to stop him, but he didn't take his foot off her head until a few minutes later.
When Ms. Yang stood up, the man twisted her left hand behind her back and pushed her forward like he was hauling a criminal away. While passing by a supermarket, he hit her head against a handrail. She held onto the handrail and refused to let go. The man tried to pry her fingers off the rail.
He then made a phone call and took photos of Ms. Yang. Just as he was about to hit her again, several people tried to stop him, saying he shouldn't hit her. He responded, "I wasn't hitting anyone." Several police officers then arrived and took Ms. Yang to the Hutian Police Station.
The police interrogated Ms. Yang, demanding to know where she got the Falun Gong materials, whether she'd been arrested before, and why she distributed the materials. She refused to answer any questions and was released later that day.
Ms. Yang was out walking at 1 p.m. on May 18, 2022, when someone snatched her bag from behind. It was the same man who had assaulted her before.
Seeing Falun Gong materials in her bag, he slapped her in the face repeatedly. Her mouth was bleeding, but he didn't stop. He grabbed her left hand, threw her down, stomped on her back, and shouted "I will stomp you to death! You'd better not talk, or I will stomp you harder."
Ms. Yang was suffocating and she didn't say a thing. The man then accused her of pretending to be dead.
Only when the police came after he called did the man take his foot off her back. But Ms. Yang had trouble standing up due to intense pain in her chest.
The police dragged Ms. Yang into a police car and took her to the station again. They confiscated everything in her bag. When she tried to stop them, they said, "Stop talking. You should stay calm."
The man said to Ms. Yang, "I'm turning you in to the police" and then left. Ms. Yang was held for a few more hours and released around 4 p.m.
Within the past five years, Ms. Yang has been repeatedly targeted for her faith in Falun Gong. She was arrested in October 2017 and later sentenced to one year in prison. Less than a year after she was released, she was arrested again in May 2019 and sentenced to one year and seven months. A year after her release, she was targeted again for distributing Falun Gong materials.
Woman Arrested after Son's Teacher Deceives Him into Disclosing Their Address
A teacher directed nearly 20 police officers to the residence of 47-year-old Ms. Peng Jizhen at 8 p.m. on May 5, 2022. It turned out the teacher found out Ms. Peng's address by deceiving her son into believing she was planning a home visit.
Ms. Peng, a native of Mingshanxiang Town, Hubei Province, moved to Jinniu Town in Daye City in the same province in September 2020, because her son was attending high school there. For the past two years, the authorities in Daye had been trying to arrest her for practicing Falun Gong.
The police later found out that Ms. Peng's son was attending the Jinniu No.2 High School and they ordered his teacher to get her address, which resulted in Ms. Peng's latest arrest.
Ms. Peng is being held in a brainwashing centre, but the authorities have denied family visits and refused to reveal the address of the facility. According to an insider, Ms. Peng has been on a hunger strike for weeks to protest the persecution. She became extremely weak and has been taken to the hospital.
Heilongjiang Woman Faces Prosecution after Being Reported by Her Former Tenants for Telling Them about Falun Gong
Ms. Sun Tairong, a 52-year-old Harbin City, Heilongjiang Province resident, was arrested on January 20, 2022, after being reported by her two former tenants for talking to them about Falun Gong. Wang Binghao and Li Tang, two young men, had rented her apartment in preparation for civil service exams required for government jobs, the most steady jobs in China with a decent income.
Thinking that it wasn't easy for the younger generation to start their careers, Ms. Sun offered her tenants many additional services, including providing free high-speed WiFi and waiving the early termination fee if they decided to move out before their lease expired.
Ms. Sun also agreed to return the pro-rated rent. When she was delivering that money to Wang and Li, she told them about Falun Gong and its health benefits, hoping it could help them to stay healthy during the pandemic.
The two young men reported her to the Nangang District Political and Legal Affairs Committee, an extra-judiciary agency tasked with overseeing the persecution of Falun Gong. The police followed Ms. Sun for a period of time and then arrested her.
The police interrogated Ms. Sun for 53 hours following her arrest and ordered her family to persuade her to give up Falun Gong. She refused to give in and also asked her family not to blame the two young men for reporting her.
Ms. Sun is now in the Yaziquan Detention Centre. The authorities have prevented her lawyer from visiting her, citing the pandemic as an excuse. Her arrest was approved on February 16 and she is now facing prosecution.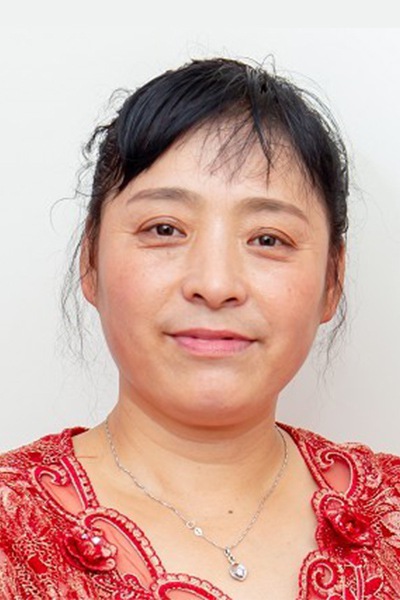 Everyday Life Affected by Persecution
Police Harass and Ransack Home of Beijing Resident
When Ms. Qi Yingchun of Beijing refused to answer three harassment phone calls from officer Tao Junfeng on April 24, 2022, seven plainclothes officers went to her home at 3 p.m. They banged on her door, covered the peephole on the door and her security camera, and then cut off the power and internet connection.
Several officers smashed in her door and broke in shortly after. Claiming that someone had reported her for practicing Falun Gong, they searched every corner of her home and pried open all of her cabinets and cases. Around 80 of her Falun Gong books, a photo of Falun Gong's founder, two desktop computers (including a broken one), a laptop computer, three media players, several cellphones, and her indoor security camera were confiscated. Even the antique magazines and books her parents collected weren't spared.
Ms. Qi was then taken to the local police station, where the police forcibly collected her fingerprints and blood and urine samples. They also subjected her to an electrocardiogram and an X-ray. She demanded to know the reason for her arrest, and an officer responded that it was because she had just shouted "Falun Dafa is good." Because the local detention center refused to admit her due to the pandemic, she was released on a one-year bail a day later.
Woman Arrested After Police Show up in Her Bedroom at Midnight
A 53-year-old woman in Shenze County, Hebei Province, woke up from a sound sleep to find a dozen police officers in her bedroom at midnight on January 10, 2022. When Ms. He Honggai demanded to know which law she had allegedly broken, the police warned her, "If you refuse to go, you are obstructing the police."
When Ms. He was changing clothes, a policewoman videotaped her. As soon as she put her shoes on, six men came in and handcuffed her behind her back. They carried her out by the handcuffs, like carrying an animal. The handcuffs cut into her wrists and she screamed because of the pain. Her legs and shoulders hurt days after that.
After pushing her into a police vehicle, the police put a black hood over her head. The hood had no holes and she could barely breathe. At the police department, the police bound her to a metal chair and interrogated her.
After days of detention, with the hood and handcuffs still on, Ms. He developed an irregular heartbeat and chest pain, but the police did not get her any medical attention. She was released two weeks later on January 24.
Professionals Targeted
Former Chairman of the Lingyuan Steel Company and His Wife Arrested
Mr. Hao Zhiqiang, the former chairman of Lingyuan Steel Company in Liaoning Province, was arrested with his wife Ms. Chen Hua when they returned home from a haircut on June 1, 2022.
The police ransacked the couple's home before their arrests. Their Falun Gong books and materials were confiscated. The couple is now detained incommunicado.
Deputy Tax Bureau Director Arrested and Interrogated, Elderly Mother Displaced
Mr. Zhou Chunbao, a deputy director of the tax bureau in Guan County, Shandong Province, was arrested on May 15, 2022. Many of his Falun Gong materials were confiscated. His mother, Ms. Xu Jimei, in her 70s, who also practices Falun Gong, has been forced to live away from home to hide from the police.
Mr. Zhou was interrogated and deprived of sleep for three days after his arrest. He is now in a local hospital. The authorities also attempted to persuade him to resign and are reported to have already fabricated a signed resignation letter from him.
Former Prison Guard Targeted for His Faith
Mr. Fan Shiqiang, a former guard at Zhongzhuang Prison in Zunyi City, Guizhou Province, was arrested in April 2022 and has been detained incommunicado.
Since the onset of the persecution in 1999, Mr. Fan, 58, has been repeatedly targeted for his faith. Because he refused to renounce Falun Gong, the authorities at Zhongzhuang Prison threatened to take him to a brainwashing center in June 2004. He was thus forced to live away from home for the next seven years to hide from the police. The prison wiped out his over 20 years of service in retaliation, so he now has no pension benefits.
Prior to his latest arrest, Mr. Fan was sentenced to three years with five years probation in October 2014.
Detained Art Teacher Denied Family Visits
An art teacher in Shijiazhuang City, Hebei Province, has been detained incommunicado since her arrest on January 23, 2022, for practicing Falun Gong.
Ms. Pu Xingchi, around 45, earned a degree in fine arts at Hebei Normal University and became an art teacher at Qingyun Art School after graduation. She was arrested at home on January 23 while teaching an online class. The police harassed her prior to the arrest.
Ms. Pu is being held in the Panlonghu Hotel, but her elderly parents and daughter, who is in her early 20s, haven't been allowed to visit her yet. The police are also monitoring her daughter, who is attending college in Tianjin.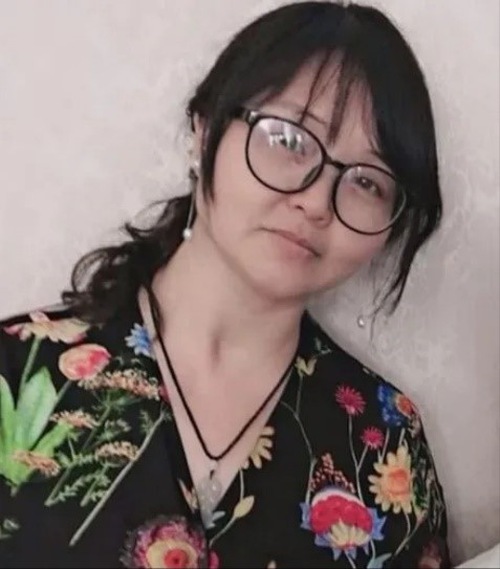 Non-stop Persecution
Once Incarcerated for 13.5 Years, Jiangxi Woman Arrested Again
A 66-year-old Jiujiang City, Jiangxi Province, woman was arrested on June 11, 2022, after being reported for talking to people about Falun Gong. She has been held in the Jiujiang City Detention Centre since June 13.
Since the Chinese Communist Party ordered the persecution of Falun Gong in 1999, Ms. Zhou Meili, who is retired, has been repeatedly arrested. She served three labor camp terms and two prison terms for a total of 13.5 years. Her family suspects that the police intend to prosecute her again following her latest arrest.
Authorities Installed 12 Surveillance Cameras to Monitor Mr. Zhou Xiangyang
By the time Mr. Zhou Xiangyang finished serving seven years in prison, he had become so weak that he couldn't get out of a car on his own. The Tianjin resident now lives with his parents in Matuo Village, Changli County, Hebei Province, yet the authorities still won't leave him alone. To continue to monitor him, they installed 12 surveillance cameras, including around the homes of his parents and brother and the parents of his sister-in-law, who all live in the same village. Cars coming in and going out of the village every day were also questioned.
Mr. Zhou, a former modern cost engineer, was widely known for his years-long hunger strike that started on the day of his arrest on March 2, 2015, and continued until he was released on March 1, 2022. At one point his organs failed, but he survived and returned home alive.
In Binhai Prison in Tianjin, the guards shocked Mr. Zhou with electric batons and sprayed his eyes with chili pepper water. The guards instigated inmates to torture him, including pinching his nipples, squeezing his genitals, fingering his anus, plucking his eyelashes, jamming his fingernails, pushing in his rib cage, prying out his teeth, and force-feeding him urine.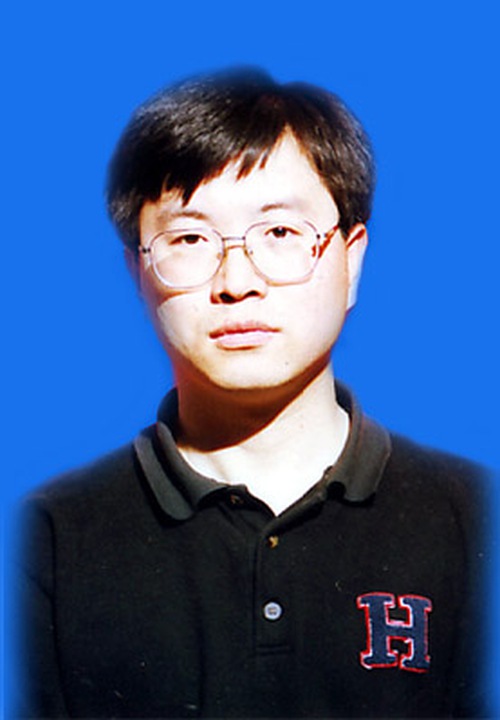 Held in Brainwashing Centres
Hubei Woman Goes Missing, Family Suspects Arrest for Practicing Falun Gong
Five months after Ms. Ye Xiaofen was released from a local brainwashing centre, her family suspects that she was arrested again after losing contact with her recently.
Ms. Ye of Wuhan City, Hubei Province, was previously arrested on December 2, 2021, for talking to people about Falun Gong in a restaurant. She was held at the Yusunshan Brainwashing Centre for 54 days and released on January 24.
At the brainwashing centre, Ms. Ye was forced to stand for 14 hours every day and listen to propaganda slandering Falun Gong. The guards also beat her, bruising her face and making her head bleed.
When she was taken back from the hospital to the brainwashing centre, she had constant pain in her head. The pain kept her awake many nights.
The police harassed Ms. Ye again in early April 2022. They monitored her and followed her when she went out. The harassment lasted nearly two weeks. The police later threatened to take her to the brainwashing centre again if she didn't give up Falun Gong. When she went missing in early June 2022, her family suspected she has indeed been taken back to the brainwashing centre.
Six Shandong Province Residents Interrogated and Held in Brainwashing Centre for Practicing Falun Gong
Six Zhucheng City, Shandong Province, residents were interrogated and held in a brainwashing centre following their arrests for practicing Falun Gong.
Ms. Li Mingxia, Ms. Xu Huancui, Ms. Li Hongmei, Ms. Zheng Zhimei, and Mr. Luo Wenxin and his wife Ms. Li Yeshu were arrested on March 4, 2022, and had their homes ransacked.
Officers with the Zhucheng Domestic Security Office interrogated all six of them. Officer Song Wei savagely beat Ms. Li Mingxia. She was handcuffed to a metal chair for over 20 days during the interrogation. Her face was terribly swollen.
All six practitioners were later taken to the Zhucheng City Brainwashing Centre, also known as the "Care Centre" to the outside. Ms. Li Yeshu was released early, but the other five practitioners were held at the brainwashing centre until April 19. All of them were forced to pay an unknown amount in bail bonds.
In addition to these six, another practitioner in Zhucheng, Mr. Cao Mingzhi, was arrested on March 6 for talking to pandemic control personnel in a neighboring village about Falun Gong. After spending one night at the police station, he was taken to the brainwashing centre, where a police officer pushed him down. He was released on March 13.
Related reports:
Other Summary Reports about the Persecution Reported in the First Half of 2022:
Chinese version available
(Clearwisdom)