(Minghui.org) On July 20, 1999 the CCP (Chinese Communist Party) initiated a nation-wide persecution in China to eradicate Falun Dafa and practitioners. Every year practitioners hold events to tell people about the persecution, and call for it to end. Practitioners held a parade and rally in London, England on July 16, 2022. They said that they will continue to peacefully protest and raise awareness until the day the persecution stops.
The parade began in front of the Chinese Embassy. It consisted of three sections: practitioners demonstrating the Falun Dafa exercises, practitioners carrying banners with information about the persecution and practitioners dressed in white mourning those practitioners died in the persecution.
Practitioners in the parade also held signs congratulating the nearly 400 million Chinese people who quit the CCP.
Many people stopped to watch the parade, take fliers about the persecution, and sign a petition condemning the atrocities. Some even helped practitioners explain to other people how the CCP has killed thousands of practitioners.
The parade passed through the busiest areas in London, including Regent Street and Chinatown. It ended at 10 Downing Street with a rally in front of the Prime Minister's Office.
Elected officials sent letters to support the rally and practitioners' efforts to end the 23-year-long persecution. Representatives from Falun Dafa Association, The International Coalition to End Transplant Abuse in China (ETAC), Friends of Falun Gong, and the practitioners who were victims of the persecution spoke at the rally.
Support from Officials 
As part of the persecution, the CCP systemically harvests organs from practitioners who are incarcerated for refusing to renounce their faith. The organs are sold for transplant and brought the state huge profits.
The British Parliament passed the Health and Care Act in April 2022, in which it banned British citizens from purchasing organs overseas. Lord Hunt, who made significant amendments to the Act, thanked the practitioners for exposing what is happening in the persecution. "Many thanks for all you are doing to expose what is happening and every success for your rally and your wider efforts to bring the disgraceful treatment of Falun Gong to global attention."
Kerry McCarthy MP, said in her letter that the legislation which prohibits commercial organ tourism in the UK was just the beginning. She wrote, "Preventing those in the UK from traveling for operations has to be the start, rather than the culmination of action on this issue. We have to stop international medical facilities from being complicit in the illegal harvesting, but most importantly there is a need to cut this practice off at the source, with significant political pressure exerted on the Chinese Government. Otherwise the persecution of Falun Gong practitioners will continue in another form. We have a duty to hold human rights abusers to account."
Margaret Ferrier, MP for Rutherglen and Hamilton, wrote in her letter, "Freedom of belief or religion is a fundamental human right, whatever religion or faith that might be. Falun Gong, like many religions at their core, is about spreading good in this world. …I stand with Falun Gong practitioners in solidarity.
"Followers of Falun Gong have faced unimaginable horrors in China. Psychological and physical abuse, torture, and death, sanctioned by the state. That so many have been reportedly subjected to forced organ harvesting is despicable. It is an unacceptable violation of every person's right to bodily autonomy. These abuses are motivated by prejudice and hatred, and it cannot continue.
"We each have a responsibility to bring this situation into the light – to raise awareness and support the persecuted in any way we can. I will continue to offer my support, as I hope many of my colleagues do.
"It should not be idealistic for any society to be tolerant, compassionate, and kind. It should be the standard."
Support from ETAC
Victoria White, representative from the International Coalition to End Transplant Abuse in China (ETAC), spoke about the conclusion The China Tribunal reached in March 2020: Falun Gong practitioners are "probably the principal source of organ harvesting which has been committed for years throughout China on a significant scale." The Tribunal noted that live organ harvesting is evil even when compared to a large scale slaughter.
She said, "The governments that interacted with the CCP in any substantial way should have realised by now that they have been dealing with a criminal government."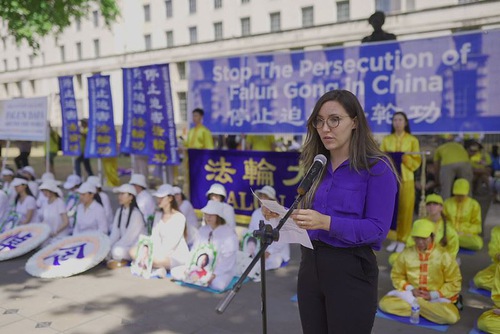 Family Shattered for 23 Years 
Ms. Yu Minghui is 35 years old and she was forced to live away from her parents since she was 12. Her parents refused to renounce their faith in Falun Dafa. Her father was sentenced to 15 years in prison and her mother to 11. Shortly after her mother Ms. Wang Meihong, was released, the police arrested her in December 2020. They detained her for five months and sentenced her to prison for four more years. The prison authorities still will not allow anyone to visit her.
Ms. Yu recounted her traumatic experiences while she was a student in China. One day when she came home the police were stationed outside waiting to arrest her mother. They grabbed Ms. Yu and covered her mouth. The police pushed her mother down the stairs and pointed a gun at her head. They beat her and cursed her.
"This persecution has gone on for 23 years, and every day is one day too long. Life is so fragile and precious, and no one should be imprisoned or beaten for upholding the values of Truthfulness, Compassion, and Forbearance. The death of every practitioner is a loss. We have the responsibility to end this brutality. My mother is innocent and should be released immediately."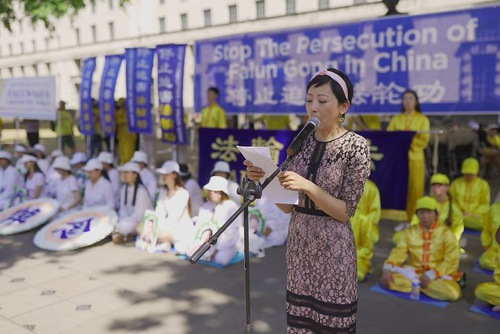 Changing the World for the Better 
That day many people learned about Falun Dafa, and how practitioners suffered unspeakable tortures in China. They hoped the persecution would end soon and signed the petition to show their support.
Derek said this was the first time he heard about the persecution of Falun Dafa. He was from Manchester and moved to London to work on a project related to human energy. He said he felt that practitioners were trying to change the world for the better, and the energy they exhibited connected with everyone in the world.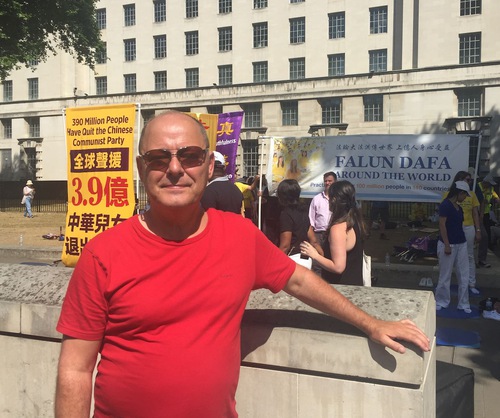 Michal Rigli received a flier from a Falun Dafa practitioner at Trafalgar Square, so as soon as he noticed practitioners collecting signatures to end the persecution, he went directly to the table and signed it. He explained, "The Communist Party is a disaster. I am from Slovakia so I know how scary communism is."
Practitioners set up a table and posters in Chinatown to help inform Chinese who may have been deceived by the CCP's propaganda against Falun Gong.
Jan from Hong Kong was visiting Chinatown with her mother and sisters. As soon as she saw the practitioners' table, she headed over and signed the petition. She said that she used to believe the CCP's propaganda. After talking with practitioners in Hong Kong she understood why practitioners persist in practicing Falun Dafa and why the CCP persecutes it. She agreed with the principles of Truthfulness, Compassion, and Forbearance, and asked, "How can practitioners in China go on like this for so long?" The practitioners told her that it was precisely because they believe in Falun Dafa's principles, Truthfulness, Compassion and Forbearance.
Hanna moved to England last year. She said that she admired practitioners' spirit because they have never stopped raising awareness around the world even after being persecuted for 23 years.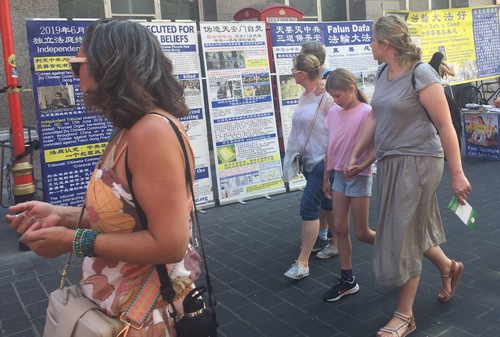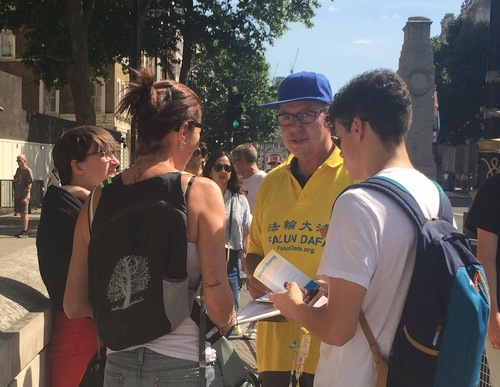 Background: What Is Falun Dafa and Why Is the CCP Persecuting It?
Falun Dafa (also known as Falun Gong) was first introduced to the public by Mr. Li Hongzhi in Changchun, China, in 1992. The spiritual discipline is now practiced in over 100 countries and regions worldwide.
Millions of people who have embraced the teachings, which are based on the principles of Truthfulness, Compassion, and Forbearance, and have learned the five exercises, have experienced improved health and well-being.
Jiang Zemin, former head of the Chinese Communist Party (CCP), perceived the spiritual discipline's growing popularity as a threat to the CCP's atheistic ideology and on July 20, 1999, he issued an order to eradicate the practice.
Under Jiang's personal direction, the CCP established the 610 Office, an extralegal security organisation with the power to override the police and judicial systems and whose sole function is to carry out the persecution of Falun Dafa.
Minghui.org has confirmed the deaths of thousands of practitioners as a result of the persecution over the past 23 years. The actual number is believed to be much higher. Countless practitioners have been imprisoned and tortured for their faith.
There is concrete evidence that the CCP sanctions the harvesting of organs from detained practitioners, who are murdered to supply China's organ transplant industry.