_____________________________________
(Minghui.org) Falun Dafa practitioners in Tokyo participated in the Vietnam Festival in Yoyogi Park on June 4 and June 5, 2022. Practitioners told visitors about the benefits of Falun Dafa and raised awareness of Chinese Communist Party's (CCP) human rights abuses, including forced organ harvesting from unlawfully imprisoned Falun Dafa practitioners. More than 600 people signed the petition to help end the CCP's crimes against humanity.
Practitioners displayed poster boards in Japanese, Vietnamese and Chinese and distributed truth-clarification materials. Many passersby were shocked after learning about the CCP's brutality and praised practitioners for their determination and persistence in peacefully speaking out against the persecution with so much endurance. People were also proud to have supported practitioners in their efforts to end the persecution.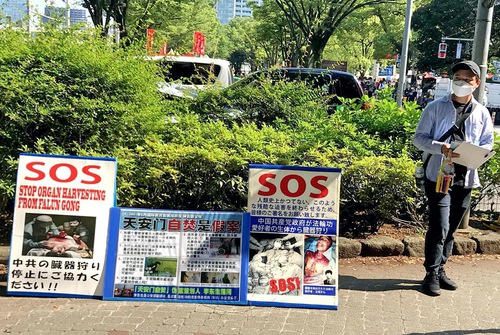 A Japanese woman was outraged by the brutality and said, "How can such a horrible thing happen in this world? Forced live organ harvesting is truly horrible and scary." She signed the petition to help end the CCP's atrocities.
A Japanese man noticed practitioners' information booth from afar. He read the information on the poster boards and then asked practitioners for more materials about Falun Dafa. He then signed the petition.
The CCP spread a substantial amount of propaganda about Falun Dafa in Vietnam, but this has not hindered Vietnamese people from understanding and supporting Falun Dafa practitioners.
A Vietnamese man signed the petition after learning about Falun Dafa at the booth. He said, "I knew long ago that the CCP persecutes people with faith and beliefs. For example, they destroyed Buddha statues and persecuted Buddhist monks. I am not surprised that the CCP is doing the same to Falun Dafa practitioners."
A Vietnamese lady who came to the festival with her friend signed the petition. She then told another friend of hers about Falun Dafa and her friend also signed the petition. She said that practitioners were doing an admirable thing and she felt fortunate to stand with practitioners.
All content published in this article are copyrighted by Minghui.org. Minghui will produce compilations of its online content regularly and on special occasions.