____________________________________
(Minghui.org) After presenting its last performance in Cagliari, Italy, on June 12, 2022, the Shen Yun World Company returned to the company's New York headquarters after three and a half months of touring in Europe.
In the meantime, the Shen Yun New York Company continues its Europe tour. The company presented five performances to packed houses in the Italian city of Palermo from June 15–18. Some audience members traveled over 300 miles to see the performance.
Shen Yun World Company Returns from Europe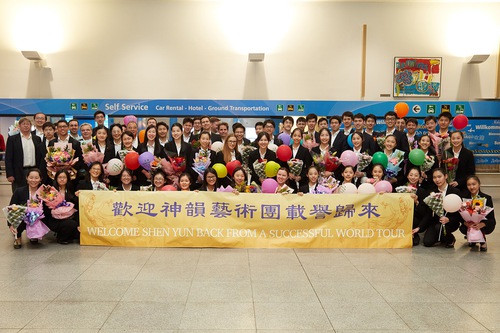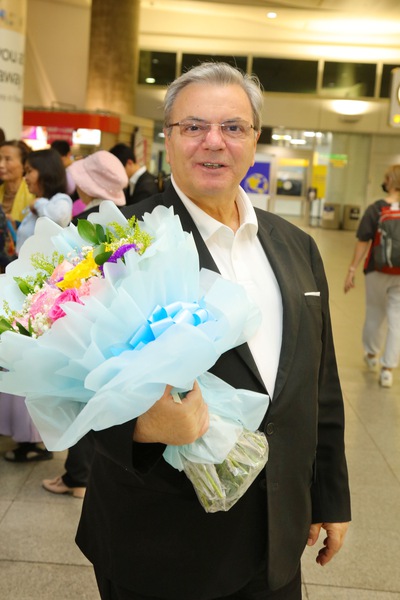 "We saw in their eyes that they're extremely excited, and they're very touched by our production, which makes me feel that our mission to establish and promote the traditional value and traditional beliefs of Shen Yun was very well-accomplished," said Milen Nachev, the conductor with the Shen Yun World Company.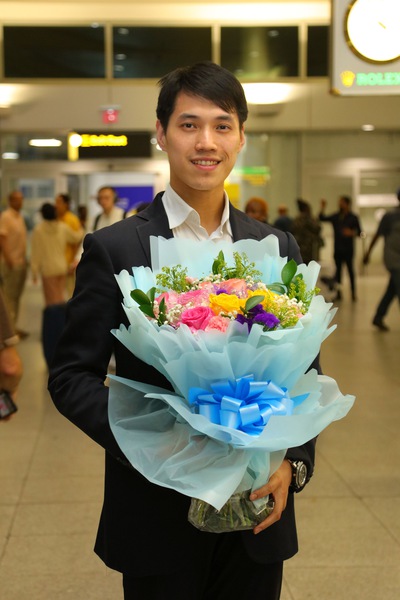 "Audience's reactions were very good. The applause was very enthusiastic. In a number of places, the audience didn't want to leave even after we took three bows. This made me very touched and very happy," said Jason Pan, a principal dancer with the Shen Yun World Company.
Mr. Pan said what touched him the most was: "After many audience members learned the truth about Falun Gong in the show, some people even bought the book Zhuan Falun at the souvenir booth. This made me feel that we did some [meaningful] things and the audience welcomed our message. This is what made me feel most gratified."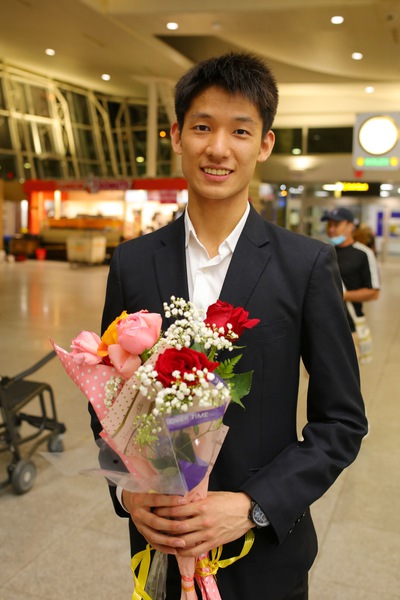 "The message of Truthfulness-Compassion-Forbearance that we delivered is first of all a universal value, so anyone that sees it can resonate with it," said Rubi Cho, a principal dancer with the Shen Yun World Company.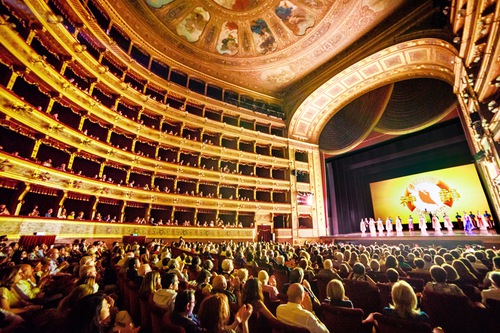 "Spread Beauty and Friendship"
Aldo Penna, Member of the Italian Chamber of Deputies, saw Shen Yun in Palermo, Italy, on June 15.
"For people with faith, the last piece was the highest display of the ultimate hope of faith. For people without faith, they would gain trust in humanity from it and believe that they could be saved and believe that they and other people could all be saved," Mr. Penna said.
He also felt the value delivered by Shen Yun: "It is what was displayed at the end of the performance: compassion. Compassion and tolerance are values that are subversive to a totalitarian regime. Because compassion and tolerance suggest respecting other people, caring about other people, and sympathising with other people's feelings. A totalitarian regime would not be able to tolerate this, because a totalitarian regime has its own criteria and requires everyone to obey," he said.
"When people are delivering values, the energy is there. The values themselves are energy. Because the brain first senses these values, and then we rebuild ourselves through these values and the acceptance of these values. It makes you completely renewed.
"I have enormous respect for the effort of the artists. This is a kind of grand enthusiasm and hope. As great sowers who spread beauty and friendship to different places in the world, they will be successful in all communities that they perform in from now on," he said.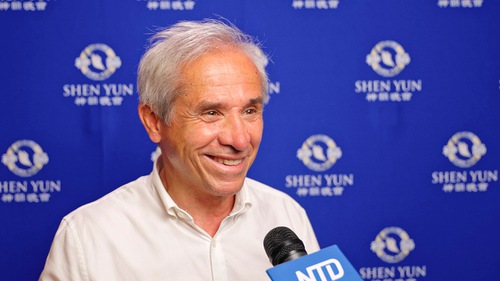 "Allow the Entire World to Discover the True China"
Marco Betta, a composer and the superintendent of Teatro Massimo in Palermo, the biggest theater in Italy and where Shen Yun performed, saw the performance on June 15.
"I think the live symphony orchestra performed very well. The most important is that the composers created very appealing music. The music and dance complement each other well and bear the great soul of China's ancient music," Mr. Betta said.
"[Through Shen Yun,] you can explore China's thousands of years of culture. Very fascinating. To connect our time period through music, classical Chinese dance, and these technologies that were inherited for thousands of years, I think this method is really wonderful – to discover the soul of the Chinese people through art. Shen Yun can bring China's ancient culture to the entire world. The performance absolutely is a blossom, and this blossom can open up the world's vision and allow the entire world to discover the true China," he said.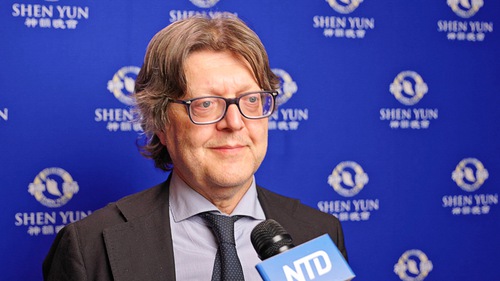 "Carries Strong Divinity"
Davide Bombana, Director of the Ballet Company of Teatro Massimo, saw Shen Yun at the Teatro Massimo in Palermo on June 18. He saw a Shen Yun performance back in 2019.
"The entirety of Shen Yun Performing Arts is very admirable to me. The dancers' athletic abilities and technical preparations, as well as their spirit and faith all make me admire them very much. Because we worked in the theater these days, I would from time to time observe them from the side. Their calmness, discipline, and rigor when they work all make me very interested and fascinated. I see that besides technical aspects, Shen Yun performers have strong spiritual strength when they work," Mr. Bombana said.
"The grace, athleticism, challenging moves, musicality, and vigor all left me with a deep impression.
"The Shen Yun performance would evidently bring a huge impact to the society, because it carries strong divinity. This divinity comes from heaven. This search and persistence of divinity is reflected in higher time spaces or higher beings. People continue to search for the highest divinity through reincarnation. There is a kind of strong divinity and religiousness throughout the entire performance. This is not preaching, but it was there. It existed in the air of the theater of the performance," he said.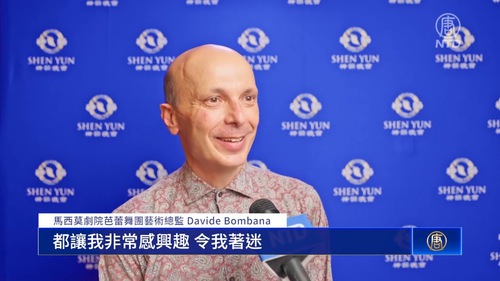 "Absolutely Otherworldly"
Carlo Modica De Mohac, a judge, and his wife Valeria saw Shen Yun in Palermo, Italy, on June 16.
"The performance is very captivating. Not only very beautiful but also has very deep theological significance," Mr. Modica De Mohac said.
"[The message that] we actually come from another world, we come from heaven, and we long to return to heaven. Many religious faiths have sayings like this. This is also a link that unites mankind. This is a very beautiful message, because this kind of idea that promotes people's divinity and people's return to divinity is very beautiful and extraordinary. Especially now, when the world is in a very difficult period of time, this is beautiful for the world.
"Shen Yun artists are truly excellent. Their performance is absolutely otherworldly. You can feel this kind of energy from their inside. You can see and feel the message they deliver. This message of faith, in a spiritual way, you can feel that they come to spread this message with great pride and enormous energy," he said.
"A Breathtaking Journey"
Architect Sara Isgrò saw Shen Yun in Palermo, Italy, on June 17.
"The dancers' lightness and agility touched me very much. Their form when they danced with the water sleeves and fans was extremely beautiful. I studied eastern dance for ten years. I'm a member of the International Dance Council," Ms. Isgrò said.
"Shen Yun really demonstrated the beauty of divine beings dancing, absolutely. Shen Yun brought beautiful heavenly scenes to the human world and took us beyond the real space and experience a breathtaking journey.
"Through the combination of music and dance, Shen Yun brought the audience into a different dimension. It was almost as if a substance from higher dimensions was injected into the body. It was really a unique experience. After the performance, I feel extremely peaceful, serene, and harmonious. I also feel the completeness and satisfaction of the body and soul," she said.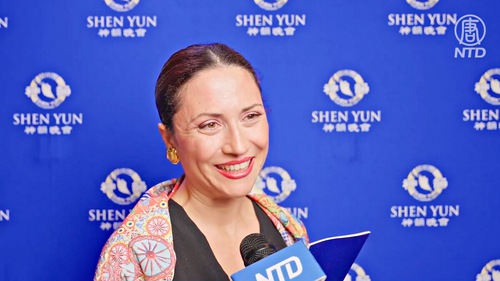 "I Feel Very Relaxed!"
Cettina Callari, an award-winning artist, and her husband Giuseppe Di Martino saw Shen Yun in Palermo, Italy, on June 17.
"The gorgeous colors, graceful movements, and beautiful music fascinated me. I feel very relaxed!" Ms. Callari said.
"The performance is flawless! Outstandingly exquisite. I will come see Shen Yun again and recommend it to everyone," she said.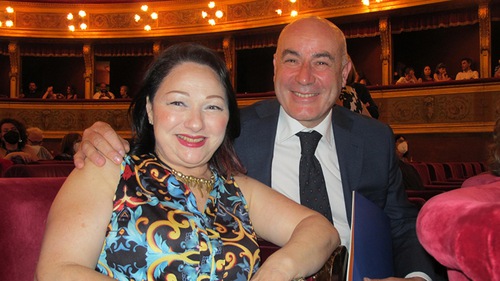 Upcoming Performances
Shen Yun continues its 2022 tour with upcoming performances in:
Verona, Italy, June 25–26
Trieste, Italy, June 28–30
Taichung, Taiwan, June 29–July 1
All content published in this article are copyrighted by Minghui.org. Minghui will produce compilations of its online content regularly and on special occasions.