_____________________________________
(Minghui.org) For Falun Dafa practitioners around the world, May is a season of gratitude. Thirty years ago, the practice was introduced and for the past 23 years, May 13 has been celebrated as World Falun Dafa Day.
On this special occasion, Toronto practitioners held numerous activities in front of city hall including group exercises, an art show, free exercise teaching, and a parade. Elected officials and community leaders arrived at noon and gave speeches. They also praised practitioners for their efforts.
In addition, the city government lit up the landmark sign, "TORONTO," in yellow and blue lights to celebrate World Falun Dafa Day and the 30th anniversary of Falun Dafa's introduction to the public.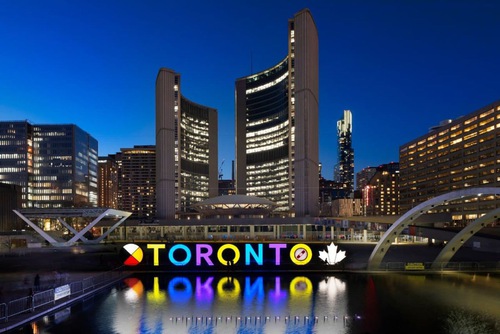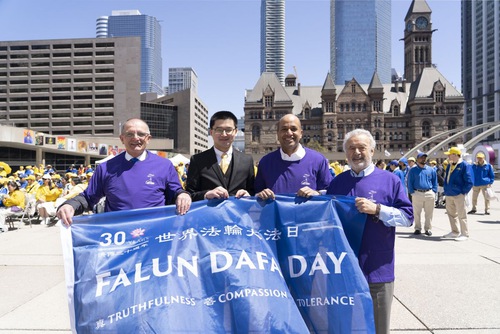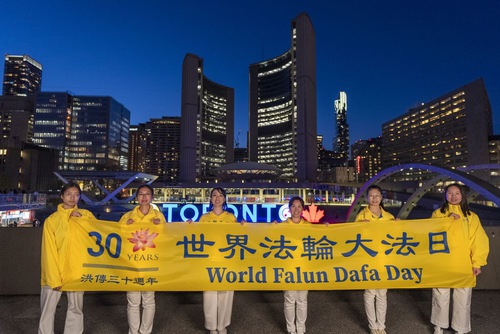 Letter from Mayor
The Toronto Falun Dafa Association received a congratulatory letter from Mayor John Tory before the event.
"It is my pleasure to extend greetings and a warm welcome to everyone participating in the Falun Dafa Association Toronto's 30th Anniversary event," he wrote in the letter, "Best wishes to everyone gathering to celebrate this event through stories in dancing, and music performances."
"Events like this encourage residents to connect with each other and participate in activities that contribute to community-building," the mayor continued, "On behalf of Toronto City Council, please accept my best wishes for a memorable event and continued success."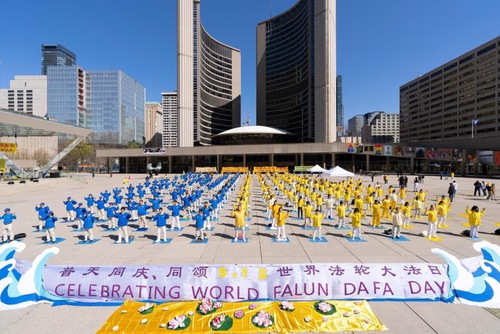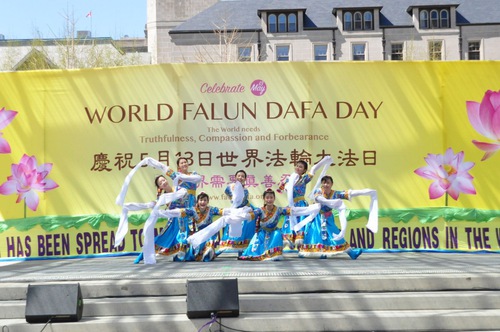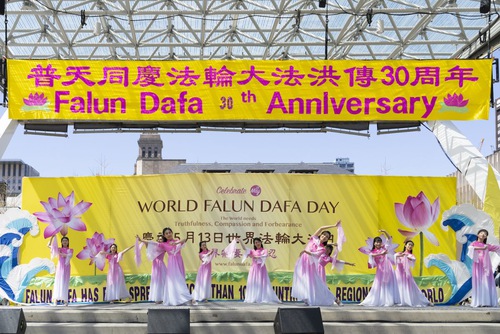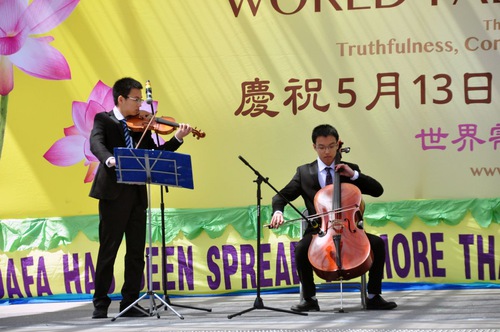 Long-time Support
Consiglio Di Nino, 84-year-old former Senator, has been a strong supporter of Falun Dafa practitioners. He is also one of the founders of the parliamentary Friends of Falun Gong.
He said, "I'm happy to attend the celebration but I'm saddened by the continued suppression in China. Falun Dafa has been introduced to the world for 30 years, but practitioners are still mistreated for their belief. The 23-year-long persecution has caused enormous pain and loss for practitioners along with their families. To make it worse, the international society still allows its existence. Now is the time for us to step forward and tell the Chinese Communist Party (CCP) to stop the tragedy immediately. It is a crime against humanity and people need to embrace basic moral values."
Mr. Di Nino emphasised that he was honored to be at the event, "Both to celebrate World Falun Dafa Day and to oppose the persecution. Over the years, I've said and will continue to say that Falun Dafa practitioners are not alone. I and countless supporters in the world stand firmly behind practitioners. I also hope the parliamentary Friends of Falun Gong, as well as other members of the parliament, will do more to help practitioners."
He emphasised that they would like to support practitioners because they understand the pain practitioners are suffering. As long as needed, Mr. Di Nino said he would be here for support.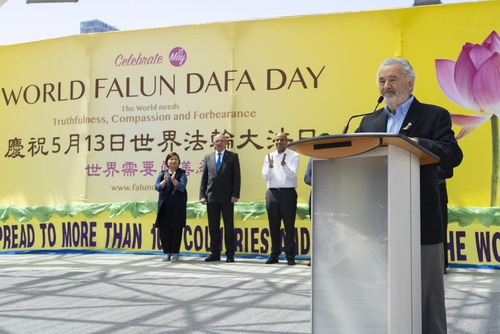 The Situation Will Change
Wladyslaw Lizon, a former member of the parliament, said he worked with practitioners for a number of years and he looks forward to continuing celebrating World Falun Dafa Day with them in the future.
"While Canadian citizens are enjoying freedom here, practitioners in China are suffering for their faith. Their only crime is following the principles of Truthfulness-Compassion-Forbearance, three words that change the world for the better. In fact, if everyone could act this way, there would be no arguments or fights in this world," Mr. Lizon said.
"In Canada and other Western countries, both government and ordinary citizens need to help those persecuted in China. This way, people would truly enjoy their freedom." Mr. Lizon said he often told people, "The suppression will not last long and success will come soon."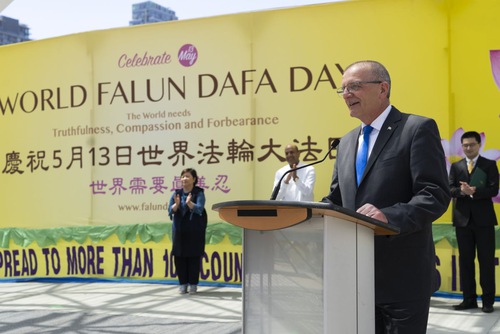 Feng Yulan, president of the Hong Kong-Canada Federation of Canada, praised practitioners' continued efforts that defend freedom of belief. She also congratulated practitioners on their dedication to the principles of Truthfulness-Compassion-Forbearance. She looked forward to more collaboration with Falun Dafa practitioners and countering infiltration by the CCP.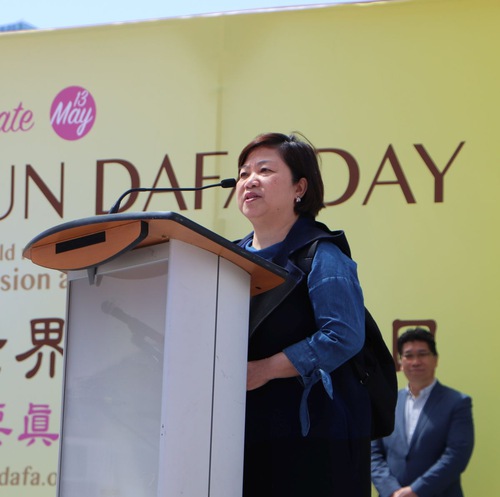 Human Rights Lawyer's Dream
Joel Etienne is a human rights lawyer in Toronto and said he's witnessed practitioners' suffering in the past 20 years, "In fact, Falun Dafa practitioners have been the best in many fields such as art, science, business, culture, and human rights. In the past 30 years, Falun Dafa has also made Canada a better country."
"That is why I have a dream that one day people in every city in China can freely practice their belief and no longer need to worry about any suppression." Mr. Etienne said he has confidence this dream will one day come true. As a human rights lawyer, he witnessed how badly practitioners were treated for their belief.
Having worked with people from all walks of life, Mr. Etienne said practitioners are the best Canadian citizens—the most loyal and who have contributed to society the most. He really wants to thank practitioners for their accomplishments, courage, and strength.
Mr. Etienne said he would like to commend Falun Dafa to other communities. "Basic human rights are universal and Falun Dafa practitioners in Canada have sacrificed tremendously for this. Besides the CCP's infiltration in Canada, practitioners are also worried that their family members in China will be detained or sentenced for their belief. Whenever I receive phone calls about such cases – often in the evening or at night, I can feel their pain. Innocent people are being detained and tortured simply for speaking out facts – the agony is beyond description."
"Regardless of the difficulties, however, Falun Dafa practitioners have been working tirelessly to promote the values of Truthfulness-Compassion-Forbearance. That is why I respect Falun Dafa practitioners and truly thank them," he said.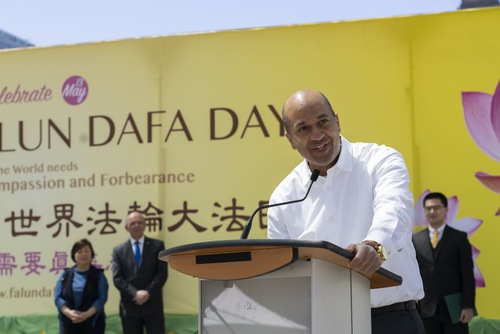 Passerby: This Is What Our Society Needs
Private detective Iman said he has not heard about Falun Dafa before. With a strong interest in spiritual improvement, he was interested in learning more. "Especially in this pandemic, I think Truthfulness-Compassion-Forbearance is what our society needs the most."
Iman said he believed he was fortunate to be here and hear the information. He was also glad to witness the 30th anniversary celebration of Falun Dafa's introduction to the world. He encouraged practitioners to continue because, "Through word of mouth, people will hear the facts about the persecution."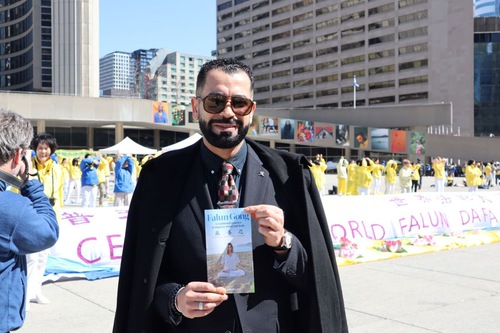 Lucia comes from Italy and her friend is a Falun Dafa practitioner. She was impressed by the art and cultural performances, as well as the grand march.
Having heard about Falun Dafa from her friend, Lucia said this event helped her learn more about the practice. Although she was aware of the suppression in China, she was nonetheless surprised to hear about the atrocities like organ harvesting. Growing up in Europe, she used to think these horrifying stories could happen only in movies. "But now they are happening in real life, targeting a group of people who simply want to be better citizens," she said.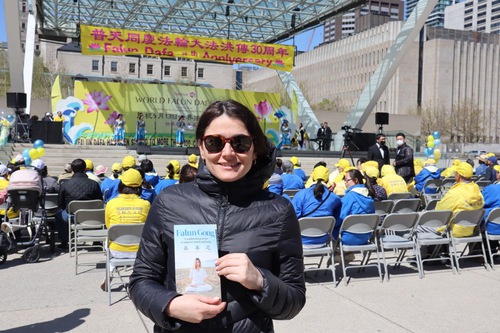 Interested in Learning to Practice
Josephine is a government employee in Toronto and she has seen practitioners while traveling to other countries. She's also signed petitions calling to end the persecution.
While congratulating practitioners on the World Falun Dafa celebration, Josephine asked some questions and said she plans to learn the exercises.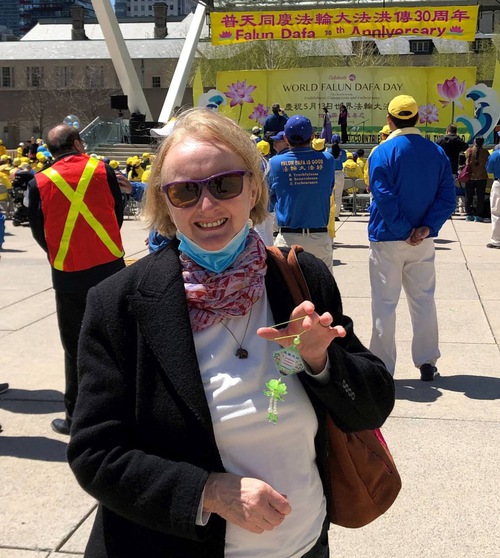 Sumesh is a retired business consultant and said he really likes to see practitioners' activities. He said it reminds him of India's culture, which also has a deep connection with the divine. He said the persecution in China should not have happened and he hopes it ends soon.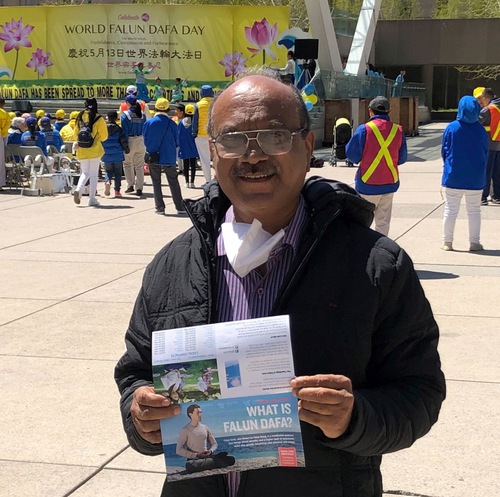 Views expressed in this article represent the author's own opinions or understandings. All content published on this website are copyrighted by Minghui.org. Minghui will produce compilations of its online content regularly and on special occasions.
8 total views