________________________________________
(Minghui.org) World Falun Dafa Day celebrates May 13, 1992, the day the practice was first introduced to the public in China and also the birthday of the founder of Falun Dafa, Master Li Hongzhi.
To mark the 30th anniversary of the public introduction of Falun Dafa this year, practitioners in Indonesia gathered in Malang City in East Java to celebrate the occasion by holding activities held over three days, from May 14 to May 16, 2022.
May 14 was overcast but it did not rain. Practitioners formed the two Chinese characters "Dafa" in the large grassy area.
Character formation events began in China. They serve as a test of patience and endurance. Every practitioner is a particle in Dafa, cooperating and making their contribution silently.
After the character formation, practitioners went to the center of Malang to perform. The Tian Guo Marching Band, a waist drum group, and heavenly maidens showed people the beauty of the practice.
The performances attracted the attention of many tourists. They took the Dafa information that practitioners were distributing as well as handmade lotus flowers. Many people signed the petition to condemn the human rights atrocities in China after learning about the persecution.
Several police officers on duty to maintain order gave practitioners a thumbs up and commended them for the peaceful and amazing performances.
The performances continued into the evening on Malang Town Square. The music of the Tian Guo Marching Band and waist drummers showed spectators the beauty and compassionate energy of Dafa. Practitioners dressed as heavenly maidens gave out fliers and handmade lotus flowers.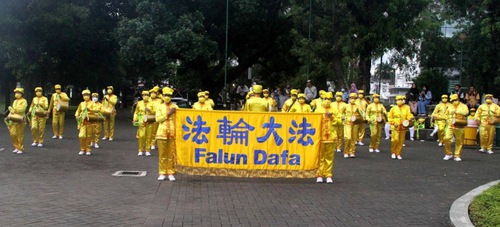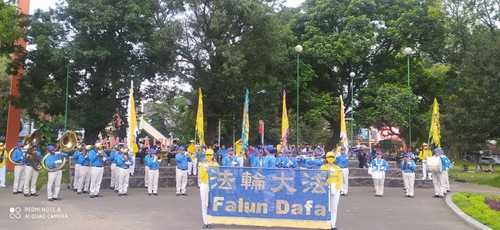 Celebrations in Batu
The Tian Guo Marching Band and the waist drum team performed in the small town of Batu on the afternoon of May 16.
Batu is in a mountainous region in East Java Province. It is a tourist attraction popular among residents in the surrounding areas including Malang and Surabaya City.
Ms. Seri Widiarti from a private TV station in Batu sent greetings on behalf of Batu TV during a broadcast and wished Mr. Li Hongzhi, the founder of Falun Dafa, a happy birthday.
She said in her greeting: "I send my utmost respects to Falun Dafa friends who live by the principles of Truthfulness-Compassion-Forbearance. Although you face various pressures, especially in China, I believe the truth will prevail in the end."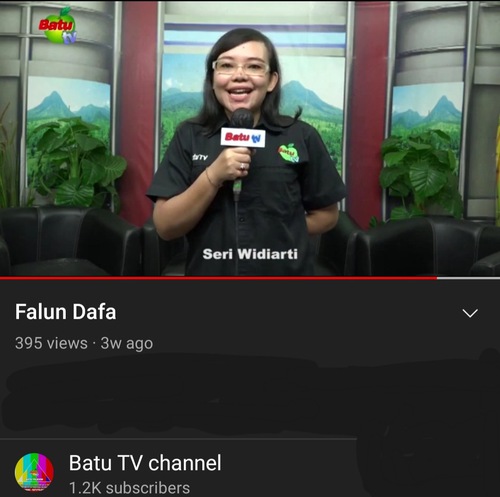 Giant Banners to Celebrate World Falun Dafa Day
Practitioners hung large banners introducing the practice at the entrance to the House of Representatives building in Malang City and around major roads, catching the attention of many members of parliament and passersby.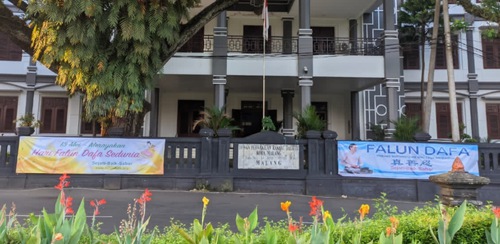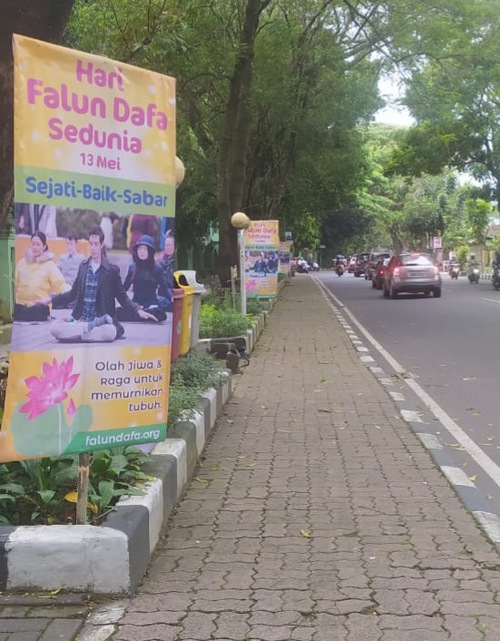 All content published on this website are copyrighted by Minghui.org. Minghui will produce compilations of its online content regularly and on special occasions.