_______________________________________
(Minghui.org) May 13, 2022, is the 30th anniversary of the public introduction of Falun Dafa. It is a day celebrated by Falun Dafa (also known as Falun Gong) practitioners and their supporters around the world. People from all walks of life celebrated the event throughout Australia.
Former Human Rights Commissioner: Falun Gong Is a Formidable Force of Good in the World
Dr. Sev Ozdowski, former Australian Human Rights Commissioner sent a video greeting message: "It was on May 13, 1992, that teachings of the principles of Truthfulness, Compassion, Forbearance was made public. Now 30 years, later, Falun Gong is a formidable force of good in the world."
"Despite the ongoing persecution of Falun Gong in China, practitioners remained firm in their faith and peaceful in their response to the brutality and propaganda directed against them."
"What is of particular importance to me, a former human rights commissioner of Australia, the Falun Gong practitioners advanced human rights for all of us. I wish you all the best on this 30-year anniversary! All the best!"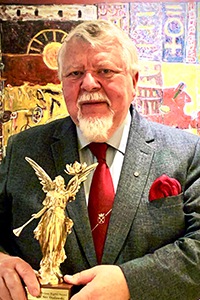 Sydney University Lecturer & Barrister: You Have My Enduring Admiration and Respect
Sophie York, Australian Barrister and law lecturer in Sydney University, said in her video greeting message: "You have my enduring admiration and respect. Not only because you espouse the fine qualities of Truthfulness, Compassion, Forbearance, but you also bravely and stoically stand up to the autocratic regime that deprives its own people of their basic human rights and freedoms.
"Never give up! My best wishes to you all in the Falun Gong movement, now and always."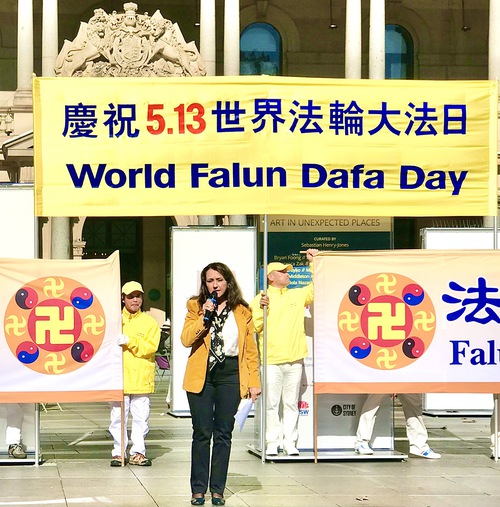 President of the Australian Jewish Association: We Stand with You
Dr. David Adler, President of the Australian Jewish Association, said in his greeting message: "Truthfulness, Compassion, Forbearance, these are values that also resonate with the Jewish community considerably. We have a lot of experience in being at the wrong end of the oppression from a major totalitarian regime. We stand with you. We wish you to achieve your freedom. It is a basic human right, it is a basic religious right and you have our very best wishes."
Bon Nguyen, President of the Vietnamese Community in Australia – Victoria Chapter said in his greeting message: "I have always considered myself a friend of the Falun Dafa group. My warm wishes to all the Falun Dafa family! Thank you!"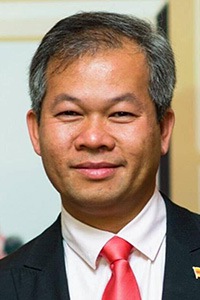 Member of Parliament Commends Practitioners' Resolve and Courage
Member of Parliament, Senator Dean Smith said in his congratulatory letter, "May I offer my congratulations on the occasion of the 30 th anniversary of Falun Dafa Day!" "The strength, resolve, bravery and courage in the face of belligerent force and what your community has demonstrated is to be commended. Through your peaceful actions, you have awakened others to the CCP's many human rights abuses."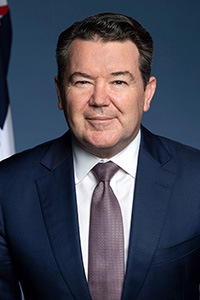 Member of Parliament, Senator Janet Rice wrote in her congratulatory letter, "I welcome Falun Dafa's deep moral and cultural tradition, and the contribution made by its practitioners here in Australia and around the world."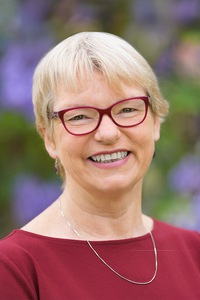 Tim Quilty and David Limbrick, Australian Members of Parliament wrote a joint letter to congratulate World Falun Dafa Day. They said in their letter, "It has been our pleasure to meet many good people who are practitioners of Falun Gong. Your stories of overcoming oppression are inspiring and personify the values of truthfulness, compassion, forbearance. We wish you all the best on the anniversary, Happy Falun Dafa Day!"
Practitioners Celebrate Falun Dafa Day With Cultural Performances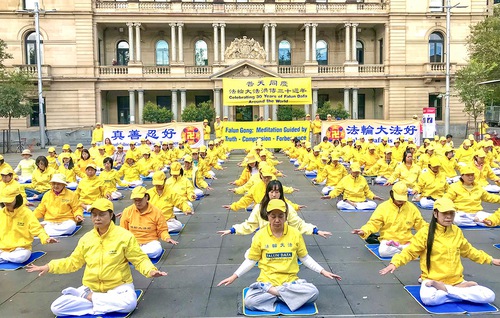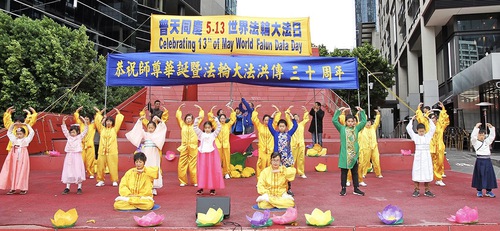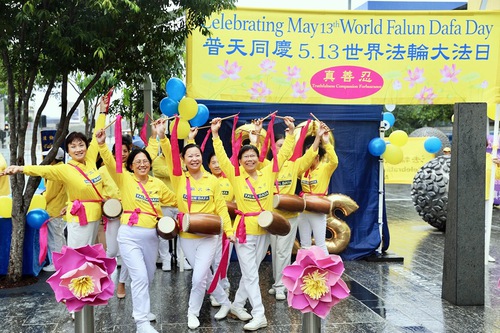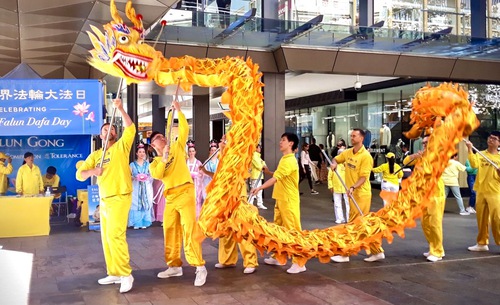 Aussies Commend Falun Dafa for Bringing Goodness to Future Generations
At events celebrating the 30 th anniversary of the public introduction of Falun Dafa, many Australian residents expressed admiration for its principles – Truthfulness, Compassion, Forbearance.
Salim Bador's friend is a practitioner. He recently decided to read the main book of the teachings Zhuan Falun and learn the exercises.
He said, "Zhuan Falun mentioned many values regarding Truthfulness, Compassion, and Forbearance. It gives people a sense of relief. In particular, when we encounter things that don't go our way in everyday life, whether at work or home, the principles of Falun Dafa guide you to accept and understand why these things happen. It will surely help you resolve all problems and make you healthy physically and mentally. Based on my experience, after meditating for an hour, my shoulder is completely healed. This is a remarkable cultivation practice."
Salim also said that it is important to let the world know about the crimes against humanity committed by the Chinese Communist Party. He said, 'Celebrating Falun Dafa Day is important. Not only for our surrounding cities, but for the whole world to know the beauty of Dafa. People need to know and learn more things from Falun Dafa, this would be amazing."
Salim conveyed his gratitude to Master Li (Dafa's founder) and wished him a happy birthday, "I think Mr. Li Hongzhi has given future generations a precious wealth. He has taught Dafa to people in the world for so many years, establishing precious values for our future generations. I truly hope he is watching and smiling at us now. I think we will never forget him. I sincerely hope he is happy!"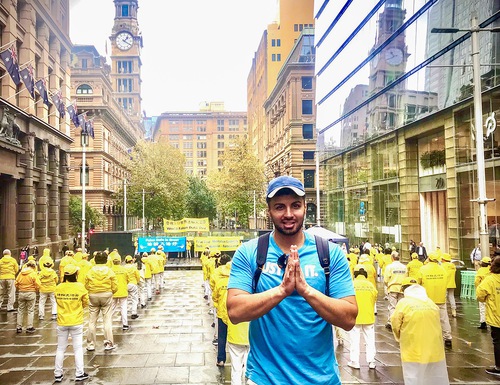 Lucas Lenyz who lives in Sydney said he was drawn to the peaceful music and people dressed in yellow clothing and stopped to learn what the event was about. He learned how the CCP (Chinese Communist Party) is persecuting practitioners. He praised the positive energy emitted by Falun Dafa and said, "This is amazing, something I have never seen before. I will share this with my coworkers as they don't know what is happening in China. We don't know the truth about this dictatorship, so it is great that you are spreading the truth."
He agreed with the universal values of Truthfulness, Compassion, Forbearance saying: "World Falun Dafa Day should be celebrated every year!"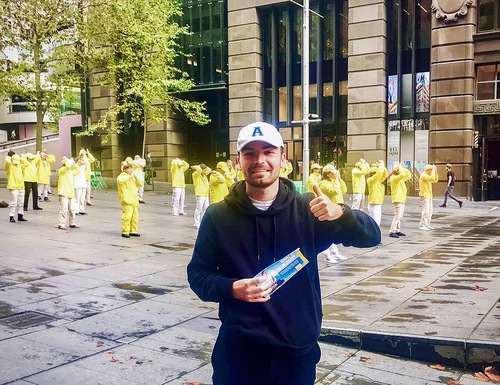 Heyley, a Queensland resident, said, "The performances were great. I could feel the peaceful energy. The principles taught by Falun Gong – Truthfulness, Compassion, Forbearance – are important. If everyone follows these principles, our world would definitely become more wonderful!" She hopes practitioners will continue to follow their conviction, pass it on to more people and help more understand what is Falun Gong.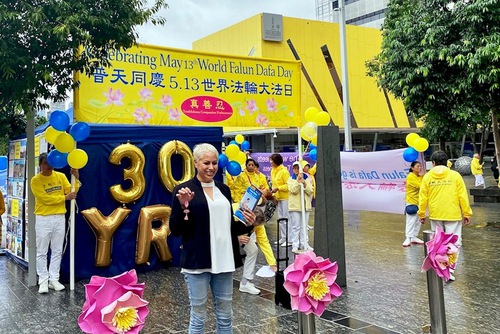 Jenia, a Perth resident, said, "The entire event was beautiful, attractive and colorful. We saw the performances. My son loved it. I have seen Falun Gong's information booth before."
"The principles of Falun Gong – Truthfulness, Compassion, Forbearance are excellent, this is what everyone needs. People should meditate."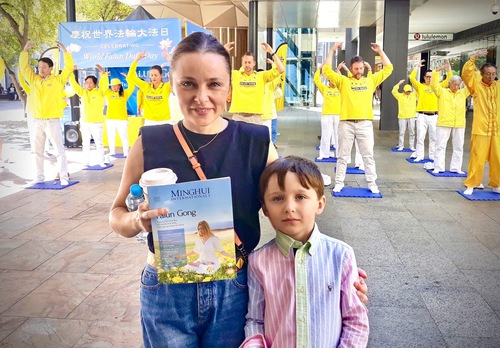 Matthew is a young consultant from the U.K who came to Melbourne to work for just a few months. He said it was the first time he heard of Falun Dafa. He was overjoyed to know about the mind-body practice and thought the values of Truthfulness, Compassion, Forbearance were great.
He was attracted to the costumes of the performers on stage, their positive mental state, the music and colors. He said, "Everyone on stage is filled with pride."
When he learned of the persecution in China, he said, "Falun Gong practitioners are brave, they did not give up in spite of great difficulties."
Devendra moved to Australia from Nepal 7 years ago, said, "Although I am unfamiliar with Falun Dafa, I think everyone should follow the principles of Truthfulness, Compassion, Forbearance. If everyone lived by these values, the world would be a better place."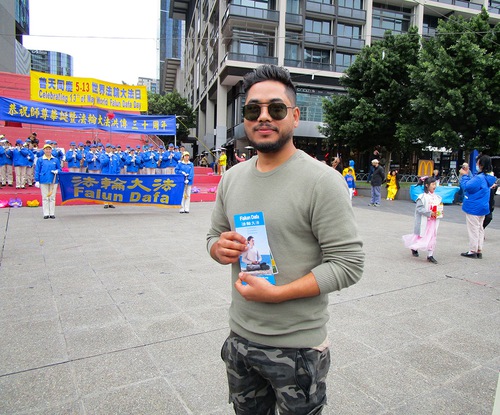 All content published on this website are copyrighted by Minghui.org. Minghui will produce compilations of its online content regularly and on special occasions.